Ranthambore is Blessed with 4 New Cubs!!!
Posted on Mon, 24 Mar 2014 10:48:02 by Rashmi Rai
Ranthambore National Park gives wildlife enthusiasts another reason to visit it. The national park is blessed with four new cubs thus increasing the numbers of wild cats in the park to 58.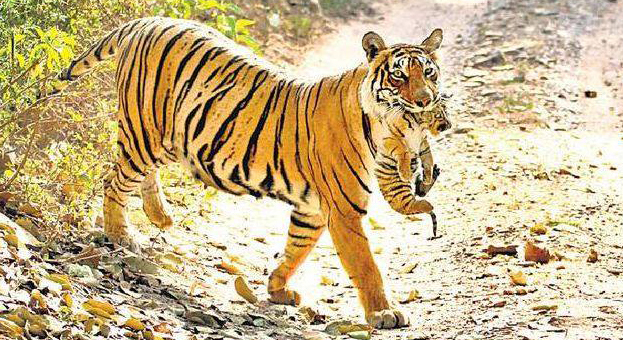 The proud mother Tigress T19 alias Krishna was recently spotted along the cubs while shifting them from jhalra area to Padam Talab of Zone 2. The tigress was seen holding babies (one at a time) in her mouth by an American tourist Oli Gale along with driver Kamal and guide during evening jeep safari. This great news was also confirmed by Mr. search for domain names Sudarshan Sharma, the Deputy Conservator of Forests Ranthambhore. He also confirmed that new born cubs were doing well in health and appeared to be of one and a half months old. Earlier also in 2012, T-19 gave birth to three cubs (2 tiger and 1 tigress) namely T-63, T-64 and T-65. All these babies are now two-years old. 
Being a daughter of proud mother (Machli/T-16), Krishna or T-19 is a well-known name among the tiger celebrities of Ranthambore National Park. The tigress is named after Krishna Poonia, 2010 Commonwealth Games gold medalist by Ashok Gehlot, the former chief minister of Rajasthan. ip adr Despite her shy nature, Krishna has the largest territory of the park under her control. Some other superstars of the park include Machli (T-16), Mala (T-39), Ustad (T-24) and Sultan (T-72).
Explore Ranthambore
Plan your trip with us!