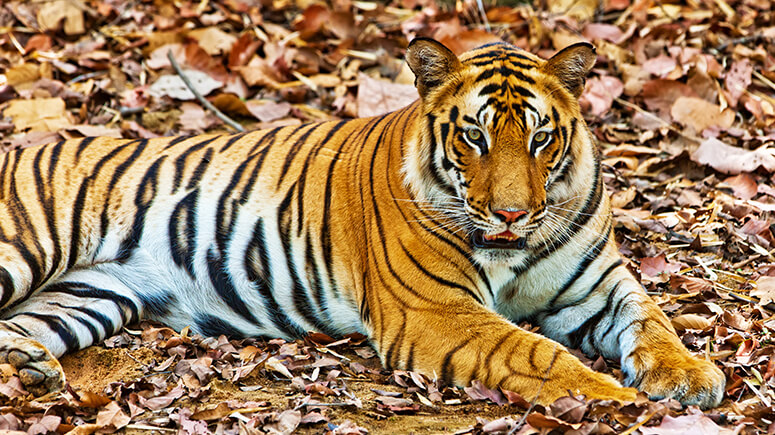 02 Mar, 2020
Take a Jungle Safari at These 10 Best Wildlife Destinations in Summer Season in 2022 & Get the Best of Wildlife Adventure
There are many ways of spending a summer vacation, but a memorable one is that which is filled with excitement and adventure (if you are that kind of a person). A lot of that awaits you during a visit to the famous national parks in India that provide the ultimate wildlife experience. Taking a jungle safari during the summer season has a big advantage: you get to spot wildlife quite easily, since most of them visit the water holes to quench their thirst. Do you love spotting tigers? Great, this is the best time for that. In this blog, we tell you the 10 national parks to visit in summer in India in 2022, or the months of March, April, May and June.
1. Ranthambore National Park, Rajasthan
Photo Credit: Saurabh Yadav
Ranthambore National Park is located in close proximity to the district of Sawai Madhopur, and should always find a mention while planning your wildlife holidays in India. Not just for the rich wildlife it is home to, but also the historical structures which remind you of its rich history. Two of these are Raj Bagh ruins & Ranthambore Fort. The park is also dotted with numerous lakes. At one of these called Rajbagh Talao, you can spot an impressive number of tigers.
Fauna: Striped hyenas, Nilgai, Macaques, Indian Gerbilles, Indian Porcupines, Small Indian Mongoose, common palm civets, herons, sandpipers, woodpeckers, Asian Palm Swift, Indian Gray Hornbills.
Flora: Trees like babul, jamun, khajur, kadam, khajur, khair, banyan and others.
Zones: 10
2. Corbett National Park, Uttarakhand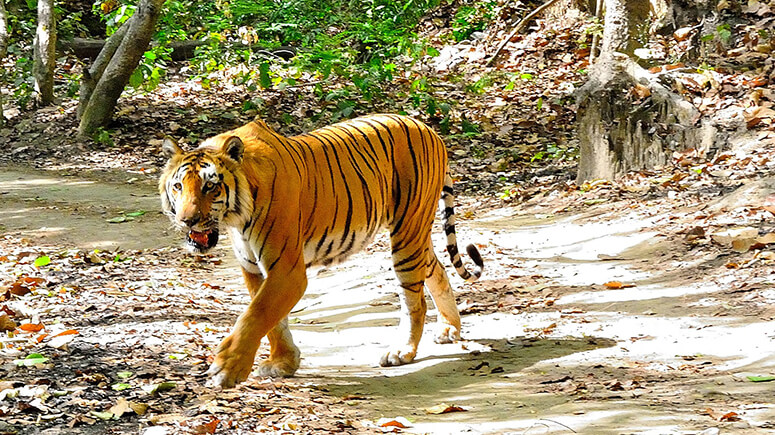 Photo Credit: Rohit Manuja
Corbett National Park has the honour of being declared the "first national park of India". Besides being home to an incredibly rich flora and fauna, a large part of its area is covered with grasslands. However, what makes a wildlife experience really special here is the fact that you get to stay right in the middle of the forest at the Dhikala Forest Lodge. There are 6 zones in all in the park.
N.B. Dhikala Forest Lodge remains open till 14th June every year, so plan your stay and make your bookings accordingly).
Fauna: Royal Bengal Tiger, Asiatic Elephant, sambar, jackal, kingfisher.
Flora: Sal forest, various flowers like bali, mahua, kusum, bela & grasslands.
Zones: 6
3. Kanha National Park, Madhya Pradesh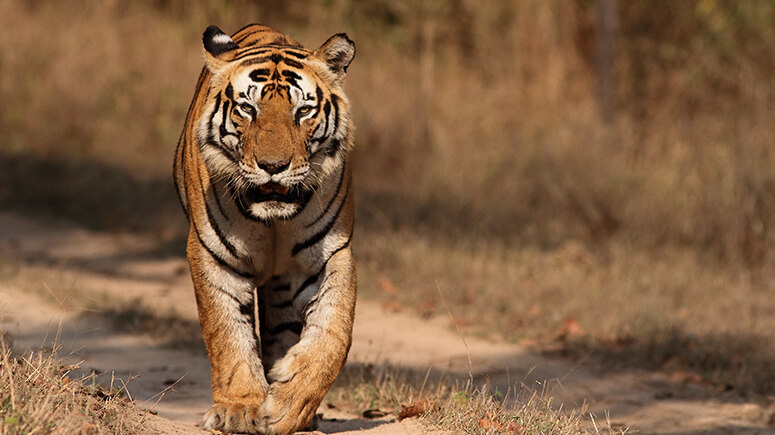 Photo Credit: Shutter Stock
Kanha National Park is counted among the best national parks in summers because of its impressive population of Royal Bengal Tigers. It is also considered to be one of the best administered parks in Asia. In fact, a documentary by National Geographic, "Land of the Tigers", was shot here. Rudyard Kipling was so won over by its beauty that it served as the inspiration for "The Jungle Book". It is dotted with several historical structures that make for some incredible sightseeing.
Fauna: Royal Bengal Tiger, panther, gaur (Indian Bison), jackal, wild dog, python, Indian Krait, Indian Garden Lizard, more than 350 species of birds.
Flora: Various kinds of trees like palash, sal, mahua, bamboo and achar.
Zones: 4
4. Periyar National Park, Kerala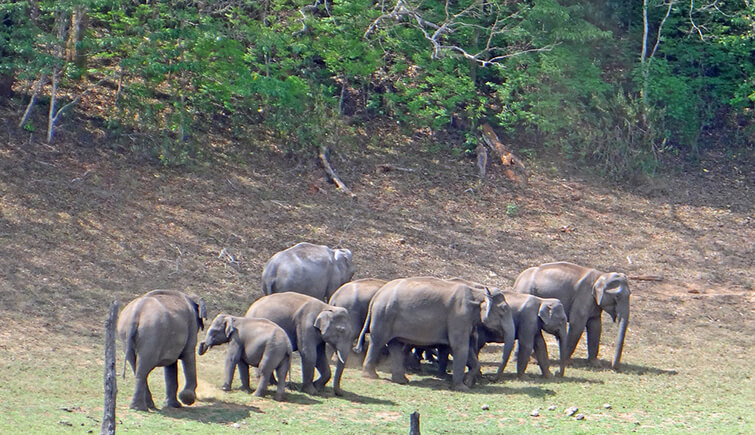 There are several things that you can do in Periyar National Park besides taking a tiger safari. You can go camping, enjoy boating and embark on a trekking trail. Periyar National Park, also known as Periyar Tiger Reserve, is one of the oldest tiger reserves in India, and was once home to the white tiger.
Fauna: Royal Bengal Tiger, Asian Elephant, barking deer, wild dog, Nilgiri Tahr, Gaur (Indian Bison) and Barking Deer.
Flora: Over 1965 flowering plants, 171 grass species and 143 species of orchids.
Zones: Core zone (can be visited by boat), Buffer zone 9can be visited by jeep).
5. Panna National Park, Madhya Pradesh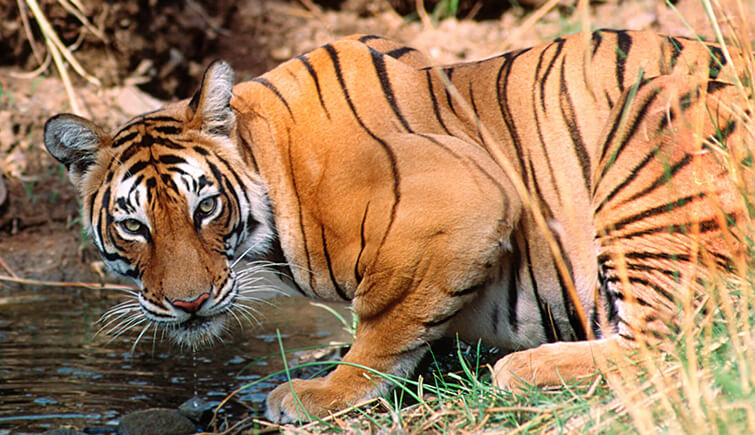 If you are looking for national parks for an adventure in summer, then Panna National Park, with its waterfalls, a boating site and a gharial sanctuary, is where you need to be headed to. It is home to one of the highest waterfalls, and is dotted with various other tourist attractions like Pandav Falls, Ken Gharial Sanctuary, Raneh Falls and Ken Boating Site.
Fauna: Royal Bengal Tiger, Sloth, Chital, Sambar, Leopard, Wolf, Caracal.
Flora: Trees like Mahua, Amla, Kullu, Salai, Tendu, Saja and Achar.
Zones: Core zone and Buffer zone.
6. The Great Himalayan National Park, Himachal Pradesh
Photo Credit: https://bit.ly/2TxTx0T
The Great Himalayan National Park in Himachal Pradesh was added to the UNESCO list of World Heritage Sites in 2014. That's hardly surprising, considering the richness of its flora and fauna, and the variation in its diversity and altitude. Its ecosystem shares similarities with the Meditarranean, Cis-Himalayan and Tibetan regions. Some of the things to do in this national park are trekking, exploring the valleys and indulging in season-based activities, with rope climbing, local sightseeing and trout fishing being some of them.
Fauna: 218 fish species, 149 species of reptiles, 528 species of birds, 241 species of mammals & 74 amphibian species.
Flora: 832 plant species, comprising 26% of the total flora of Himachal Pradesh.
Zones: Eco zone (which consists of 160 villages) and buffer zone.
7. Bandipur National Park, Karnataka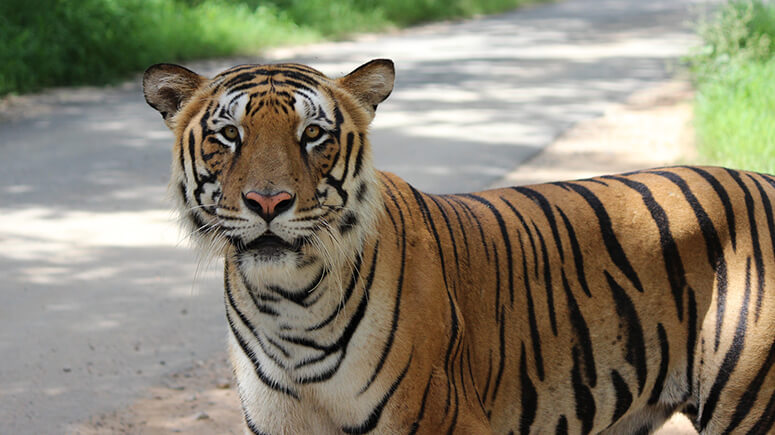 Photo Credit: Fotolia
If it's elephants that you wish you see in large numbers, then Bandipur National Park in Karnataka beckons you! It is a part of the Nilgiri Biosphere Reserve and the largest protected area in South India. The road which passes through the jungle in this park affords the greatest opportunities of spotting various animals like deer, peacock, bison and elephants.
Fauna: Bison, antelopes, Indian Rock Pythons, Indian Giant Squirrels, gray langurs, crested serpent eagles, red headed vultures, flowerpeckers, brown fish owls and kingfishers.
Flora: Trees like Indian Kino Tree, clumping bamboo, satinwood, black cutch and golden shower tree.
Zones: 1 tourism zone.
8. Tadoba National Park, Maharashtra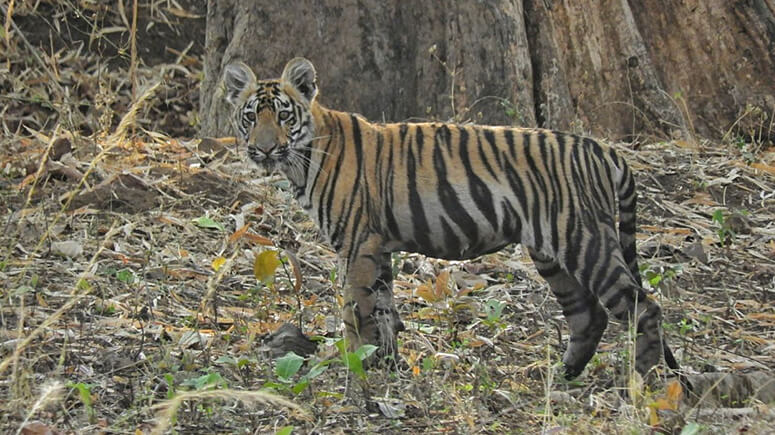 Tadoba National Park is arguably one of the best places to enjoy a tiger safari in India. It goes to the credit of its conservation mechanism that it has an optimal holding capacity of tigers. But it's not just the tigers though which should capture your attention, there are crocodiles, langurs, spotted deer, leopards or wild dogs. And while here, you should also try out the oranges, mangoes and sweetmeats like barfi and jalebi, things that Vidarbha is famous for.
Fauna: Gaur, leopard, Royal Bengal Tiger, langur, wild dog, crocodile, spotted deer and peacocks.
Flora: Trees like palash, semul, arjun, jamun, teak and bhera.
Zones: 3 core zones.
9. Pench National Park, Madhya Pradesh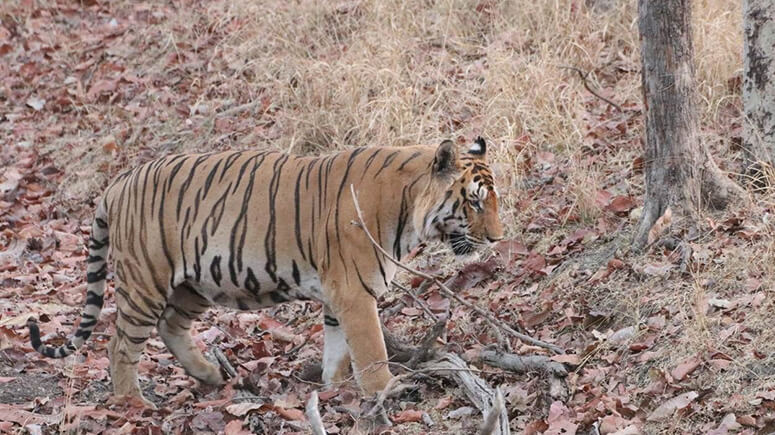 Photo Credit: Pinterest
Kanha National Park may have been the inspiration behind Rudyard Kipling's "The Jungle Book", but it was Pench National Park that found a mention in it. Upon visiting this famous national park in India, you get to see your favourite characters from that book in action, be it the Royal Bengal Tiger, Sloth or Wolf. It has such a large population of tigers that it was declared a Tiger Reserve in 1992.
Fauna: Jungle cat, Royal Bengal Tiger, gaur, leopard, four horned antelope, crow pheasant, Indian Roller, lesser whistling teal and Blue Kingfisher.
Flora: Trees like mahua, salai, saja, bijiyasal and dhaora.
Zones: 7
10. Manas National Park, Assam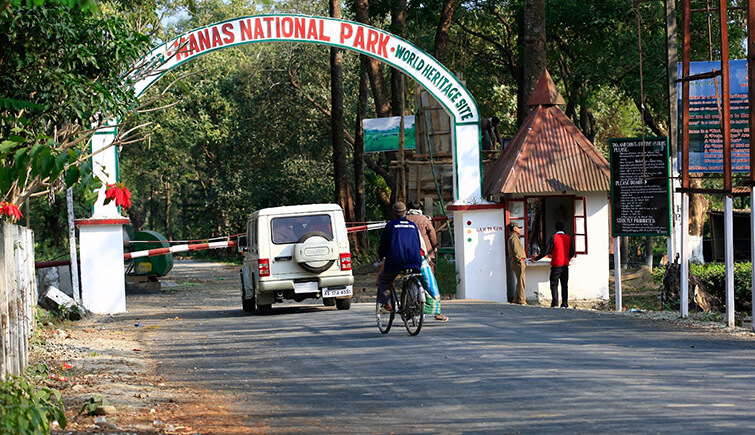 If you are creating a list of the best wildlife destinations for summer, then Manas National Park should find a mention in it. It was first declared a UNESCO World Heritage Site in 1985 and then a National Park in 1990. The park is home to 20 endangered species of animals and is covered with extensive grasslands. One of them is the golden langur, which was first spotted here in the 20th century.
Fauna: Himalaya palm civet, Binturong, Common mongoose, Water buffalo, Sambar, Hog deer and Himalayan black bear.
Flora: Trees like pithraj, wild guava, kadam, elephant apple, broken bones.
Zones: 1 core zone.
You may have visited some of these famous National Parks in India, or you may have not. Either way, they offer the most incredible wildlife experience that you can ever hope to get. Let us know in either case, and what memories remain of your visit to a national park or why are you looking forward to visiting one? Don't forget to tell us when are you planning a visit to any of these famous national parks in India.
Some Frequently Asked Questions about Wildlife Tours in India:
Q. Is jeep safari available in all of these national parks?
Ans. Yes, you can enjoy a jeep safari in all of these national parks in the demarcated zones.
Q. Which national park is the best for spotting tigers?
Ans. You have the best chance of spotting tigers in Ranthambore, Tadoba, Corbett & Kanha National Park.
Q. Which national park is best for birdwatching?
Ans. Corbett National Park is the best to go birdwatching in India.
Q. What other animals can be seen in the national parks in India?
Ans. Other than the animals mentioned above, some other animals which can be spotted in the national parks in India are snow leopard (Hemis National Park), Asiatic Lions (Gir Forest National Park), Red Panda (Khangchendzonga National Park, Neora Valley National Park and Singalila), Kashmir Red Stag (Rajparian Wildlife Sanctuary & Dachigam National Park).
Writer:
Vishwajit
Popular Posts
---
Follow Us
---
Recent Posts