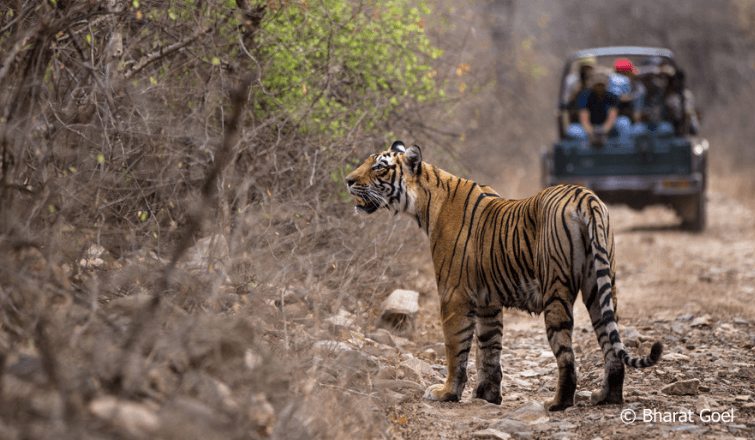 01 Feb, 2017
Experience Golden Triangle India with Ranthambore Tiger Safari
A kaleidoscope of varied cultures, religions, traditions, architectures, landscapes and cuisines; India is a destination that has always been on the radars of avid travellers, holiday seekers, historians, cultural freaks and gastronomes alike. While the country has a lot in store to be explored by its visitors, if you are travelling here for the first time and wish to soak in the intense senses and vibrancy of this incredible nation, the Golden Triangle Tour must definitely be listed on your travel itineraries, more so, if you are here just on a short trip. Offering you an unmatched rendezvous with glorious history of India in a much concise yet comprehensive way, the tour would really be an eye-opener and is sure to leave you with an overwhelming experience. Wondering why it's called a golden triangle? Well! The name comes from its three most culturally rich cities that sort of form an equilateral triangle when seen on the map. Further, in case you are looking for an introductory idea on what actually this classic tour would have in store for you; this blog makes for an amazing travel guide cum itinerary, walking you through every minutest detail right from providing a glimpse at famous sightseeing attractions and popular shopping markets to listing down outdoor activities and food experiences you would have enroute. And that is not all! What makes this classic Golden Triangle Itinerary even more unique and interesting is a day stopover at the Ranthambore National Park, especially for those travellers who would love to have a cultural exploration combined with an unmatched wildlife adventure. So let's get started and browse through this wholesome guide without wasting anytime further.
The tour begins in Delhi, the political and historical capital of India… and further embarks you on a splendid expedition offering a sneak-peek into the past…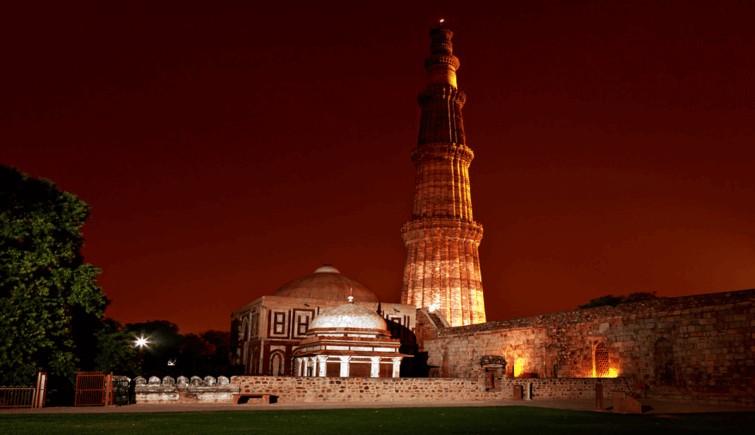 A perfect blend of old and new, the capital city has always fascinated and inspired every traveller with its eclectic charm and a rich history steeped in British and Mughal splendour; the trail of age-old monuments scattered through this eternal city are no less than architectural wonders and leave everyone gasping in awe of their brilliant structural designs, styles and craftsmanship. Be it the iconic Red Fort enclosed in its signature massive red sandstone walls and hiding in its store, pristine lawns and lofty audience halls, the splendid Humayun's Tomb with its double-domed mausoleum encircled by ornamental gardens and water-channelled pathways or the soaring 73 metres high Qutub Minar boasting of its status for being recognized as the second highest brick minaret in the world, each monument is unique in itself and speaks of intriguing sagas of Delhi's hair-raising past of foreign invasions, raging battles and bloodshed. While these historic monuments give you a deep insight into Mughal heritage and legacy of Delhi, there are yet more remarkable attractions that lend this surging metropolis a much contemporary look. The wide and leafy boulevards of Connaught Place criss-crossed with a network of high-end restaurants, office lobbies and branded outlets take you back in times of glorious British era in India between 18th and 20th centuries. The sprawling and architecturally spectacular circular shaped building of Parliament House, the 42 metres high triumphal arch of India Gate and the impressive Secretariat Building standing tall in its magnificent glory exhibiting beautiful Indo-Saracenic architecture; these are all presents of British architects to Indian nation and which have definitely made great contributions in lending this sprawling city, the present modern day look. Talking about the monumental heritage of Delhi, we surely cannot miss the resplendent Swaminarayan Akshardham Temple and the gorgeously beautiful Lotus Temple which stand tall as two proud symbols of independent India and significantly add to the extraordinarily brilliant architectural façade of country's bustling capital.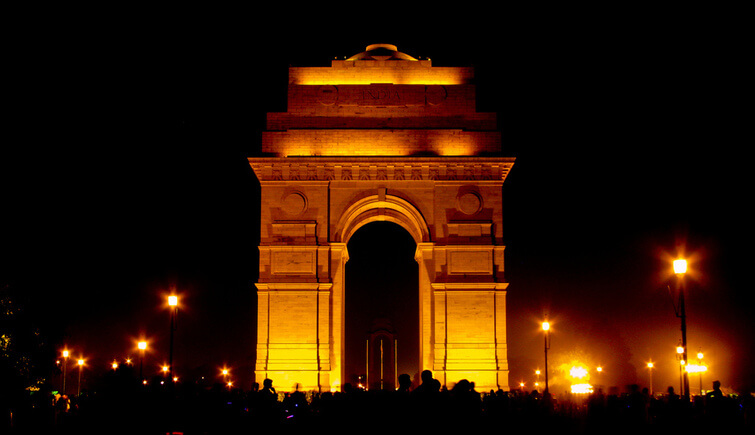 Spend a day or two of your tour itineraries (as planned in the tour package) exploring these monumental splendours of Delhi. Our team of expert and experienced guides would always be there to assist and present you with some more fascinating details and amazing facts about their history and architecture onsite.
Besides the classic sightseeing in Delhi, there is a day well planned out for the avid shopaholics too…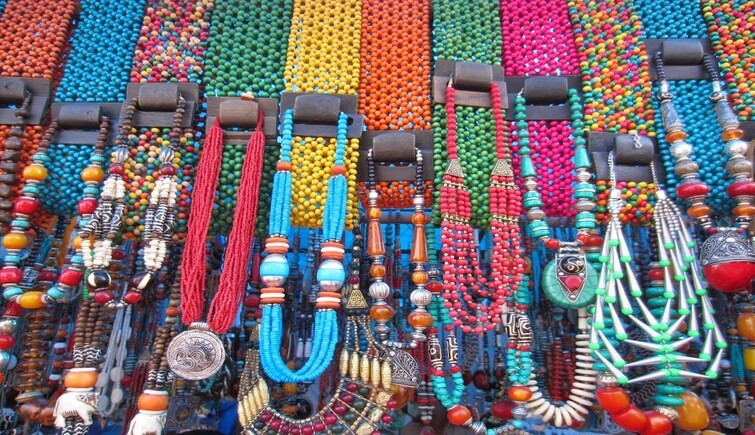 Apart from being a significant cultural and historical centre of India, Delhi is also a shopper's paradise. The bustling and vibrant market of Chandni Chowk with its crammed streets lined with small shops selling anything and everything ranging from little knick-knacks and home décor to jewellery and clothes, it is sure to leave you with your bags stuffed up to the rim. If you are planning to attend an Indian wedding during your trip to India, undoubtedly, it's the best place to go splurge out few dollars and get yourselves a traditional Indian attire; be it an elegant saree, a gorgeous anarkali suit or a stunning lehnga-choli, you will get all these at quite reasonable prices here and the best part is, with every design so unique and charming, you are sure to be showered with endless complements at the event.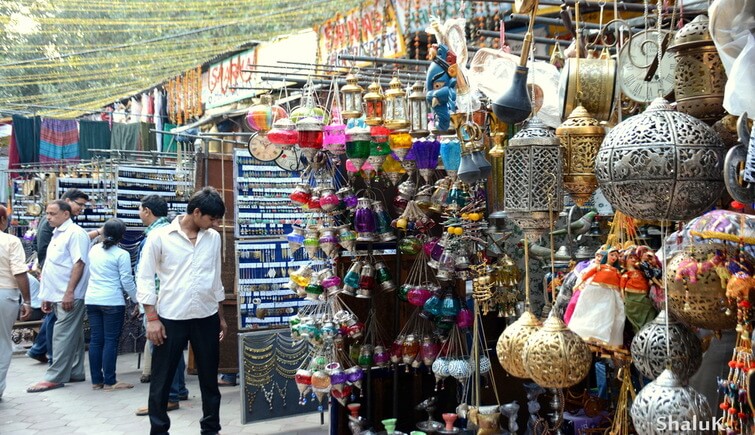 For a more splendid experience and to get a real taste of bargain shopping, there can be no better choice than the busy Janpath Market located just near Connaught Place; dotted with shops majorly selling the most trendy and fashionable stuff in Delhi, it's not only a tourist's paradise but also a place where most of the local young crowd turns up to during free hours.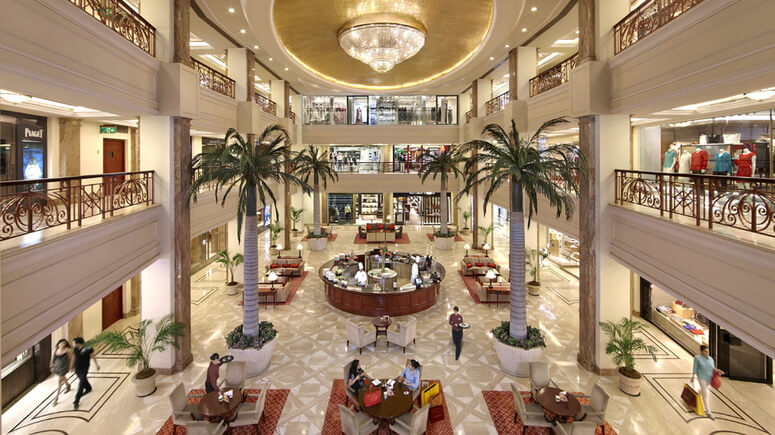 In case street shopping is not your cup of tea and you are looking for a more posh and high-end shopping extravaganza, the 'Select City Walk' and 'DLF Emporio' shopping complexes are just for your sorts and would leave you with a memorable shopping experience. Few exclusive boutique shops in Hauz Khas Village and Khan Market are also worth exploring if you have an extra day or two in hands. Having said so, just be informed that a classic Golden Triangle Tourist Circuit itinerary does not include trip to these high-class shopping malls and arenas; just in case you wish to visit them during your holidays in Delhi, let our representatives know so that they can help you get the most from your time and make your shopping experience in Delhi, a feat to remember.
Delhi is a gastronome's abode and street food here is its unanimous pride....you definitely can't leave without tasting some…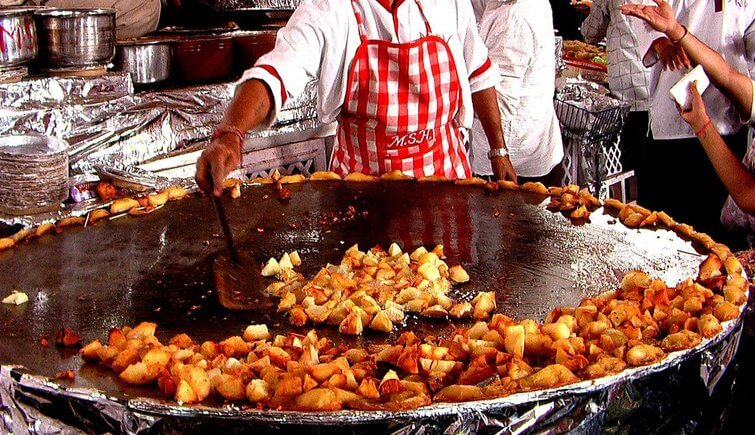 While eating in five star and high-end restaurants is something which you must have experienced endless number of times, when you are in Delhi, you ought to get off the conventional gastronomic route and get on board to savour the city's most delectable flavours that have etched on taste buds of Delhi walas right from the times of Mughal rule in the country. Yes! We are talking about the quintessential food hub of Delhi, the irresistible Chandni Chowk; while it's a place synonymous with shopping, if you are a great foodie, it is also 'THE' best destination throughout the capital to satiate your epicurean cravings. As the saying goes, you click in any direction of Switzerland and you will get a beautiful picture, we say, you randomly point your camera anywhere in Chandni Chowk and you would be treated with a "FOODILICIOUS SHOT". From fruit sellers to shops and eateries selling lip-smacking 'Chaats', steaming-hot 'Samosas', melt-in mouth 'Gulab Jamuns', crispy 'Jalebis' and delicious stuffed 'Paranthas', you are sure to be taken away by their heavenly inviting aromas and tantalizing presentations. For those who love Mughali cuisine, must embark on a breakfast tour in Chandni Chowk and relish their taste buds with some exotically flavoursome 'Nihari', the ultimate breakfast non-vegetarian stew prepared by an age-old shop near Jama Masjid.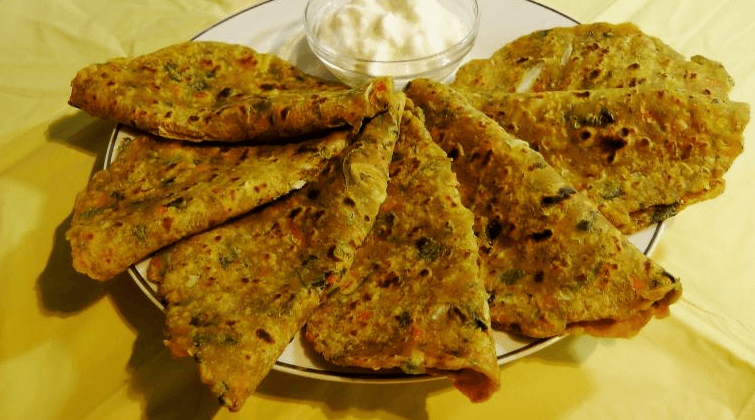 So, when you are on a shopping spree in Chandni Chowk, do make best use of the opportunity and catch hold of our representative asking him about the best spots in the market to relish some of Delhi's most exotic flavours. And we bet! You would not leave disappointed. If the idea of breakfast tour in this historic market is something which interests you, do let our representative know well in advance so that he can make all the required arrangements (again, just as a word of information, it is not included in classic Golden Triangle itinerary and has to be made part of the package on special request of our guests).
After an exciting experience in Delhi… it's now time to head all the way to the historic city of Agra and reconnoitre its Mughal legacy…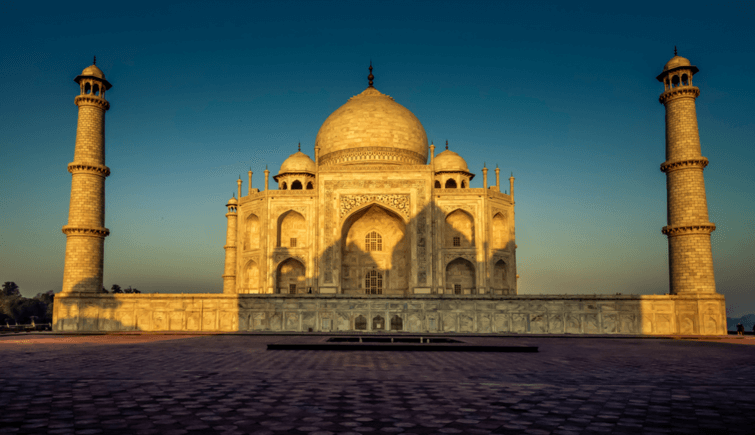 Photo: Taj Mahal | http://bit.ly/2jvt1Gp
Once the heart of Mughal Empire, Agra needs no special introduction. Set on the banks of the beautiful Yamuna River, it's a city where the Mughal Emperor Shah Jahan epitomized the definition of love by commissioning the enchanting Taj Mahal in memory of his beloved wife Mumtaz Mahal. Needless to say, this iconic tribute to eternal love stands as a glittering jewel in the crown of India and draws countless tourists every year. Though this architectural wonder is open all through the day, for its much captivating and magical splendour, it is best visited during sunrise or sunset when rays of the sun veil it in their crimson-orange hues, lending it that undescribed mystical charm. And not to explicitly mention, when you are taken care off by our team, we will make sure, you never miss on this spell-binding extravaganza and which would definitely add as an unforgettable memory to your India holiday trip.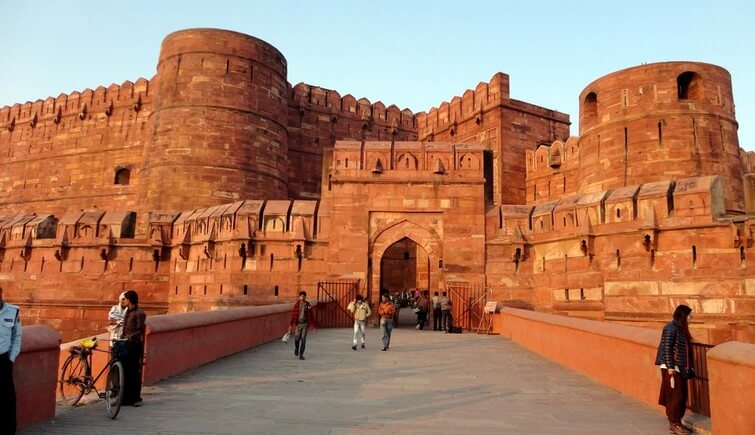 While Taj is undoubtedly the show stealer in Agra, there are yet more interesting sites in the vicinity to explore, and where history freaks and art lovers are sure to have an experience of their lifetime. The magnificent Agra Fort is one of such splendid monuments that boasts of its majestic grandeur and Mughal prowess. Encompassing within its palatial red-sandstone and marble walls, a maze of magnificent buildings and opulent palaces, it's a fort which is sure to leave you hypnotized. If you are a history buff, another fascinating attraction near Taj Mahal that is sure to grab your attention is the Tomb of Itmad-ud-Daulah. Also known as 'Baby Taj', the mausoleum is famed to have been the original inspiration behind the Taj Mahal and stands as a delicate piece of Mughal architecture adorned with intricate lattice work, ornate inlay screens and beautiful colourful paintings & geometric patterns. Although, the tomb not gets many visitors, it's certainly worth a visit and is sure to take you few steps back in Agra's absorbing history.
The "yummylicious" food trails of Agra are every connoisseur's delight… do embark on a journey discovering and scouting them…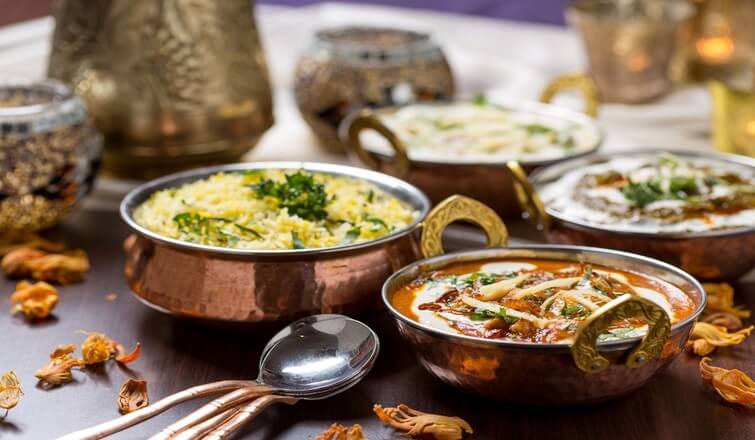 Visiting Agra and giving a miss on its Mughlai delicacies would definitely be a sin. After a full day of historical exploration, we will take you off the beaten path in hidden alleyways of the lively city where the most delectable 'Kebabs', 'Kathi Rolls' and 'Chicken & Mutton Tikkas' have been satiating the palettes of gastronomes for past many years. If street food is on your minds during your trip to Agra, a visit to the famous Chaat Galiin Sadar Bazaar dotted with little stalls selling 'Golgappas', 'Dahi Bhalle', 'Bhel Poori' and 'Daal Moth', is sure to leave you licking your fingers and your tongues bursting with flavours so hot, spicy and tangy. And yes! When you are in Agra, how can we not take you to the famous Deviram Sweet Shop? Hidden in a subdued corner of old Agra, the shop has been serving most delicious and legendary 'Bedais' accompanied with flavourful and spicy potato curry; to balance out the spice, their fresh 'off the karahi jalebis' are to simply die for. In case, your mouth is watering at the moment simply reading all this, I am sure, a live breakfast here, immersed in appetite-churning aromas and vivacity of the people, would turn out even more satisfying and truly an experience to be etched in your memories forever.
Shopping too is great fun in the Mughal city…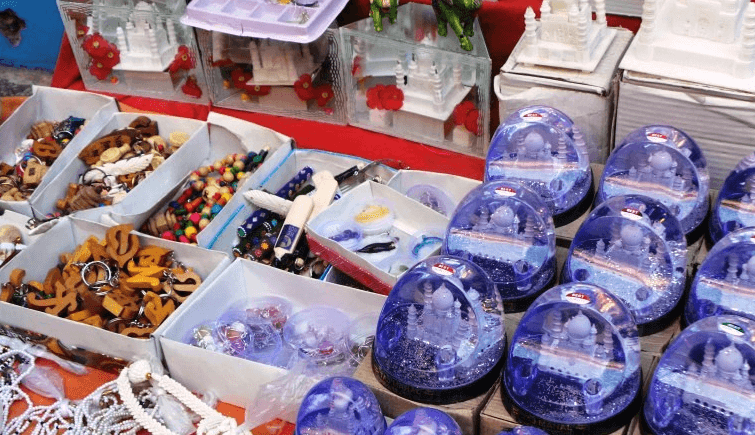 While Delhi is for fashionistas, Agra is for those who love handicraft stuff. The bustling and vibrant markets of Agra are considered amongst the best in India to buy hand-crafted and exquisitely embroidered carpets, rugs and bedlinen; jewelled carpets embroidered with zardozi thread and embellished with semi-precious stones is something which you will not get anywhere else in the world. Yet another speciality of Agra which has to be on your shopping list during your visit here is the inlaid marble items that include miniature Taj Mahals, vases, table-tops, jewellery boxes and other home decorative stuff; the exotic Mughal craft has been passed over generations starting right from the emperor's own master craftsmen. Today, the art is dying and only few craftsmen have been left working in city's hidden corners. Our expert guides will introduce you to these artisans who have been working hard to carry the legacy forward; the best part is, you can directly purchase the beautiful stuff from them, that too at discounted prices. Your shopping tour in Agra doesn't end here; if time permits, we will also take you through rustic lanes of Shilpgram Village. An open air arts bazaar set in bucolic style, it's a great place to see artisans and craftsmen live working and creating intricately crafted items. A number of ethnic and cultural performances elevate the vibrancy of this lovely village and truly provide for a great experience to all the tourists, especially international travellers.
Once the fun and frolic in Agra comes to an end, get ready for yet another stupendous expedition to the city of Maharajas, Jaipur…
A city steeped in vibrant culture and intriguing Rajputana past that speaks of innumerable tales of love, valour, bravery and chivalry, Jaipur is yet another culturally rich destination of India which contributes as one of the great and enigmatic chapters in the book of nation's enthralling history. As you near the city, its signature pink sandstone facades would seem to be greeting you with a big warm smile. Before you enter into the sprawling gates of the 'Pink City', our guide will make you stop at the impressive Amer Fort. A masterpiece of Rajputana architecture, a tour of this fort will give you a taste of unmatched opulence and lavish lifestyle of the erstwhile Rajput kings who reigned over the state of Rajasthan between early 16th and 19th centuries; the fort's splendid ornamented pillars, delicate mosaic and ivory work, fascinating lattice work and mesmerizing glass work, are its major highlights and are sure to leave you stunned with such precise detailing and artistic brilliance, which for sure is nowhere else to be seen in the world. The sightseeing would continue in accordance to your itineraries and would give you a chance to witness few of the other famous attractions of Jaipur that primarily include City Palace, Hawa Mahal, Jantar Mantar Observatory and Jal Mahal.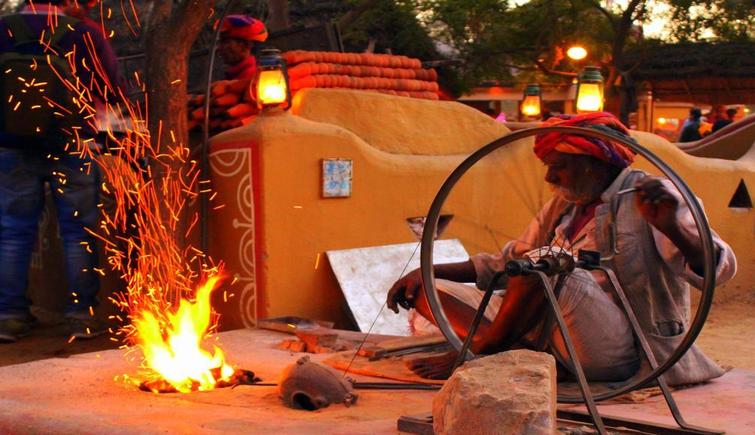 In case you are of the sorts who would like to get away from conventional sightseeing and soak yourselves in true colours of Rajasthan, a visit to the ethnic village of Choki Dhani would prove to be the best bet. Flocked by endless number of tourists every year, the village provides for a brilliant rendezvous with traditional Rajasthani culture. Always teeming with an aura of celebrations where you can indulge in fun-filled camel rides, witness heart-pounding acrobat performances, dance with Rajasthani folk artists, watch a beautiful puppet show or enjoy a sumptuous and authentic Rajasthani meal – Chokhi Dhani is sure to leave you with a unique cultural experience. Just be informed, that you would have to get this exclusively included in your Delhi Agra Jaipur Tour itineraries by informing our representatives well before finalizing on the package.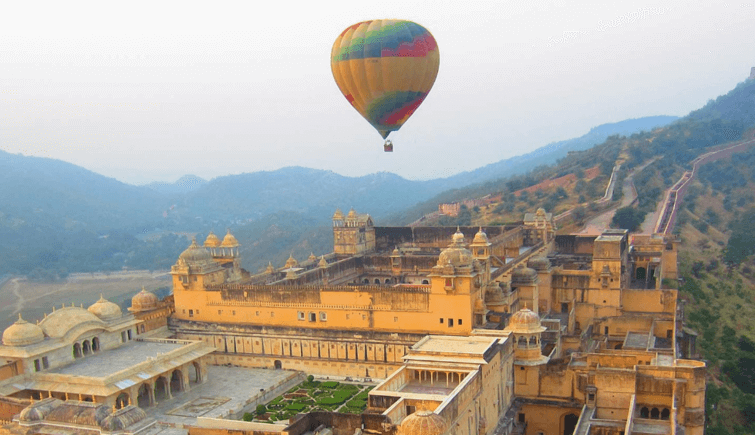 We have something more special in our kitty to make your Jaipur Trip one of the most memorable journeys of your life. Our exclusive Hot Air Balloon tour package is a real treat and provides the guests with an unprecedented opportunity to witness breath-taking panoramas of the Pink City from miles above in the sky. With rising rays of the sun blanketing the gorgeous Maota Lake and Amer Fort in their orange hues, it would simply be a sight to behold and would leave your hearts captivated with joy and ecstasy. In case the idea sounds interesting, do contact our travel staff and they would assist you in locking the deal.
You just cannot skip the shopping fun in Jaipur either…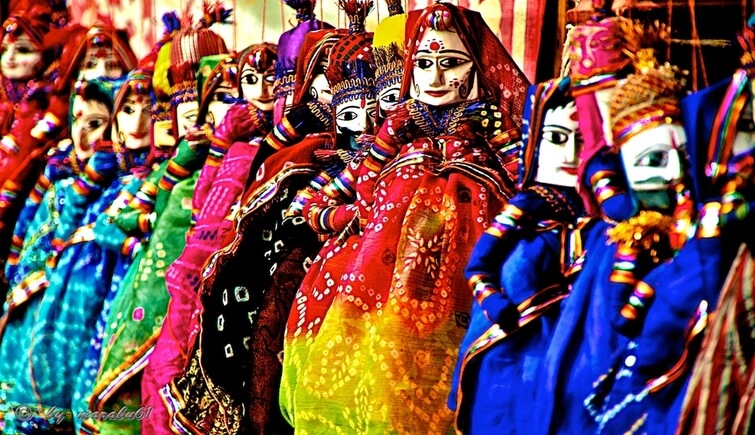 No holiday trip is complete without shopping and this saying holds absolutely true when you are in Jaipur. With markets flooded with textiles, footwear, antique & fashion jewellery, rugs, brassware, pottery and various other exciting items, you simply would not be able to hold yourselves from heading towards these bustling arenas where everything would seem to ignite your shopping senses and you would want to fill them up in your shopping bags right away. Wait! Don't get over excited and let our guide take you to the best places hidden in nooks and corners of the dazzling bazaars. Walk along him navigating through the narrow lanes of Bapu Bazaar which is famous for its traditional feather-soft quilts, beautiful bed spreads and ethnic cushion covers adorning popular Sanganeri prints. After filling your bags here, proceed with him to the famous Johri Bazaar which truly is a shopper's paradise and makes for a great place to spend few bucks on traditional ornamental silver, gold and gem stone jewellery. 'Gopalji ka Rasta', a narrow street in Johri Bazaar is known for its jewellery adorned with enamelled meenakari and kundan work that makes as a stunning piece to take back home as remembrance of your cultural holidays in India. A shopping tour in Jaipur is not complete without visiting the Nehru Bazaar where colourful ethnic Mojris (footwear) make for yet another extraordinary buy.
Tantalizing aromas of traditional Rajasthani food are sure to arouse your epicurean senses…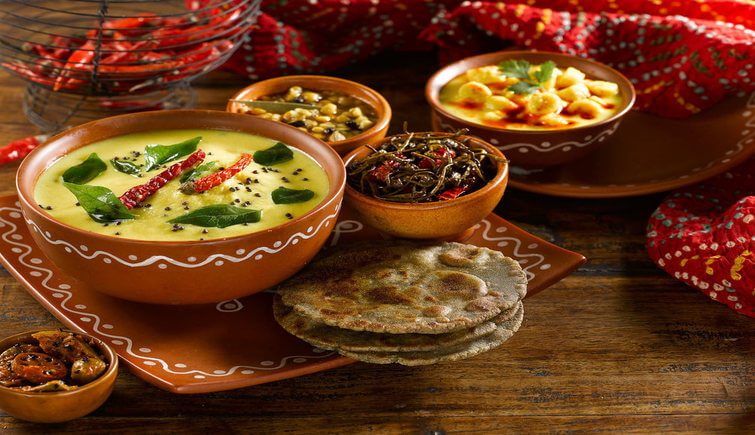 The capital city of Rajasthan has lot to offer not only in terms of sightseeing and shopping but, also in terms of its traditional and delicious food. Hidden in the city's bustling lanes are few age-old food shops that are running since generations and offer an unmatched culinary experience to both, locals and tourists alike. Our special food guide will embark you on an unprecedented food journey scouting you through narrow by lanes of Jaipur where tempting aromas of its authentic street fare are sure to fill your senses with instant cravings. On the tour, relish your taste buds with traditional and spicy 'Jaipuri Dal Kachori', gorge on some flavourful 'Chholey Tikki' or bite into the famous 'Kanji Wadas'. While you are in Jaipur, leaving from here without trying the famous flagship dish of Rajasthan, 'Daal Bati Churma', would definitely be counted as a sin. For the best Daal Bati experience, stop by at Nataraj Restaurant in Bapu Bazaar and dig into its traditional 'Rajasthani Thali' that comes with two flavourful churma, the aromatic 'Bajre ka Kheechda' and the delectable 'Gatte ki Sabzi'. If you are an ardent non-veg lover, ask your guide and he will take you to 1135AD Restaurant whose awesomely fiery yet delicious 'Laal Maas' is truly a delicacy to die for. For those with a sweet tooth, must certainly not miss on tasting the crispy and flaky 'Paneer Ghevar', a signature sweet delicacy of Laxmi Mishthan Bhandar, a hundred years old sweet shop and restaurant located in Johri Bazaar.
After soaking in the vibrant culture of Jaipur, it's time to soak in some thrilling wildlife adventure now… Tigers at Ranthambore await your presence!!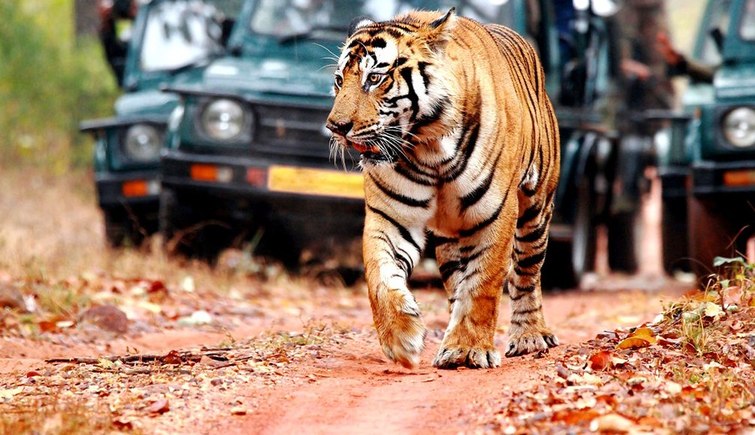 After offering you a sneak-peek in cultural legacy of Jaipur, our team will now embark you on a thrilling wildlife expedition to one of the most famous and exotic Tiger Reserves of India, the Ranthambore National Park. Spend a fun-filled evening in your private cottage around the park; sumptuous Rajasthani dinner buffet, a warm bonfire and eclectic music would be arranged by our staff. Early in the morning, head for a beguiling wildlife safari inside the park where a number of jungle inhabitants await your arrival. Navigating your way through thick forests soaked in absolute silence and scenic charm of ancient ruins, feel the adrenaline pumping down your veins, looking out for a handsome striped beast that may suddenly emerge out from the thick of the Dhok trees and surprise you with its elegant poise; without a doubt, this would be the best tiger sighting experience you would ever have in your lives. And while tiger would be an absolute show stealer on the Ranthambore Game Safari expedition, be ready to be captivated by sights of other park inhabitants too, including Leopards, Sambar Deer, Wild Boars, Black Bucks and Sloth Bears. In case, birding is something which greatly interests you, glimpses of Tree Pies, Parakeets, Bulbuls, Woodpeckers, Hornbills, Kingfishers and Cuckoos perched on tree tops or peeping from amidst the bushes, are sure to leave you with an amazing experience.
So, that completes your Golden Triangle India itinerary. Once you get back to Delhi, in case you have some time left, we can arrange for your trip to Kingdom of Dreams, a cinematic theatre where you can enjoy live stage performances by some of the well-known stage and TV artists in India; a walk through its 'Culture Gully' is something that you should not miss and which is sure to end your amazing India trip on a memorable note.
And lastly, before we conclude this blog, we have few tips and words of advice to share with our guests, especially for the ones who are planning to travel to India for the first time. Hopefully these tips would make your holidays here even more fun and exciting.
# India's buzzing life, miserable poverty and the chaotic streets with haywire traffic and sights of free roaming cattle in the middle of the road, is something which brings about a cultural shock to majority of the international travellers; if you are here with an open-mind set and an attitude to accept the things as they are, taking them as a learning experience in your life, you are sure to enjoy your holidays here in an unparalleled way.
# If you are travelling to India as a solo female, make sure you do dress moderately and avoid short, tight and skimpy clothing which attracts unnecessary attention.
# Pick-pocketing is quite common in India, especially at touristy places like historical monuments and crowded bazaars. As a word of advice, stay away from touts and beggars and be alert while holding your bags and purses at public places. Also, don't carry lots of cash and credit cards; traveller's cheques are a better option as they cannot be easily encashed in case they are stolen.
# In case you are a great epicurean and love gorging on the local flavours, be informed that 'Delhi-Belly' in India is fairly common for the tourists. But needless to say! If you keep certain tips in mind, you are sure to experience an epicurean journey like the way never before; stay away from cold food and ice-cubes, always drink bottled mineral water and carry a hand-sanitizer everywhere you go; just follow these simple rules and you would never ever be hit by this so-called 'Delhi-Belly' syndrome.
# Just in case you are travelling with kids, make sure they have been vaccinated for diseases like chicken pox, Hepatitis, Tetanus and Typhoid. If you have an infant or a toddler in tow, carrying their prescribed medicines, diapers, baby food and milk powder is much recommended too.
Popular Posts
---
Follow Us
---
Recent Posts