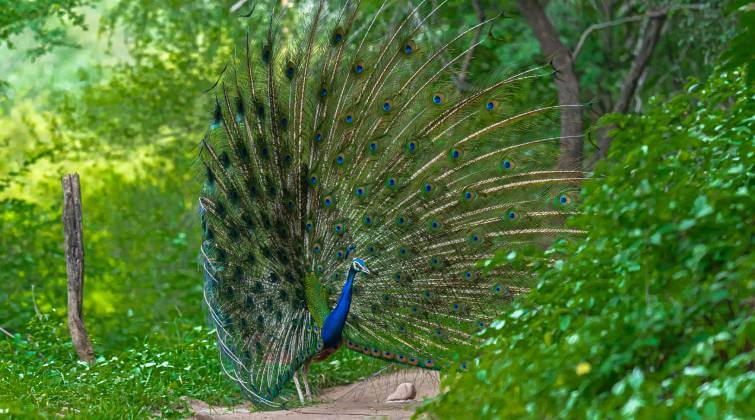 05 May, 2020
This Video of a Peacock Flying in Ranthambore Will Make your Day!
The beauty of nature & its inhabitants is infinite, and it constantly keeps throwing surprises at us, leaving us utterly fascinated. An 8 seconds video clip, which has since gone viral, shows a peacock flying at the Ranthambore National Park in Rajasthan. The 8 seconds long video was recorded by Harsha Narasimhamurthy, a wildlife photographer & shared by Susanta Nanda of the IFS (Indian Forest Service) on Twitter.
How exciting to see a peacock flying!
In the video, the peacock in Ranthambore National Park can be seen flapping its heavy wings & flying to the topmost branch of the tree while its companion looks on. It is indeed a beautiful and rare sight to come across. No wonder, it has received so many responses on Twitter.
Twiterrati loves the video!
What makes the video special is the fact that you don't see peacocks flying too often. They can cover short distances by flying. When they do that, they first run and then hop before taking off from the ground.
A peacock's tail feathers are upto 6 feet long & make up 60% of its body length. It cannot fly high though, and the maximum height it can cover is up to the lowest branch of a tree.
Commenting on the video which he shared, Susanta Nanda said, "This is how a peacock flies. The tail feathers might grow up to six feet and is more than 60% of body length."
Watch the video & tell us how much you loved it!
Feature Image: Used for Representational Purpose Only.
Popular Posts
---
Follow Us
---
Recent Posts