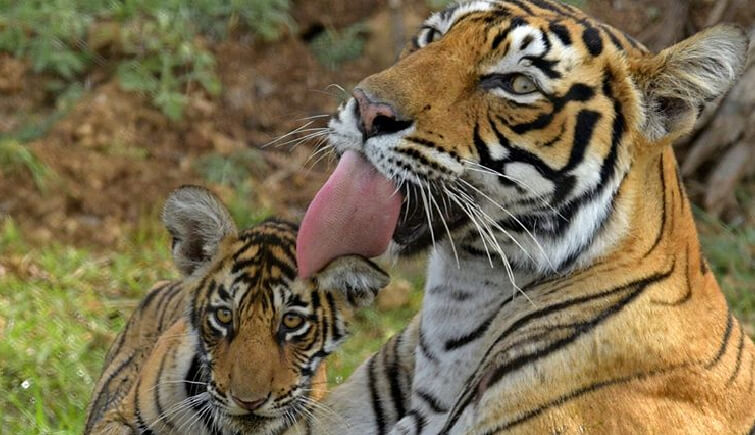 19 Feb, 2020
The Inspiring Story of How Aditya & Poonam Singh Made a Lush Forest Out of a Barren Land in Ranthambore
It is common to hear of forests being cleared for agriculture, mining and industrialisation. In this case though, a barren patch of land was transformed into a forest, and gradually came to be inhabited by a variety of wildlife, including the Royal Bengal Tiger. Photographer Aditya Singh and Poonam Singh, his wife, is the inspiring couple behind it all, and it is a story of determination, hope and untiring effort. The 35 acres of land is located just next to the famous national park of India, Ranthambore National Park, in close proximity to Sawai Madhopur, Rajasthan. Many people speak of their love for wildlife and nature, but this man lives it through his work.
(In the video above, Aditya Singh explains the entire story in his own words)
From Delhi to Sawai Madhopur
Aditya Singh, along with his wife, Poonam Singh, shifted to the city of Sawai Madhopur in Rajasthan in 1998. He left his comfortable house in New Delhi and quit his job in the civil services just after a year of joining it. It was here that he developed a love for photography. Their source of income at this point was a tourist resort managed jointly by him and his wife, Poonam Singh. They ran the resort together for 20 years before closing it down in 2019.
Falling in love with Ranthambore at first sight
Poonam Singh recalls how Ranthambore won her over the first time she visited it along with her husband, Aditya Singh. She says, "My first sighting was a tigress with three cubs on a hill. It was magical. At the end of the trip, I just asked him if we can move to Ranthambore. He wanted it too and within months we moved. As far as this land is concerned, it was a dream that we both saw and achieved together to have our own area of wilderness."
It all began with a visit & took 20 years
Aditya Singh first visited the barren patch of land, called Bhadlav, near Ranthambore along with a BBC photographer as part of a photography assignment in 1999. It was here that he came across plots of farmlands for sale. The farmers, because of crop raiding by wild animals like deer, nilgai and wild boar, were averse to growing anything there. The land was available at a cheap price because it was inaccessible by road and was not connected with electricity.
The couple purchased the 35 acres of land over a time period of 20 years, built a fence around it and protected it from overgrazing and felling of trees. In about 15 years, shrubs and trees of the kind that are found in Ranthambore National Park also began to make their appearance here at an impressive rate. The two water holes that occupy a special place in his heart today, developed as a result of rainwater harvesting and the presence of a large number of trees.
Bhadlav, the mini forest, attracts deer, nilgai, wild boars & tigers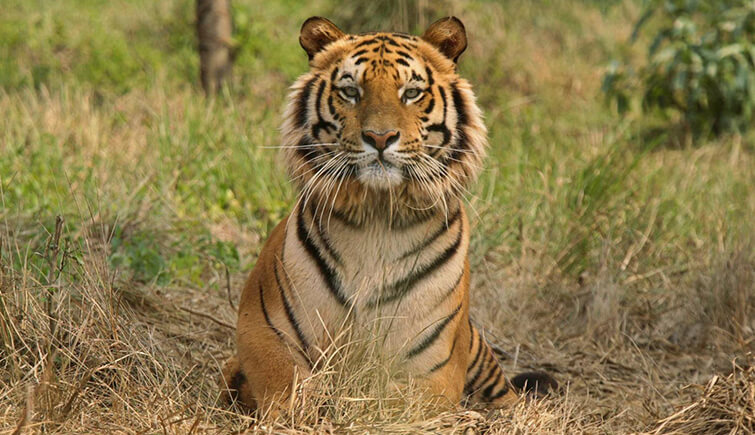 From March onwards, Aditya Singh says, there is an increase in the density of wild animals that visit this land, with nilgai, wild boar and deer arriving in large numbers. These, in turn, attract predators like tigers. A lot of sub-adult tigers, or cubs until they are about two to two and a half years old, are often pushed away from their area in the Ranthambore Tiger Reserve.
Unfortunately, when they leave the reserve, they end up in areas that are completely barren. However, ever since this mini forest has come up, a lot of them have been seeking refuge here. His patch of land is separated from the tiger reserve and the surrounding farmland areas by a wall. Besides isolating it, he has also let it grow wild.
In his own words, he says, "The area is called Bhadlav. I had first gone to this area soon after settling in Ranthambore along with a BBC filmmaker. This area adjacent to the boundary of the Ranthambore reserve was visited by predators like tigers who used to come for prey. As a result, farmers were selling their land. I just bought this and did nothing to it except removing the invasive species. We allowed the land to recover and now after 20 years it has become a lush green patch of forest which is frequently visited by all kinds of animals, including tigers, leopards and wild boars, throughout the year".
Aditya Singh also works closely with the forest department to monitor the movement of these mammals, along with the local community in the nearby areas to persuade them to reduce the felling of trees.
Besides owning 35 acres of land, both Aditya Singh and his wife, Poonam Singh, are the proud owners of another five acres of land located a few hundred meters away, with a narrow strip of land connecting the two.
A little forest with its own water holes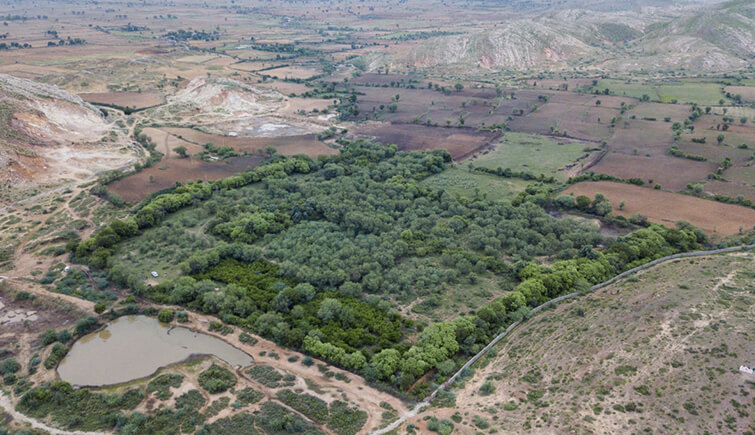 The lush patch of land stretched out in this area called Bhadlav stands in stark contrast to the barrenness of the surrounding areas of the Ranthambore Tiger Reserve. An aerial shot of the area captured by Aditya Singh shows this contrast quite clearly. In fact, this little forest also has its own water holes, which ensures that animals have access to water even during the summer.
By purchasing and developing this former barren patch of land into a forest, Aditya Singh has also brought about a significant reduction of predators like tigers into the fields of the farmers. It is a matter of immense satisfaction, and he explains the reason behind that development quite clearly. He says, "It is simply because the animals understand that in this patch of the forest they get prey, water and safe shelter without any disturbance".
Aditya Singh says that according to the people that are doing camera tapping, this lush patch of land is inhabited by five tigers in total.
What inspired him? Nature and wildlife, that's all!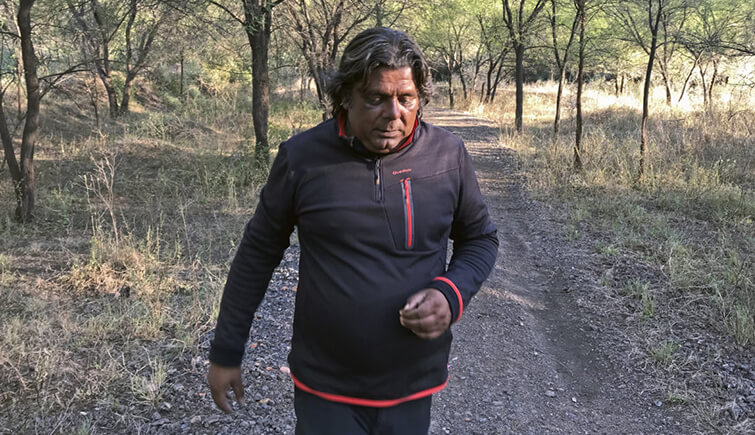 However, for those sceptical of his claims of nature and wildlife being the motivation behind his inspiring work, he says, "Money was never the consideration. It is just about my love for nature and wildlife. Instead, these days I am getting queries from people across India who want to replicate a similar model in their state." He has often been confronted by people who question his decision to not carry out a project on his land, the value of which is now over Rs. 10 million, or Rs. 1 crore. He also adds that he derives satisfaction and fun from his work, and also the joy of having his own forest.
Aditya Singh wants to be an inspiration to others
Despite the commendable work done by them, both Aditya & Poonam Singh say they have a lot more to do ahead. Aditya Singh says that he plans on buying the agricultural land next to his patch and persuading others to do the same.
In addition, they have begun a side project consisting of a new home and homestay, which is in progress. Once completed, they will run on solar and wind and will consist of two water holes located at the fence. These will be frequented by animals during summers, and guests staying in them will undoubtedly get the "wildlife adventure" they are looking for while visiting such places!
Popular Posts
---
Follow Us
---
Recent Posts