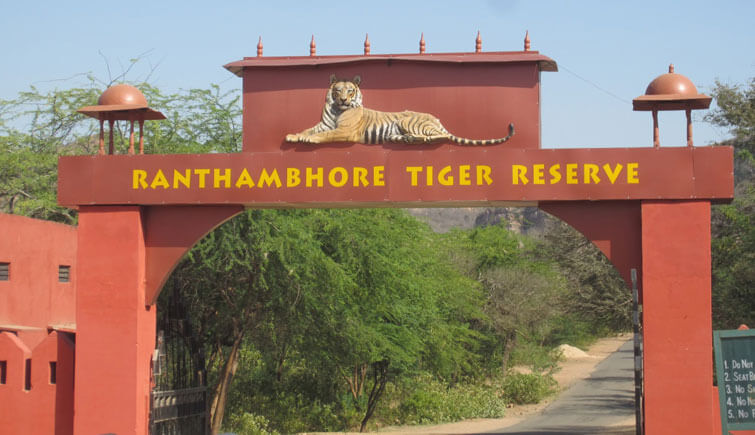 14 Feb, 2020
Poachers Caught in the Camera Trap Surrendered in Ranthambhore after Multiple Efforts of Police
Days after the Police Department and the Ranthambhore Forest Department found the footage of poachers carrying a beheaded Chital (spotted deer) in Ranthambore National Park, two accused poachers surrendered. However, the surrenders only came after a great deal of efforts by the police department.
Insight into the Story
In the Phalaudi Range of Ranthambore Tiger Reserve, poachers were caught on camera killing and carrying a Chital (spotted deer). When the police and forest department went to  arrest the accused from the nearby Jetpur Village at the wee hours of the morning, the village people pelted stones at them injuring 6 forest officials. In this attack, 12 villagers were also reported injured.
According to the news reports, two accused poachers surrendered on the same evening. The police have filed a case against 29 criminals along with 500 other people. As per SSP, Dharmendra Yadav and DFO, Mukesh Saini, after the identification of the poachers from the camera footage, the police have been attempting to convince them for a peaceful surrender. However, the poachers dodged the police multiple times before two of them finally surrendered.
Greater Threat to the Wildlife of Ranthambore
Even though the surrender of the two poachers can be seen as the success of the efforts of the police, a greater threat still hangs over the wildlife in Ranthambhore National Park. According to the reports, in the past 9 years, 26 tigers from Ranthambore have been reported missing for which neither anyone was held accountable nor was held responsible. Also, the footage of poachers fearlessly entering the wildlife reserve and killing and carrying of the wildlife, leave a haunt on the security in the park.
Ranthambore News Inputs...
Popular Posts
---
Follow Us
---
Recent Posts