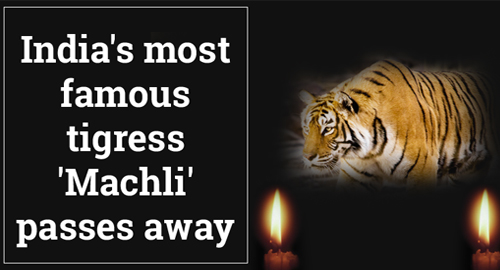 18 Aug, 2016
Queen of Ranthambore, Tigress Machhli Dies at the Age of 19
Also known as T-16, Machhli breathed her last on August 18 at the age of 19 years. The sad news came from Ranthambore National Park, where this legendary tigress is also called 'Queen' was found dead near a densely forested patch close to a luxury resort at 9.50 AM.
Famous as the most photographed tiger in the world, Machhli is said to have been keeping unwell and had not eaten for five days before Thursday. Hemraj Meena, who has been a guide and naturalist at Ranthambore for 22 years reported that a team of vets and top forest officials are being awaited for carrying out the necessary formalities. The body will also be sent for post-mortem after which a proper cremation is likely to be carried out for this beloved tigress.
Machhli was known to be the oldest living tigress in the wild. Her most famous and remembered wildlife encounter is the one where she fought and killed a 14-foot long crocodile. In this legendary incident, the brave tigress lost all her canine teeth making it difficult for her to hunt. She even had a dedicated team that used to keep a track of her movements and from time to time offered baits so that she wouldn't go hungry. Many documentaries have been made on the life of this camera-friendly tigress, who is named Machhli (fish) due to a fish sign on her face found by Colin Patrick Stafford-Johnson, a cinematographer who made five documentaries on her. Her fame is such that she has a postage stamp as well as several Facebook pages dedicated to her. We feel deeply sad at the loss of this Legend from Ranthambore and with tears in our eyes remember each time a sight of this brave one made us smile.
RIP Machhli......
Popular Posts
---
Follow Us
---
Recent Posts