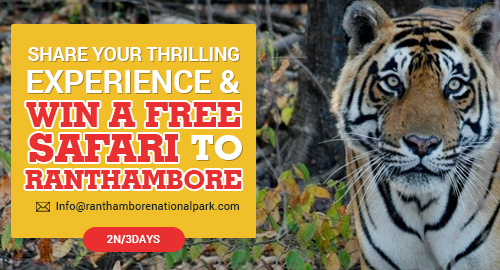 05 Mar, 2016
Share Your Thrilling Experience of Your Visit to Ranthambore and Win a Free Safari and 2N/3D Stay
We invite all wildlife lovers who have visited Ranthambore National Park to share their happy experience with us. We are giving you an opportunity to tell your part of the story about your thrilling experience at one of India's best national park, Ranthambore.
Here's a catch, the story with maximum number of social media likes and shares will be chosen by us for one Free Safari and 2N/3Days stay (inclusive of all meals) in Ranthambore National Park. The contest opens from March 6, 2016 and shall end by May 31, 2016. Winners will be announced in the month of June and will be eligible for Free Safari and Stay in the next 'Safari Season'(October-November) of 2016. Send in your write-ups (please make sure that story is fresh and has not been published anywhere else) along with original images supporting the article. You are also requested to send us your passport size photo (for creating profile on our site) and a brief introduction about yourself. Send us your write-up at info@ranthamborenationalpark.com.
You have experienced the unparalleled thrill and NOW is the time to share all about it.
Photo Courtesy: Yadvendra Singh
Popular Posts
---
Follow Us
---
Recent Posts