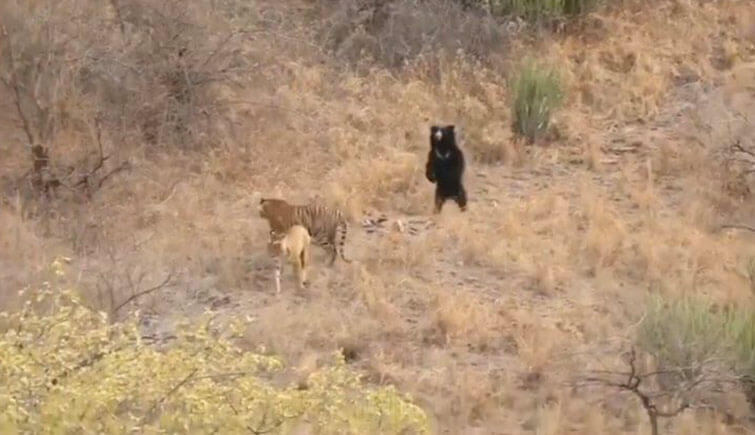 22 Jan, 2020
See How Sloth Bear Scares Away 2 Tigers in Ranthambore National Park
Everything that we know about tigers tells us that it cannot be intimidated. It is, after all, an apex predator. In a fight involving a tiger and any other animal, it is mostly the tiger who emerges as the dominant one. Seeing a tiger back down, is therefore, a rare sight to come across. At the Ranthambore National Park, something similar happened when a tiger decided to intimidate a sloth bear. Tables were soon turned however, when the sloth bear turned round and chased the tiger. Ultimately, it manages to scare away two tigers all by itself. The entire episode is exciting, amusing and interesting, all at once.
Tiger vs Sloth Bear: Sloth Bear Wins!
The entire episode was captured by Parimal Nathwani, a Rajya Sabha MP from Jharkhand at Ranthambore National Park. Since then, the video has gone viral on Twitter, and has garnered a lot of views, besides being shared an impressive number of times.
The video, which is one and a half minutes long, shows the tiger following the sloth bear stealthily, perhaps waiting for an opportunity to attack it. He follows it for a while, and then stops completely. It is then that the sloth bear becomes aware of the presence of the tiger. He turns round, raises himself on his hind legs and pursues the tiger, who realizes that the tables have turned and retreats as fast as he can.
The tiger then joins another tiger who is seen standing nearby. The sloth bear now seems enraged and continues intimidating both the tigers by raising himself high on his hind feet. One of the tigers, who is scared by now, flees, leaving the other one all by himself. The sloth bear assumes a threatening position once again, before finally turning back and going his way. He has won this battle, and will talk proudly with his companions about it!
Popular Posts
---
Follow Us
---
Recent Posts