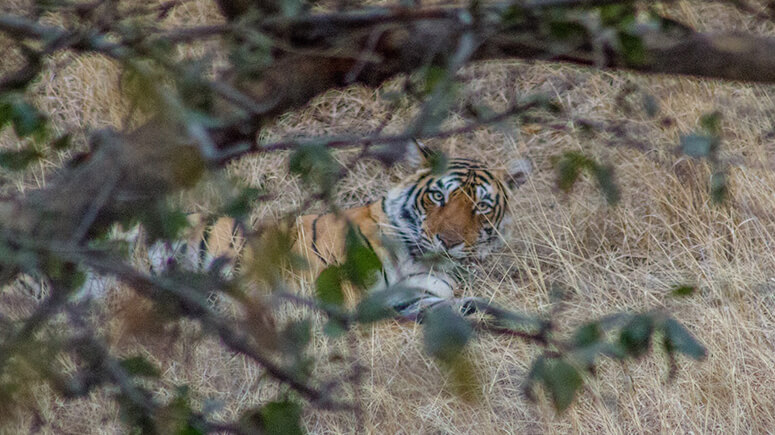 29 Apr, 2019
Stones Thrown at a Sleeping Tiger to Get a Better Picture in RNP: How Seriously Are We Taking the Forest Rules?
In one of the famous tiger reserves in India, Ranthambhore, a guide was caught on camera pelting stones at a sleeping tiger. The incident took place on April 23 in Zone 6 of the park. Both, the guard and the tourist were slammed with a fine INR 51000 by the forest authorities. The deplorable act raises a question that are the forest rules being taken seriously? Here's the detail of what happened in India's one of the most popular national parks.
When Did It Happen?
The incident took place on April 23, 2019, Tuesday.
Where Did the Incident Take Place?
In Zone 6 near the Pili Ghat Gate of Ranthambhore National Park.
What Happened?
According to the sources, the visitor on a full-day jeep safari in Ranthambhore spotted a sleeping tiger in the park. He wanted to take a closer look at the tiger and wanted better pictures of the big cat, so the guide stepped out of the jeep and started to pelt stones at the sleeping tiger to wake him up.
Who Were the Culprits?
Two people were held responsible for this misconduct. The tourist named Mrityunjay Tiwari who is a native of Patna and was on a two full-day safari in Ranthambhore. The guide involved in the incident is identified as Islam Mohammed.
What Actions Were Taken?
The entire incident was caught in thermal imaging camera. The forest department officials after watching the footage fined the tourist and the guide with INR 51,000. The second day visit of the tourist was also cancelled due to his misconduct, while the guide has been suspended.
The Questions that Haunt Us?
The authorities has been quite quick with taking the action and tracking down the gypsy as well. But the questions remain, is it so easy to violate the forest rules that too right under the nose of the authorities and that too by a staff member?
What more should be done to ensure the safety of the wildlife?
Popular Posts
---
Follow Us
---
Recent Posts