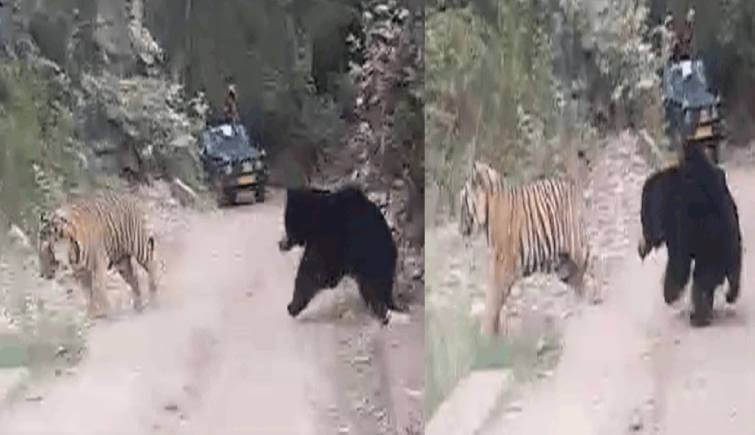 09 Mar, 2022
Hunter and the Hunted – Tiger Chased by a Bear at Ranthambore Tiger Reserve
Interesting Viral Story of Ranthambore National Park
Sometimes the hunter too gets hunted …
Ranthambore National Park can never stay away from attracting tourists with its jaw dropping stories. Recently a new enchanting scene of a Bear chasing Tiger has been captured on camera by Wildlife lovers and the video went viral over social media. Well, this scene is extremely mind boggling as Tigers by temperament are wild creatures and love hunting other animals but this time a tiger has been chased by a bear.
This interesting video shows how a tiger's path is blocked by a bear. The Tiger can be seen standing in the middle of the path when a bear from back suddenly started chasing. The tiger suddenly gets up and runs into the bushes.
This video of Ranthambore Tiger Reserve has garnered many views and attention from people over the internet. People are amazed to see this interesting scene and now this video of Ranthambore National Park has impressed the wildlife lovers very much.
According to the forest officials the population of bears in the reserve has been increasing day by day. Ranthambore has picturesque grasslands which are the most favored places to stay for the bears. There are more than 100 bears in the Reserve.
It seems now Ranthambore has a great competitive environment. In the future we will see more interesting stories of the wild creatures. The Video captures an unexpected tussle between Tiger and a bear and also shows that the wilderness of Ranthambore is full of surprising elements.
Ranthambore National Park Viral News.
Get Ready for the thrilling Wildlife Safari at Ranthambore on Weekends Tour.
Popular Posts
---
Follow Us
---
Recent Posts