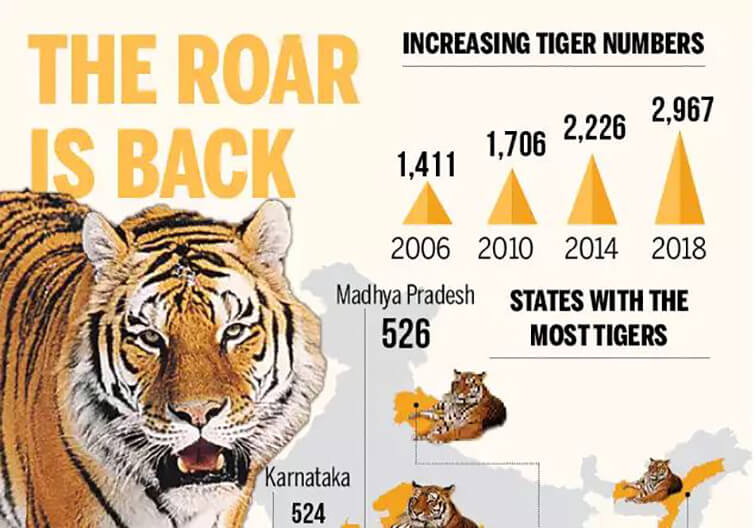 30 Jul, 2019
Tiger Census Reveals India- Home to Almost 2,967 Royal Bengal Tigers
Here's good news for tiger conservationists, tiger authorities and wildlife lovers celebrating International Tiger Day. According to the latest census made available to the public by India's Prime Minister- Narendra Modi, India is home to 2,967 tigers. What makes this figure significant is that it is an increase by a third than the 2014. The latest census also reveals the states with the highest tiger population and those with the lower ones, along with the economic value of tiger reserves in the country. The figures are certainly cause for enthusiasm, and a great deal of it was reflected in the address by PM Modi to the nation.
States with increase & decrease in tiger population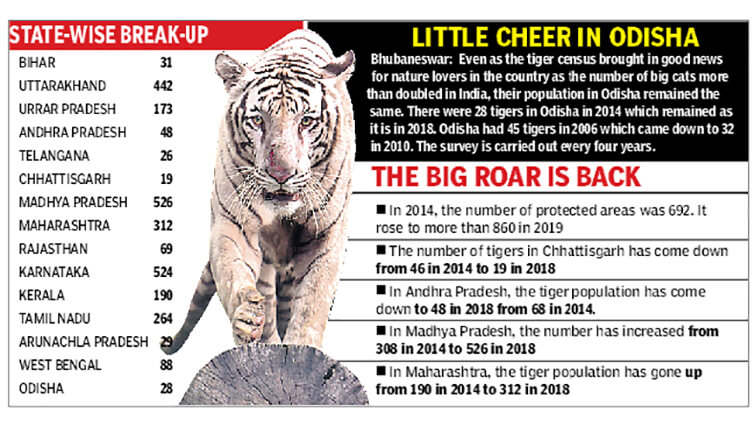 The latest tiger census is very encouraging, and point to the successful strategies, methods and techniques being adopted and pursued by wildlife authorities and wildlife conservationists to protect the Royal Bengal Tiger. Madhya Pradesh recorded the highest number of tigers at 526. It was followed closely by Karnataka, which recorded 524 tigers. Uttarakhand came third, but not far behind, with 442 tigers. The states which saw a decline in the tiger population are Chhattisgarh and Mizoram. Other states recorded a positive increase, according to the census. In Madhya Pradesh, Pench Tiger Reserve was home to the largest number of tigers, while Sathyamangalam Tiger Reserve in Tamil Nadu showed the highest improvement since 2014, according to the census.
States with increase in tiger population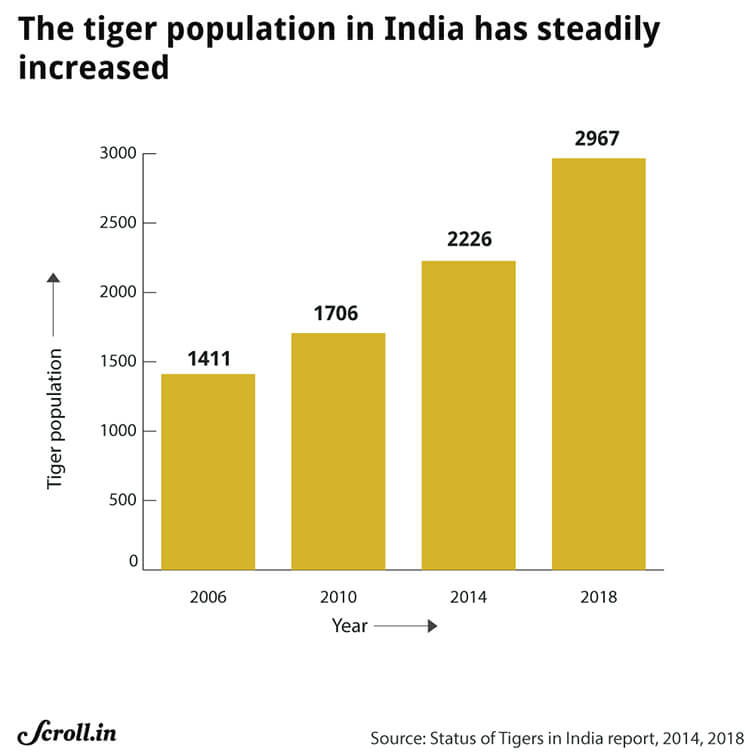 | States with Increase | Number of Tigers |
| --- | --- |
| Madhya Pradesh | 526 |
| Karnataka | 524 |
| Uttarakhand | 442 |
| Maharashtra | 312 |
| Tamil Nadu | 264 |
States with decrease in tiger population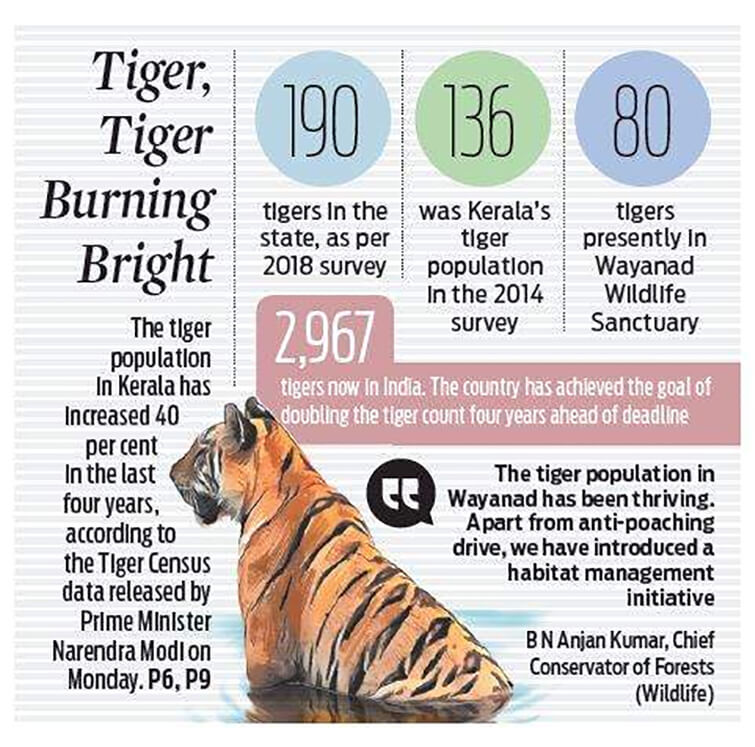 Chhattisgarh
Odisha
Mizoram
Jharkhand
Why is the survey so important?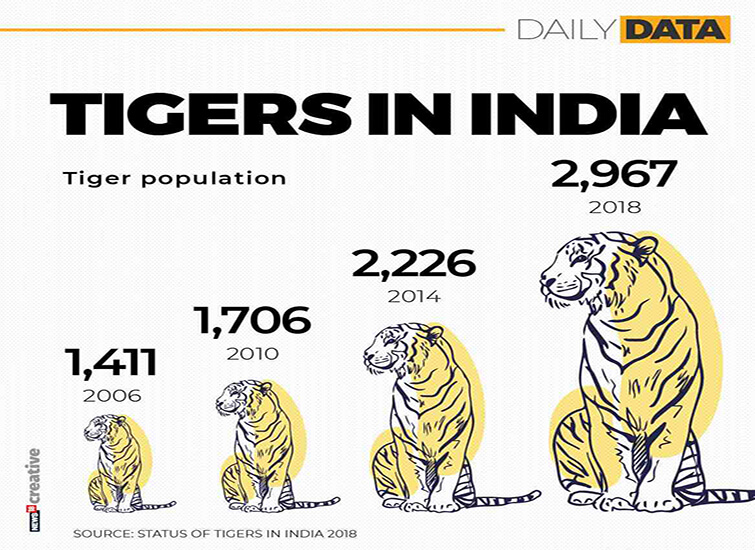 The survey is important, and the data collected by it should be taken with the utmost seriousness, because of two reasons. One, these are official figures released by the government, and are therefore, authentic. Secondly, the census is taken once every four years. The tiger census 2019 was taken after painstaking effort of 15 months' work where the forest officials surveyed 3,81,400 sq. km of forested habitats. During the same period of time, they also installed 26,760 camera traps, with wildlife biologists going through 35 million images of wildlife. Of this astounding number of images, 76,523 were those of the tigers. It is estimated that almost 83% of the entire tiger population was represented in these images.
Economic value of tiger reserves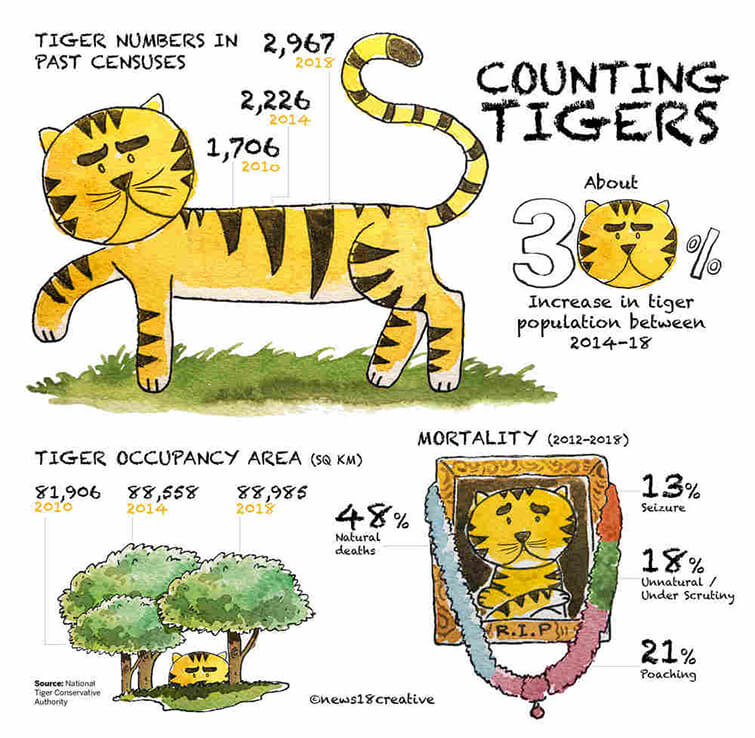 The government had also conducted a study to understand the economic value of tiger reserves to the country. After analysing 10 of them, it reached the conclusion that the benefits, both from the environmental and socio-economic point of view, amounted to almost 4,200 crores to 16,000 crores annually.
A short history of the tiger census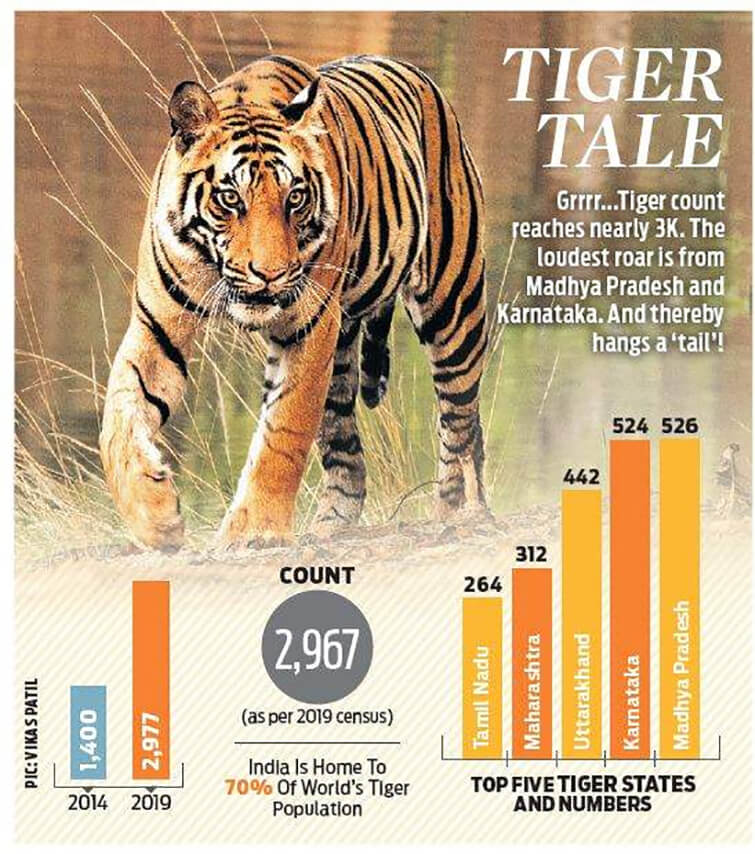 The conducting of tiger censuses in India began in 2006, with the task assigned to the Wildlife Institute of India, a government body funded by the Ministry of Environment. According to the census conducted in 2006, it emerged that India was home to only 1,411 tigers. The numbers were certainly discouraging and cause for alarm for tiger conservationists and wildlife officials. This number increased to 1,706 in 2010, followed by 2,226 in 2014. This impressive increase in the number of Royal Bengal Tigers in 2014 can be attributed to improved conservation measures, use of enhanced technology, significantly better cooperation between wildlife forest officials and new estimation methods. It should be noted that India, at present, is home to a large number of the 3,500 tigers that are scattered across various countries like Nepal, Malaysia, Laos PDR, Myanmar, Bhutan, Cambodia, China, Indonesia, Vietnam, Thailand and Russian Federation.
Observations of the PM on the latest Tiger Census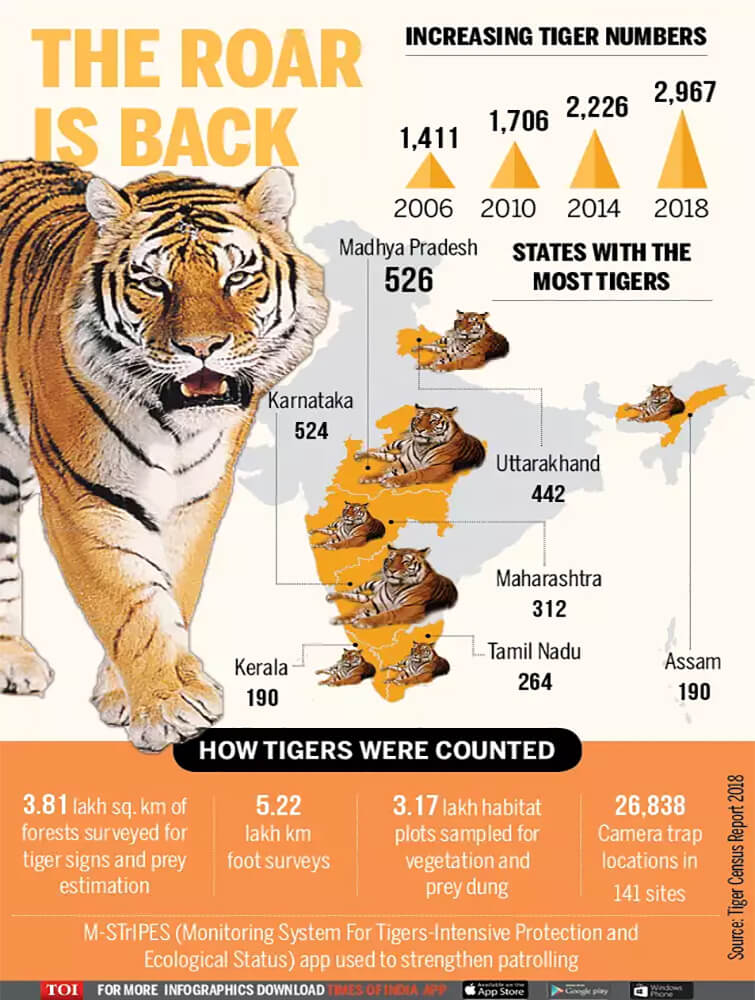 The Prime Minister of India- Narendra Modi, appeared extremely delighted and enthusiastic regarded the positive and encouraging results of the tiger census. He said, "The results of the just declared tiger census would make every Indian, every nature lover happy. The story which started from 'Ek Tha Tiger' and reached to 'Tiger Zinda hai', shouldn't end there. Nine long years ago, it was decided in St. Petersburg that the target of doubling the tiger population would be 2022. We, in India, completed this target four years early."
He also stressed on the need for striking a healthy balance between development and environment. Addressing this issue, he went on to say, "There is a very old debate - development or environment. Both sides present views as if each is mutually exclusive. In our policies, in our economics, we have to change the conversation about conservation. I am confident that India will prosper both economically and environmentally. India will build more roads and India will have cleaner rivers. India will have better train connectivity and also greater tree coverage." On the occasion of International Tiger's Day, PM Modi also released a report titled, "Management Effectiveness & Evaluation of Tiger reserves". Along with this, he also released a trailer of the movie, "Counting Tigers". In this movie, the procedure of counting tigers in India is explained in a detailed manner.
Why is International Tiger's Day celebrated?
International Tiger's Day is held every year on 29th July to raise public awareness and support regarding several issues related to tiger conservation. The idea behind such an event came up at the St. Petersburg Tiger Summit in 2010. It was also decided that 29th July would also be known as Global Tiger Day. During the summit, a panel of experts declared a goal towards tiger conservation, which was to double its population by 2022.
Popular Posts
---
Follow Us
---
Recent Posts