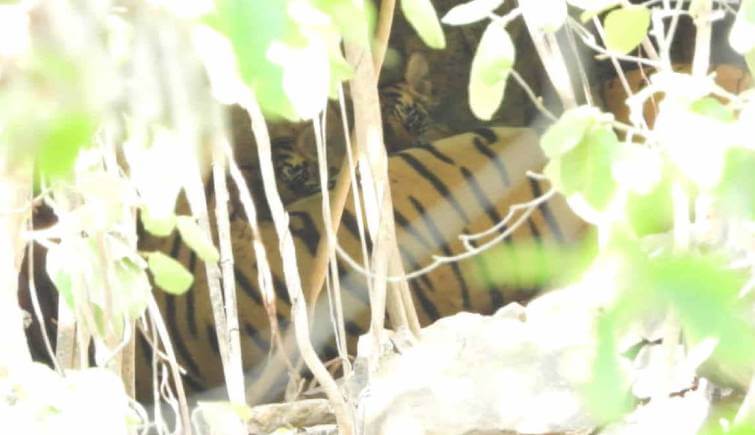 15 Jul, 2021
Tigress Arrowhead aka T84 Spotted with 2 Cubs at Ranthambhore
Ray of Hope…. Two baby Tiger cubs were found in Ranthambore National Park
The cat population in Ranthambore National Park is now 70 as two tiger cubs of tigress T84 were spotted at Ranthambore Tiger Reserve on Tuesday. It is said that this is the third litter of tigress T84 called Arrowhead.
It is evident that the past few days have been very difficult for Ranthambore National Park as a 10 year old male tiger was found dead on 6 July but now, these newborns in the park have given a new ray of hope to the future of wildlife. The population of tigers in Ranthambore National Park is 70.
The tiger was located near the Nalli Ghati forest near Zone- 2. According to an official "The tigress is 7 years old and the newborns were spotted with the mother for the first time. However, there were indications that the tigress has given birth"
In the past three years total 35 tigers are recorded to have taken birth in Ranthambore National Park.
On July 5th Ramgarh Vishdhari Tiger Reserve in Bundi district was approved as Rajasthan's fourth Tiger Reserve. Due to the dwindling number of tiger population and the need of tigers for at least 20 sq km territory, the decision to extend the number of Tiger Reserves has been taken by the ministry of environment, forest and climate.
Recently, two and half years old daughters of arrowhead - Riddhi and Siddhi were fighting for territory which can bring worries in future. A proposal has already been floated to shift Riddhi to Sariska from Ranthambore.
Ranthambore News Inputs.
Popular Posts
---
Follow Us
---
Recent Posts