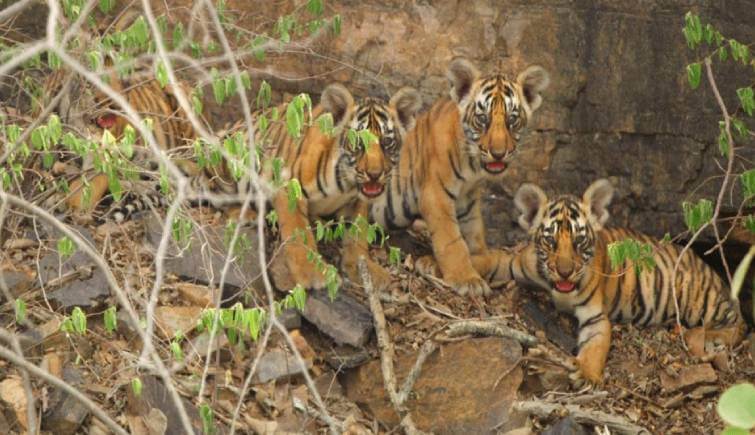 21 Jun, 2021
Tigress T-111 Seen with 4 Cubs in Ranthambore National Park, Rajasthan
In a huge boost to India's Tiger Action Plan, the Tigress T-111 of Ranthambore Tiger Reserve (RTR) in Rajasthan has given birth to four cubs. The cubs were seen drinking water together in Aadi Dagar drain in Lakda forest range of Kundera range at 9 am on Friday. Though the mother tigress was not sighted in the morning, she was seen accompanying her cubs later in the evening.
After the arrival of the cubs, the big cat population of Ranthambore Tiger Reserve has now touched 69, which is an excellent figure when you consider the birth rate of tigers in the reserve since the last three years.
As of now, the reserve has 21 tigers, 30 tigresses and 18 cubs. In addition to this, a total of 4 tigers including one male tiger, one tigress and two cubs are present in Keladevi range and Dholpur range of the reserve.
New Cameras Being Installed for Monitoring the Tigress and Cubs
Harimohan Meena, the Field Biologist of Ranthambore National Park in Sawai Madhopur says that the cubs are about two months old. Moreover, to ensure the safety and health of tigress and cubs, new camera traps are being installed under Phase 4 monitoring.
Earlier, the cameras helped the officials to monitor the behaviour and physical structure of the tigress T-111, which suggested that she might have given birth to children.
Great Moral Booster for Project Tiger Programme in India
Project Tiger is a tiger conservation programme launched in April 1973 by the Government of India during Prime Minister Indira Gandhi's Tenure. This project aims to stem the reducing population of the big cats and to work on increasing their numbers.
The latest development in Ranthambore National Park is a great moral victory for those who are working under Project Tiger programme. As of now, the total number of tigers in Rajasthan has increased to 102.
Ranthambore National Park News Inputs.
Popular Posts
---
Follow Us
---
Recent Posts