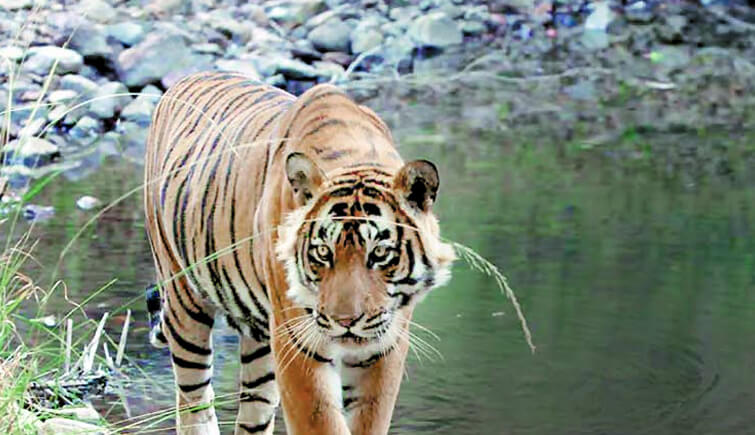 06 Dec, 2019
Tiger Chases Tourists Enjoying a Safari in an Open Roofed Vehicle in Ranthambore
Perhaps, there is no greater thrill than spotting a tiger during a safari at the Ranthambore National Park. Let's face it, most people take a safari to spot the Royal Bengal Tiger. A few days back, a group of tourists at the Ranthambore Wildlife Sanctuary experienced this thrill when they spotted a tiger. However, things soon took an unexpected turn when the tiger decided to chase their vehicle.
What happened during the incident?
The entire incident has been captured in a 19 seconds video, in which the tiger can be seen trying to jump on the vehicle. The driver immediately accelerates the vehicle, hoping to leave the tiger behind. But the tiger doesn't seem to give up, and runs after them vehemently. In the video, the tiger can also be seen running parallel to the vehicle. Sensing the impending danger, the driver applies the brakes and turns the car to the reverse direction, before speeding away.
Video goes viral, makes headlines on various news channels
The video of the tiger chasing tourists in the open roofed vehicle in Ranthambore National Park has gone viral on various social media platforms like Facebook and Twitter, and has been shared by millions of people. It has also made headlines in various TV news channels.
Precautions to be observed during a wildlife safari
Here are some of the precautions that you should observe while taking a safari. Observing these precautions will help you enjoy the safari safely.
Never ever get down from the jeep/canter during a safari
Do not feed wild animals in the park
Avoid the use of flashlight
Don't get close to wildlife
Always follow the safari track
Maintain your composure inside during the safari
Representation Image: Ranthambore Tiger
Popular Posts
---
Follow Us
---
Recent Posts