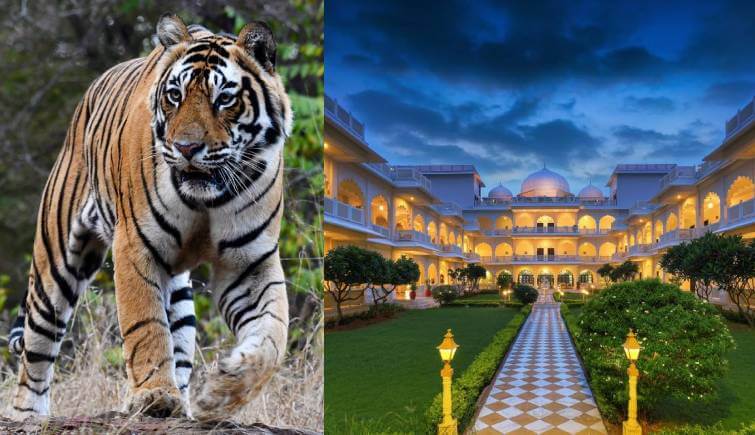 13 Dec, 2021
10 Best Luxury Resorts in Ranthambore National Park
The real fun of wildlife tours increases when you are enjoying the most soothing staying facilities in the world. Not only, it enables you to travel and enjoy your journey hassle free without even needing to worry about your luggage. In Fact, the best part of it is that it provides you the best post- safari recreation possible to refresh your mind. Ranthambore National Park is blessed with amazing Luxury Resorts and Hotels which offers top notch facilities equivalent to international standards for the most memorable luxury holidays ever.
Here is a list of the most popular luxury resorts and hotels in Ranthambore:
The Tigress Resort Ranthambore
Hotel Sawai Vilas
Jungle Vilas Resort
The Tiger Roar
Jungle Cave Resort
The Leaf Kipling Lodge
Juna Mahal Ranthambore
Anuraga Palace
Sujan Sher Bagh
Puratan Quila
The Tigress Resort Ranthambore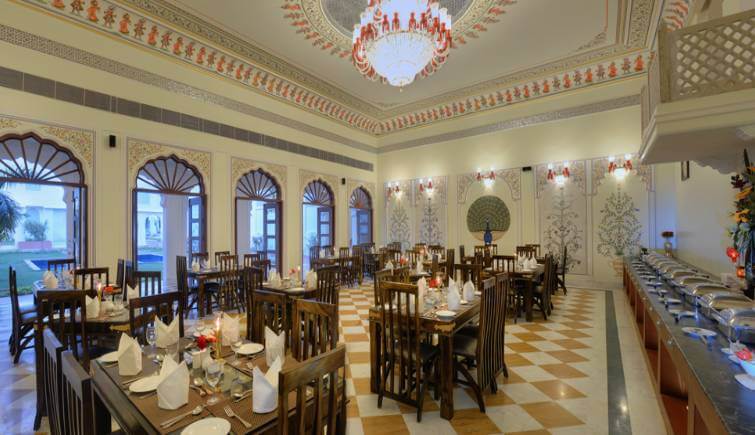 All your wildlife quests in Ranthambore will be an unforgettable experience in The Tigress Resort of Ranthambore as it offers the best views of majestic Royal Bengal Tigers in their natural habitat. This premium resort is located just adjacent to the Ranthambore National Park. Soul soothing hospitality with all the premium facilities offers a great experience of staying and enjoying the wilderness. It is an all-suite resort in Ranthambore with a heritage style royal look.
If you are with your loved ones then the partner spa and royal dining would take your breath away and make your special moments awesome. The delightful setting at the background, comforts of royal-luxury suites equipped with all the modern facilities and tons of recreational activities like farming, indoor games, swimming, village safari, nature walk, movies, bird watching and local folk-dance programs will make your stay absolutely memorable and pleasant. It is one of the best resorts to stay in Ranthambore without any doubt.
Hotel Sawai Vilas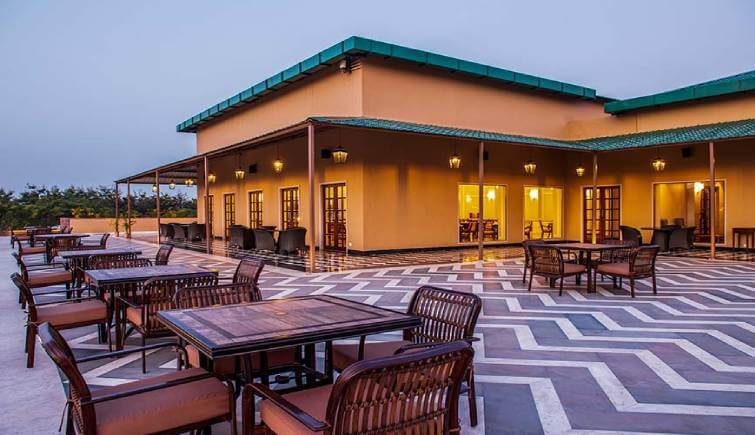 Hotel Sawai Vilas is an absolutely must recommended luxury stay place if you are in Ranthambore National Park.  It is in the top 10% list of popular hotels worldwide and also it is the 2021's Travelers choice award winner. If you really want to enjoy the pleasures of royalty along with the exotic wilderness of Ranthambore, come here. It is known for providing amazing and fantastic stay experiences to travelers around the globe. You will be amazed to know that it comprises 60 villas equipped with all the comforts that cannot be found anywhere else. It believes in the philosophy of "Atithi Devo Bhava" (Guest is God).
If you visit here the staff will treat you like almighty. You will get all the facilities which are luxurious and refined. Travelers will also get a chance to meet other travelers through bonfire nights and other social events. Due to its unique and enchanting setting, filmmakers shoot documentaries and commercials here. It is a place where wildlife filmmaker Subbiah Nallamuthu filmed an award-winning national film- The world's most famous Tiger, which is a story based on the most popular tiger of Ranthambore, Machali. The backdrop of the forest and the luxurious accommodation of Sawai Vilas will definitely make your stay experience in Ranthambore one of a kind. It is one of the best luxurious stay options to stay in Ranthambore.
Jungle Vilas Resort
Extremely gorgeous and fascinating, The Jungle Vilas Resort in Ranthambore is one of the best luxury accommodations to choose for a wonderful stay in the land of Royal Bengal Tigers. It is known for its premium quality royal stay experiences. Living here would be a dazzling experience that will take your breath away. Idyllic forests in the background, lots of social interaction with the travelers who come from all over the world and high-quality deluxe rooms decked with lush greenery all around will satisfy all your comfort needs.
If you have kids then also there is a baby pool facility for kids and the resort also provides post safari relaxation to the guests. For weddings and conferences, it offers high quality catering services and soul soothing hospitality. If you want to watch how your meal is prepared then you can also watch it in front of you the resort provides live cooking sessions. The resort takes complete care about your privacy as it provides high quality deluxe rooms with all the needs and a private pool which will give you a rich feel at the best luxury category of accommodation in Ranthambore.
The Tiger Roar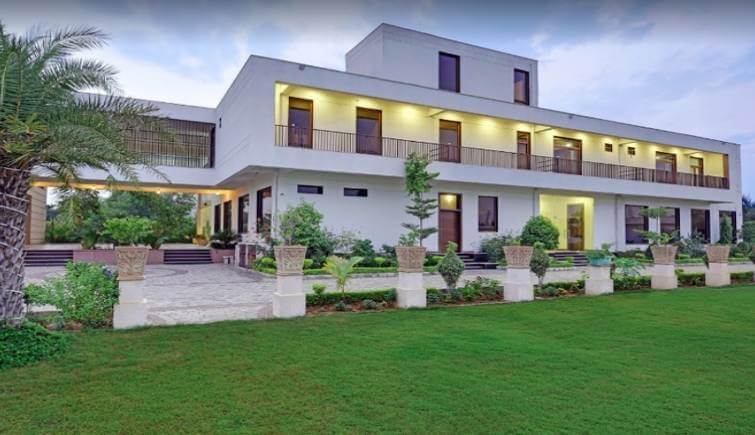 If you are a kind of a traveler who loves rustic surroundings then you can choose The Tiger Roar for an amazing luxury stay at Ranthambore. The Tiger Roar under Clarks Safari Hotels and Resorts is one of the best luxury resorts in Ranthambore which offers best facilities to the travelers who love comforts, soothing hospitality and great pampering. It is also one of the best choices if you are on your honeymoon tour.
You will get good accommodation with all the arrangements for your romantic moments. The facilities of swimming pool, jacuzzi, spa and gym, the state of art restaurant and fantastic sauna room provides complete value for money. Living here is absolutely worth it if you are on your Wildlife Tour to Ranthambore National Park. It is indeed one of the top 10 resorts to stay in Ranthambore.
Jungle Cave Resort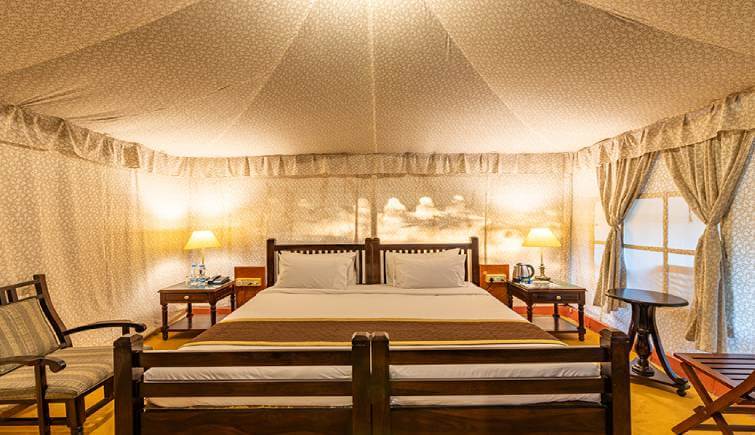 This wonderful Resort is completely dedicated to all nature lovers and adventure seekers.  It is one of the top Wildlife luxury Resorts in Ranthambore. With the most enchanting vistas of jungle, beautiful mountains and wide green space of the property will rejuvenate your heart, mind and soul. Rejoicing fun moments with friends by dancing and singing along the campfire and natural surroundings will be the most amazing experience you can ever have.
Your stay at Jungle Cave Resort will be the most memorable one in Ranthambore. Jungle Cave Resort includes world class facilities for the tourists. Sleeping amidst the lush green surroundings, amazing vistas of spacious lawn and garden area, great swimming pool and delicious cuisines will make you feel awesome.
The Leaf Kipling Lodge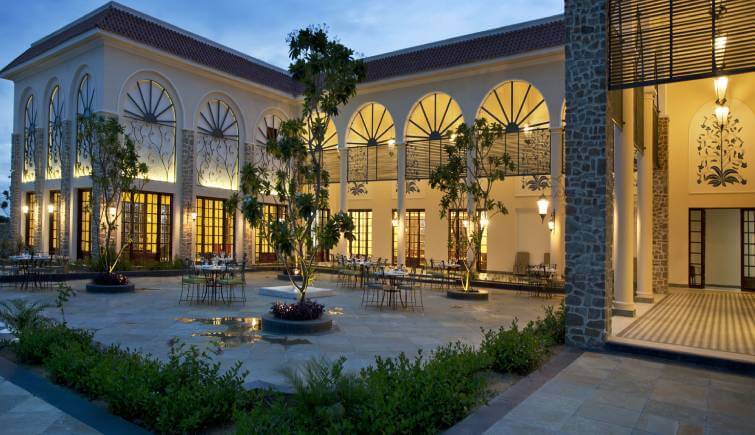 Your luxury holidays will be the most fascinating one if you stay at one of the best luxury jungle lodges of Ranthambore - The Leaf Kipling Lodge. It absolutely justifies what it says- "Rooms that remain etched in your memories". Your fascination to live in fairytale-like places will come alive.  The ambiance of the place will teleport into the world of Jungle Book.
The colonial charm of the decor, the magical vibe of the crumbling Dak Khanas of the bygone days, manicured lawns, library bar, refreshing vibes of the Aravalli, steam sauna and refreshing Ayurvedic regimes will heal your toil-weary soul from the chaos of the world. Adding the enchanting wildlife of Ranthambore with all the soothing comforts, The Leaf Kipling Lodge will make you dance to the mesmerizing vibes of healing music of nature. It is one of the best places to stay in Ranthambore for a Luxury Tour.
Juna Mahal Ranthambore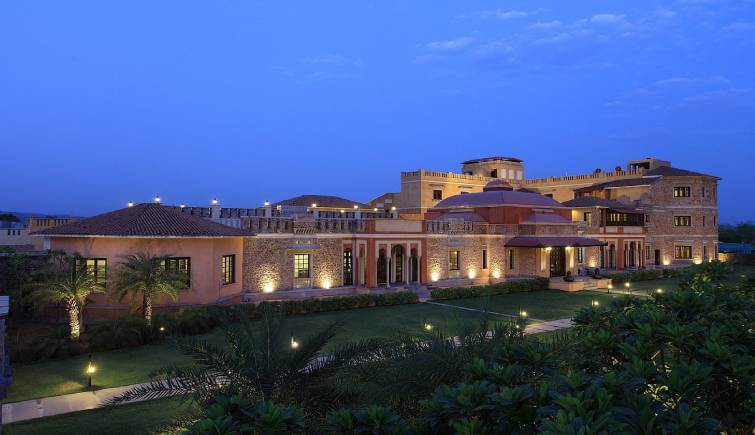 Located amidst the beautiful Aravalli hills of Sawai Madhopur and Ranthambore National Park, the ambiance and grandeur of Juna Mahal will blow your heart away. The sprawling greenery all around, the royal vibes and the luxurious facilities equivalent to international standards with a touch of simplicity will take you to the world of Rajasthan's royal past.
The royal architecture is quite a sight to behold. The hotel has a large swimming pool and multi cuisine restaurant ideal for business and leisure travelers and it is completely worth your effort and money. Indeed, it is one of the best five-star luxury hotels in Ranthambore.
Anuraga Palace, Luxury Hotel and Best Resort Ranthambore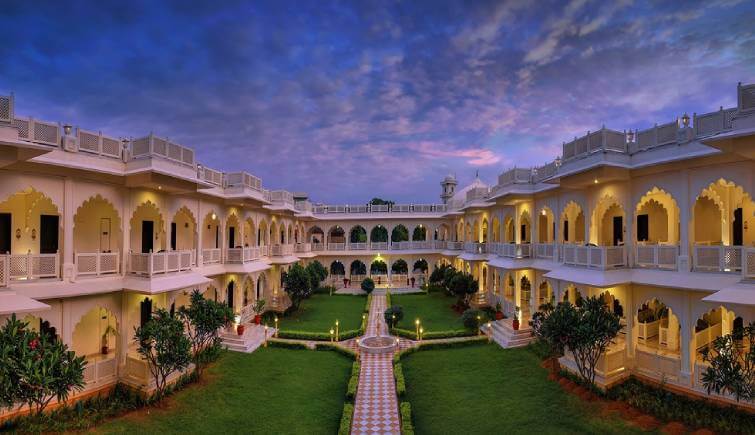 A perfect blend of traditionalism and modernity, the world inside Anuraga Palace reflects the royal grandeur of Kings and queens. It is one of the most expensive palace resorts in Ranthambore. If you love luxury and comforts of all kinds then this luxurious property of Ranthambore will give you an amazing satisfaction and great value for money.
Fantastic vibes, thrilling jungle adventures, gorgeous views of Aravalli Hills, delightful blend of history, culture and tradition, private retreats and world class luxurious facilities will be a perfect cure to fine tune your spirit and make your luxurious vacation the best in Ranthambore. It is a perfect place for conferences, weddings, honeymoon tours and wildlife vacations.
Sujan Sher Bagh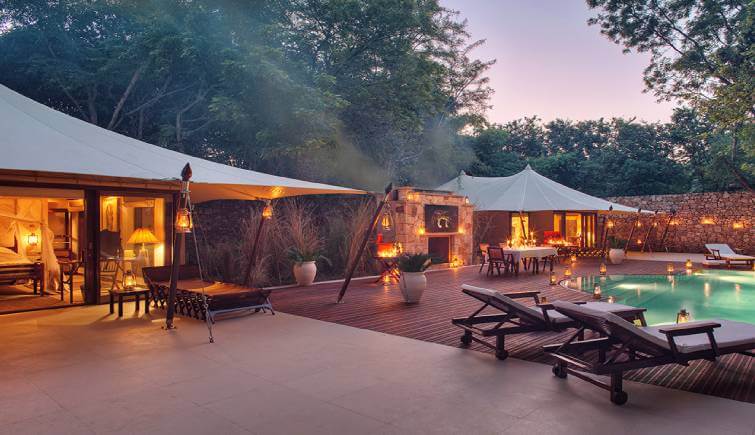 Feel the bliss of nature under the starlit sky with crackling campfires will make your stay experience in Ranthambore awesome. It is one of the best Jungle camps to stay in Ranthambore. Sujan Sher Shah is a wonderful tribute to nature. Indigenous trees of various kinds surrounded by wilderness look really delightful.
The tents are furnished with handcrafted campaign furniture in rosewood and teak, printed images of big cats will give you the real feel of the wilderness, the comforts will make you feel like home where you would be able to share awesome stories and interact with many travelers and make friends. It has soul soothing facilities like Jungle Bar, Sujan Spa and room treatment services, Chic Boutique, library bar, swimming pool, 10 luxury tents for a wonderful nature retreat full of solace.
Puratan Qila Resort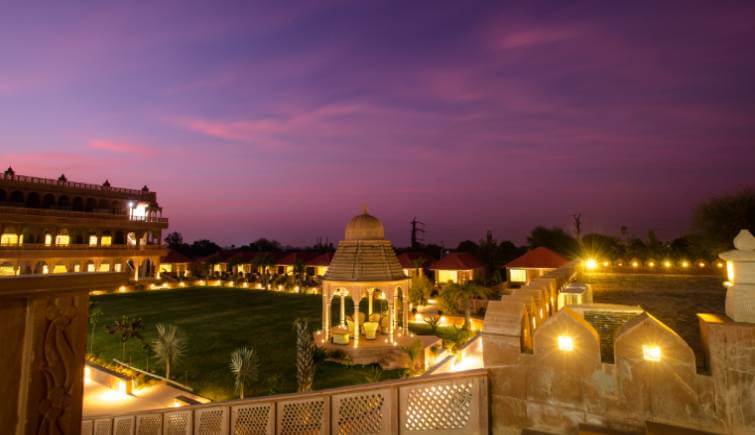 Puratan Qila as the name suggests will take you to the world of kings and queens. Here the time stands still and gives you a glimpse of the royal ancient past of Rajasthan. It is one of the best luxury resorts in Ranthambore. It is built in heritage style.
The real feel of living in castles and palaces is here. Keeping intact the traditional setup, the resort provides all the facilities that a traveler needs. The soul pleasing ambiance, multi-cuisine restaurant, amazing spa and gym, great swimming pool area is a perfect set up to ease yourself amidst the lush green surroundings. It has one Maharaja Cottage, twenty-one deluxe rooms, 8 cottages, 18 super deluxe suites and one especially abled room decorated with classic pieces of furniture. The hospitality of the staff will melt your heart.
Also Check Out:
We hope that this blog will help you in planning your luxurious accommodation options in Ranthambore. If you need any assistance regarding the best hotels and resorts booking with best deals in Ranthambore then you can definitely check our site and call us at +91-9212777223. We will get back to you as soon as possible.
Book Your Stay at the Top Hotels in Ranthambore National Park and save upto 30% on your holiday package.
Frequently Asked Questions
Q: What are the top 5* Luxury hotels in Ranthambore?
Ans:
Sher Bagh
Vanya Vilas
Khem Vilas
Hotel Sawai Vilas
Hotel Juna Mahal
Q: Are there any hotels & resorts inside the Ranthambore National Park?
Ans: No, there is no hotel inside the Ranthambore National Park. but outside the park you will find numerous hotels and resorts to stay.
Q: What are the top luxury hotels nearby Ranthambore National Park?
Puratan Quila Resort
Anuraga Palace, Luxury Hotel and Resort
The Tiger Roar
Jungle Vilas Resort
The Tigress Resort
Q: What are the top resorts in Ranthambore with private pools?
Ans:
Jungle Vilas Resort
Hotel Sawai Vilas
The Tigress Resort
Jungle Cave Resort
Anuraga Palace
Vivanta by Taj
Dev Vilas
Khem Vilas
Popular Posts
---
Follow Us
---
Recent Posts