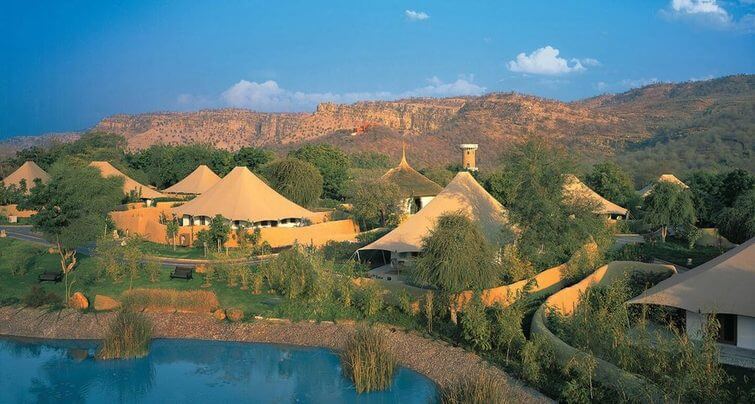 21 Jul, 2017
Oberoi's Vanyavilas in Ranthambore, Voted as 16th Best in The List of Top 100 Hotels in the World
It turns into a wonderful trip when the theme of your hotel perfectly blends with the destination. The Oberoi Vanyavilas in Ranthambhore does just that. And with added world class service and comfort, it became the apple of the reader's' eye, who have now voted for it and made it the third best resort in Asia, 16th in the world, while the best in the whole of India.
Recently, the list of 100 Best Hotels in the World was published by the US based magazine; Travel + Leisure, after a survey conducted among its readers, based on the hotel's facilities, location, service, food, and overall value, after classifying them into a City or Resort. And it was surprising to know that, only 17 out of all, were City Hotels, which shows the reader's inclination towards relaxation away from the hullaballoo of the city.
It is really a great achievement of the The Oberoi Vanyavilas resort and its staff, as the ranking was based upon reader's choice and voting, which means that the travellers from around the world have rated this resort and brought it up to such position. Not only that, the magazine also curated several other lists apart from the Top 100 Hotels List, such as 'The 10 Best Resort Hotels in Asia', in which it secured the 3rd position, whereas topped the list of 'The Best Hotels in India'.
The Oberoi Vanyavilas is quaint resort, located near to the jungles of Ranthambhore. It is an oasis of 25 Luxury tents provided with a personal butler at the guest's service. Cradled by lush greenery of the fragrant flora, the pebbled pathways of the resort are embellished with torch lights that reach the guest to experience the unmatched luxury and lifestyle.
Other Top Luxury Resorts in Ranthambore
Popular Posts
---
Follow Us
---
Recent Posts