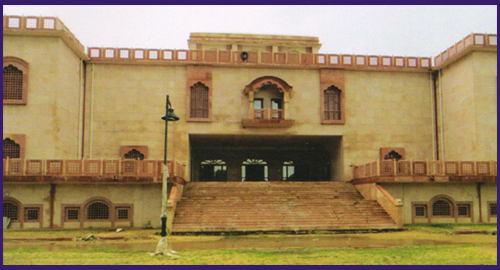 04 Mar, 2014
Rajiv Gandhi Regional Museum of Natural History
The Rajiv Gandhi Regional Museum of Natural History, which had been inaugurated by Finance Minister Mr. Namo Narayan Meena on March 1, 2014 at 3.00 PM in Ramsinghpura, Sawai Madhopur adds yet another feather in the cap of historically rich Rajasthan. The museum is likely to open daily, except on Mondays and the National holidays; between 10 AM and 5 PM. Enriching the Indian history, Rajasthan has many attributes under its dome and the Regional Museum of Natural history is cited as an additional asset to the state. This will be the fourth natural history museum in the country after Bhopal, Bhubhaneshwar and Mysore.
The museum is situated in Ramsinghpura, which is a village at a distance of 9 kms from Sawai Madhopur. The honourable Vice President of India, Hamid Ansari laid the foundation of Rajiv Gandhi Regional Museum of Natural History in December 2007. Undertaken by the Ministry of Environment and Forests, Government of India, the museum is reckoned to emerge as a vital centre for environmental education and creation of public awareness on conservation of nature and natural resources in the country.
Spread in 7.2 acres of land, the museum is tastefully designed and aims at creating awareness of diverse life on earth. The three-floor museum is set to exhibit the flora, fauna, mineral wealth and the geology of the western region and western arid region of India. As if now, only the ground floor is operational with a well-laid exhibition on the wildlife in Ranthambore and the famed Ranthambore Fort. The major attractions are the effigy of Tiger/Leopard/Black Buck/Sambher Deer/Spotted Deer etc. Live village scene and a prominent portrait of Ranthambore Fort are other attractions here. The museum also has a pottery stall and an art gallery, where visitors can witness live pottery making and painting making. These items are available for the sale as well.
The museum is likely to provide educational and extracurricular activities for schools while depicting the understanding or interrelationship between plants and animal. It houses a library with about 10,000 books on wildlife and nature; the visitors are allowed to pick any of the books for reading for free. Also photography and videography has been kept free of cost. The museum has appointed two naturalists to assist visitors. An auditorium accommodating 300 pax has also been constructed for deliberate seminars and wildlife documentary presentations; however the charges for the booking and the procedure for the permission have not been declared yet. This museum also targets at depicting country's natural heritage and history and attaining international recognition in the succeeding years.
Popular Posts
---
Follow Us
---
Recent Posts