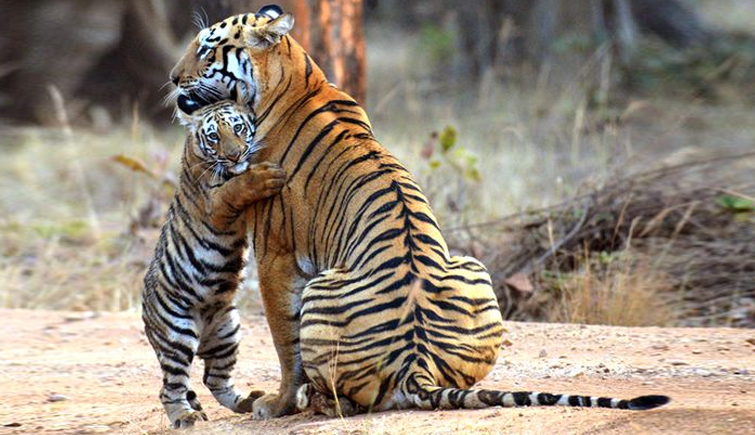 14 Oct, 2017
Ranthambore's Fiery T-13 Captured with a Cub on Camera
Ranthambore National Park, which is the heart of Rajasthan was elated when the news of a baby tiger being spotted and captured on camera came up. What's more to the news is that the tiger cub was spotted with T 13 in zone 10 at Sawai Man Singh Sanctuary, which is settled at the southern end of Ranthambore. The National park was in the highlights earlier this month as well, as it reopened for jungle safari after the monsoon breeding months and this recent news acted as an additional bliss for the wildlife lovers and forest authorities.
The National Park believes that the number of cubs has increased to 23 which may further continue to grow. Hence the officials are hoping for more than one baby tiger which would increase the already standing total of 68 semi-adults and cubs including 40-45 adult tigers. With the current increase in population, the officials of the forest are making efforts to conserve and make a safe corridor for Tigers over an expanse of 2-4 km between the National Park and Kailadevi Wildlife Sanctuary.
In addition to this the officials seek to target to develop a 140 sq km of the unscathed area this year for the conservation and protection of ecosystem for tigers in Kailadevi. More actions in this regard are taken by the state government by granting Rs.12 crore to relocate the 5 villages namely Talda Khet, Kala Khora, Gadhi, Maharo, and Kiradki in order to clear and secure an area of 75 sq km making the Kailadevi-Ranthambore corridor free of any sort of hindrance.
You May Also Like to Read:
Popular Posts
---
Follow Us
---
Recent Posts