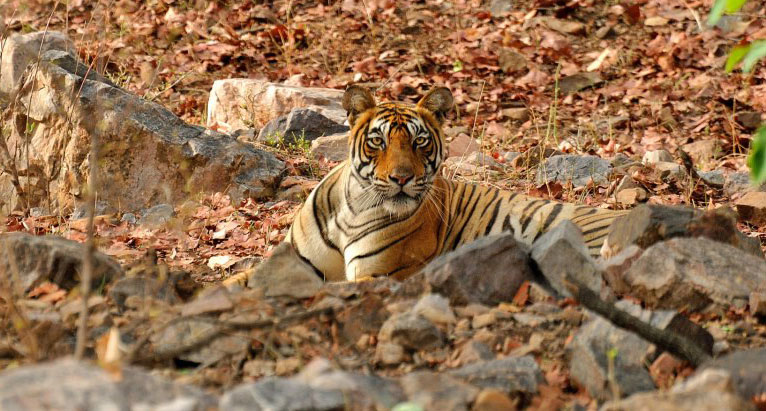 24 May, 2017
Ranthambore Tiger Reserve Becomes Highest Revenue Grosser in 2016-17
With the declaration of 23.06 Cr as the gross revenue for the financial year 2016-17, Ranthambore Tiger Reserve (RTR) becomes the highest earning wildlife park in India. What catches the eye the most is the difference between the first and second highest revenue earner, Tadoba Andheri Tiger Reserve in Maharashtra, which earned 5 Cr. On the other hand, Bandhavgarh National Park in Madhya Pradesh, which is known for its dense tiger population only earned 3.8 Cr.
Ranthambore Tiger Reserve is situated in Sawai Madhopur District of Rajasthan and is said to be the main business source for the entire district. The park is believed to have contributed about 350 Cr annually to the district through its tourism. Being rich in wildlife and tiger population, the reserve is frequented by a large number of tourists, this is why the area around the park is densely dotted with hotels which are often seen occupied by visitors almost all through the year. Another reason of the park's excellent revenue is the initiation of tatkal, full-day and half-day forest safaris from sunrise to sunset.
The fully independent wildlife reserve, Ranthambore has helped facilitate upgradations of infrastructure at nearby situated Kaila Devi Sanctuary. About 5 Cr each year is set aside to improve the later wildlife park. In Ranthambore itself, significant improvements can be seen which include installation of solar panels and wireless sets and improvement in connectivity, tracks for the guard patrolling and replenishing 100 waterholes. In fact, according to Y K Sahu, CCF, wildlife, and field director, Project Tiger, Ranthambore, the reserve certainly have fulfilled the objective of the project by creating a tiger nuclei habitat that serves as a source area to re-populate other adjacent forest areas.
You may also like to read
Popular Posts
---
Follow Us
---
Recent Posts