T-19 with Cubs - A Royal Walk in Ranthambore Tiger Reserve
Posted on Tue, 08 Apr 2014 10:59:16 by Nidhi Singh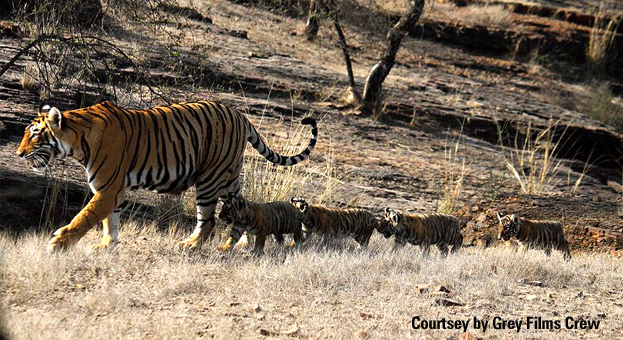 Rare is always special in Ranthambore… Recently the rare picture that captured the moment of the royal Bengal tigeress T-19 aka Krishna holding her newly born cub on one of the trails in Ranthambore National Park incited excitement amongst wildlife enthusiasts. Indeed Ranthambore never fall short of exhilarating experiences, a recent still taken from the footage recorded by Mr. Nalla Muthu is here again to make some head tilt in awe.  Mr. Nallu Muthu, who works with Grey Films and is dubbed as 'Tiger Cameraman' has shared footage with T-19 Krishna, is seen taking a royal walk with her 4 cubs in the Rajbagh Lake area.
So it is official, that the Royal Higherness T-19 is now a proud mother of 4 more 'burning bright' tigers in Ranthambore. The brilliant capture suggests that the proud and protective mother was leading her juveniles to a new territory. Walking in a disciplined line, the young ones seem to have already been under training of their elegant mother. The royal walk in the forest beckons the healthy condition of both T-19 Krishna and the next superstars of Ranthambore National Park.
Explore Ranthambore
Plan your trip with us!