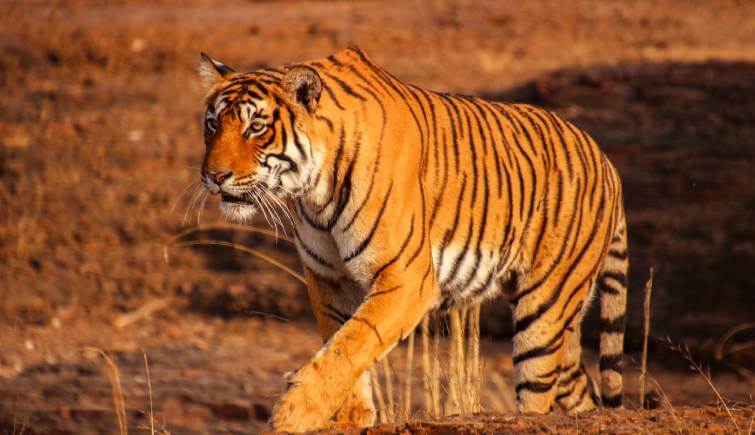 14 Aug, 2023
Top 5 National Parks for Guaranteed Tiger Sightings in India
In a country that is home to over half of the world's tiger population, it's no surprise to witness a tiger roaming in the wild. For many, spotting a tiger in its natural habitat is a dream. The allure of this thrilling experience is indeed unforgettable. Fortunately, India's numerous tiger reserves offer the perfect backdrop for this adventure. However, these majestic creatures aren't guaranteed to make an appearance, as spotting them often comes down to luck. Yet, among all the tiger reserves in India, several stand out, boasting higher chances of tiger sightings due to their density of these magnificent cats. Join us in exploring the top 5 destinations for tiger sightings in India, each a unique fusion of adventure and nature's splendor.
Ranthambore National Park, Rajasthan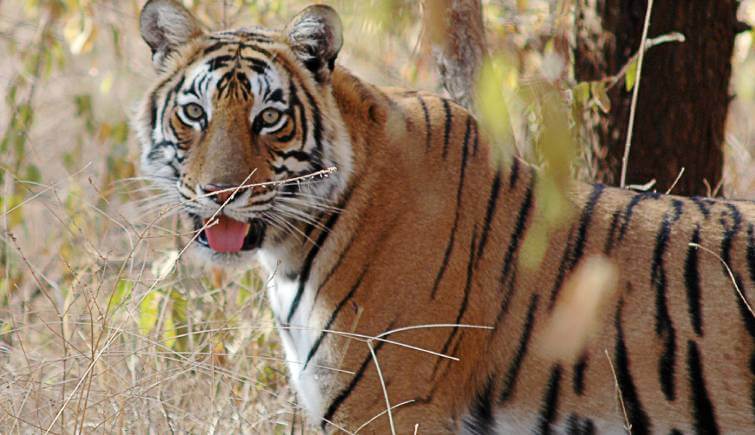 Situated in the royal state of Rajasthan, Ranthambore National Park is a celebrated tiger reserve, renowned for affording unparalleled opportunities to photograph tigers in their natural habitat. In fact, many tiger images from India shared on social media and the internet hail from Ranthambore.
Located in the Sawai Madhopur district, this area once functioned as the hunting grounds for Maharajas. Now, this prominent park in northern India takes pride in its high tiger density. Its legacy, enriched by tales of these magnificent creatures, positions it as one of the prime destinations for tiger sightings in India. Spanning 1,334 sq. km, the park presents a mix of deciduous forests and grasslands. For those seeking tigers, the pivotal question often is: where to see them in the wild?
Within Ranthambore, the grasslands stand out as the preferred terrain for tiger spotting. Given the presence of over 60 tigers, these vast grasslands create ideal conditions for these predators to pursue their prey. A distinguishing feature of Ranthambore is its forts and ruins, often frequented by tigers, adding a historical dimension to the wildlife setting. This unique blend makes Ranthambore a sought-after destination for observing big cats. Additionally, your journey will introduce you to diverse fauna, including leopards, jungle cats, sloth bears, hyenas, Indian foxes, jackals, crocodiles, and a vibrant spectrum of avian species that adorn the forest's canvas.
Tadoba National Park, Maharashtra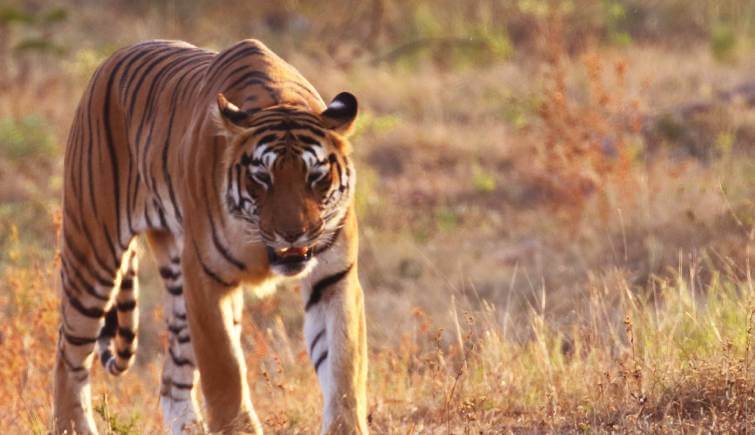 Located in Maharashtra's Chandrapur district, Tadoba National Park is the state's largest forested expanse and is among the top places to encounter tigers in India. The park features hilly terrain in its northern and western regions, with Tadoba Lake centrally situated — a pristine spot to observe tigers. Dominated by teak and bamboo, interspersed with grasslands, the deciduous forest offers an ideal habitat for tigers. Covering 625 sq. km, a 2022 report from the Wildlife Institute of India estimates the park to be home to around 100 tigers. Given this dense population, Tadoba National Park stands out as a premier location for tiger sightings in India.
Within the domain of the Royal Bengal Tigers, Tadoba also boasts a rich tapestry of flora and fauna. Visitors can expect to see Indian leopards, sloth bears, gaur, nilgai, dhole, and striped hyenas, each contributing to the park's rich biodiversity. Additionally, Tadoba is home to over 15 unique flora species and an impressive array of nearly 190 bird species. Venturing into this park, one gets enveloped in the raw beauty and allure that attract countless nature enthusiasts to its verdant expanses.
Kanha National Park, Madhya Pradesh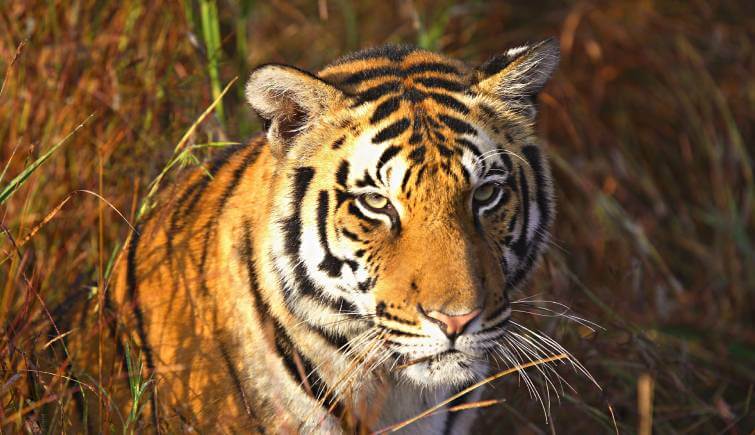 Serving as the inspiration for Rudyard Kipling's "The Jungle Book," Kanha National Park stands as not only one of the most renowned forest reserves but also as an excellent location to play a game of hide and seek with the tigers. As per the Wildlife Institute of India, this expansive forest area, spanning 940 sq. km, shelters over 100 Bengal Tigers, testament to its stature as one of the prime tiger habitats in India. The evergreen forest, interspersed with grasslands along the Banjar and Halon rivers, offers numerous prime locations for tiger spotting.
Kanha National Park holds the distinction of being one of the best-maintained national parks in Asia and offers the premier tiger safari experience in India. Not only is it a must-visit for tiger enthusiasts, but it's also recognized for introducing its mascot, Bhoorsingh the Barasingha. The park played a pivotal role in the conservation of the Barasingha, bringing its population up from a mere 66 to over 600. Today, Kanha stands as the sole habitat for this majestic deer. Alongside its high probability of tiger encounters, visitors can also revel in the sight of its diverse fauna, including chital, gaur, common langur, jackal, wild pig, black buck, leopard, sambar, and the ant-eating pangolin, among others, as well as over 1000 species of flowering plants.
Bandhavgarh National Park, Madhya Pradesh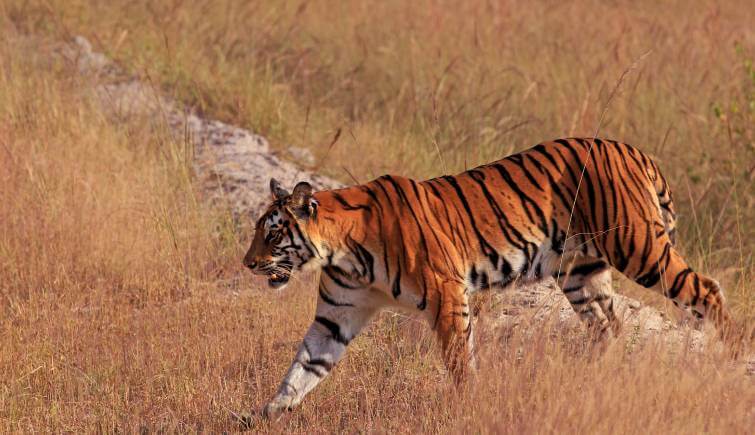 Steeped in Indian history, Bandhavgarh National Park isn't just among the top destinations for tiger safaris in India; it's a place where nature's embrace is felt most intimately. Located in the Umaria district of eastern Madhya Pradesh, the park is renowned for its enthralling wildlife tales. The name "Bandhavgarh," signifying "a place for the brother," is rooted in lore, suggesting that post the Ramayana war, Lord Ram gifted the Bandhavgarh Fort, a key attraction within the park, to his younger brother, Lakshman. The park's landscape is a picturesque blend of grasslands, sal forests, bamboo groves, and rugged hills.
Spanning a core area of 100 sq. km and a buffer zone of 400 sq. km, Bandhavgarh may be compact, but its size enhances the likelihood of tiger sightings. With over 60 tigers residing here, visitors have a good chance of spotting these majestic creatures, be it while they're roaming, hunting, or resting in the dappled morning sunlight. Moreover, the park boasts a significant leopard population and other diverse wildlife. Bird enthusiasts will delight in the presence of more than 250 bird species, and the park is also home to over 70 butterfly species, ensuring frequent encounters with these colorful creatures.
Jim Corbett National Park:
From the picturesque state of Uttarakhand comes the enchanting Jim Corbett National Park, upholding the region's allure. Established in 1936, this park stands as one of India's oldest and most prized for tiger sightings. It's named after the legendary conservationist, Jim Corbett. Leading in tiger count, the park shelters 250 tigers within its bounds and an additional 266 utilizing the reserve. Spanning a core area of 520 sq. km with additional buffer zones, Jim Corbett is renowned for its promising chances of spotting wild cats.
The varied terrain encompasses sal forests, marshes, ravines, streams, ridges, and plateaus, offering adventurers a diverse and thrilling experience. The park also has a considerable elephant population. It's not uncommon for safaris to be momentarily halted by a procession of these gentle giants. Unlike most reserves, Corbett allows visitors the unique opportunity of overnight stays within its confines. Waking up amidst nature's symphony ensures an indelible experience.
While on the lookout for tigers, visitors should also keep an eye out for the park's varied fauna, including leopards, elephants, sambars, hog deer, chitals, barking deer, langurs, wild pigs, boars, rhesus monkeys, jackals, and many more. Furthermore, the park is home to over 600 species of flora, showcasing a vibrant tapestry of plants, herbs, flowers, and trees.
Embarking on a tiger safari in India is an unforgettable adventure, offering encounters with the regal Bengal tigers and a diverse array of captivating wildlife. From the dense forests of Ranthambore to the sprawling landscapes of Jim Corbett, each national park presents a unique opportunity to immerse in nature's beauty and witness the intricate dance of predator and prey. Journeying through Ranthambore, Tadoba, Kanha, Bandhavgarh, and Jim Corbett unveils the hidden wonders of India's wildlife. Whether you're a passionate wildlife enthusiast or a traveller chasing the thrill of the wild, these tiger reserves are sanctuaries of conservation, beckoning you to experience nature's majesty. So, pack your curiosity, camera, and adventurous spirit – the tigers of India eagerly await your visit to their kingdom.
Frequently Asked Questions
What Are the Best Wildlife Tiger Safaris to Explore in India?
The top wildlife tiger safaris offering the best chances to spot the wild tiger in India include Ranthambore National Park, Tadoba National Park, Kanha National Park, Bandhavgarh National Park, and Jim Corbett National Park.
What Is the Best Time for Tiger Sightings in Indian National Parks?
The optimal period for tiger sightings in Indian National Parks is from October to March. Cooler temperatures and sparser vegetation during these months ensure better visibility, making it an ideal time for tiger spotting.
Are Tiger Reserves in India Open Throughout the Year?
No, tiger reserves in India aren't open year-round. Most reserves close during the monsoon season. If they remain open, only the buffer zones are accessible. Generally, most tiger reserves operate from October to June, offering the finest tiger safari experiences in India.
What Other Wildlife Can We Observe During the Safari?
Alongside tigers, one can commonly encounter Asian elephants, leopards, wild dogs, sloth bears, Sambar deer, a diverse array of bird species, and reptiles during the safaris.
Other Interesting Blogs to Read
Popular Posts
---
Follow Us
---
Recent Posts