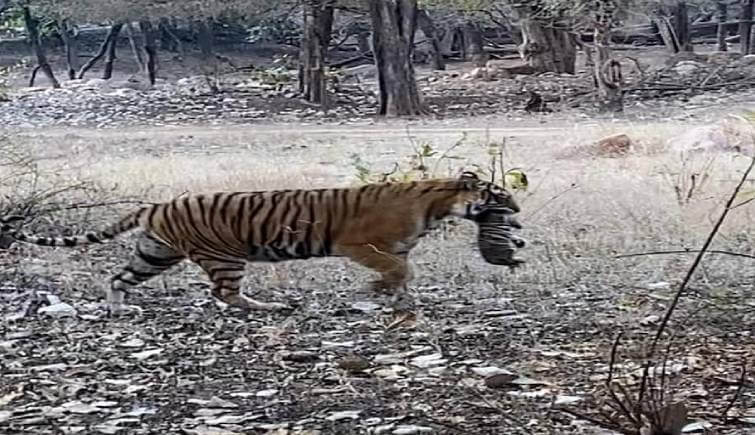 07 Mar, 2022
Tigress T-39 Noor Spotted with a Cub at Ranthambore National Park
It's again a time to rise and shine for Ranthambore National Park for wildlife Tourism as one of the most popular tigress T-39 was spotted in a camera with a cub at Zone -1 near an anicut. It was confirmed by the forest department that the tigress had given birth to her fifth litter. Tigress T-39 is thirteen years old and had so far given birth to 9 cubs in the park of which two couldn't survive.
According to a senior forest official the monitoring in the area has been increased and a trap camera has also been installed to check if there are more cubs.
For the first time Tigress T-39 gave birth to a male cub in 2012, the second litter also has two male cubs but the third litter died after birth. In November 2016 she gave birth to three cubs.
The arrival of a new cub has increased the tiger count to 73. On one hand it's a matter of joy and enthusiasm for Wildlife tourism and wildlife lovers and on the other hand the forest officials have concerns in accommodating a big cat population at Ranthambore Tiger Reserve. According to research conducted by Wildlife Institute of India the carrying capacity of Ranthambore Park and Sawai Man Singh Sanctuary is not more than 43 tigers. However, for now Ranthambore National Park tiger count is impressive and in future the management will definitely find a solution to manage its tiger population. The glory of the wilderness of Tigress T-39 has shined bright in the future of Ranthambore Tiger Reserve.
Ranthambore News Inputs.
Popular Posts
---
Follow Us
---
Recent Posts