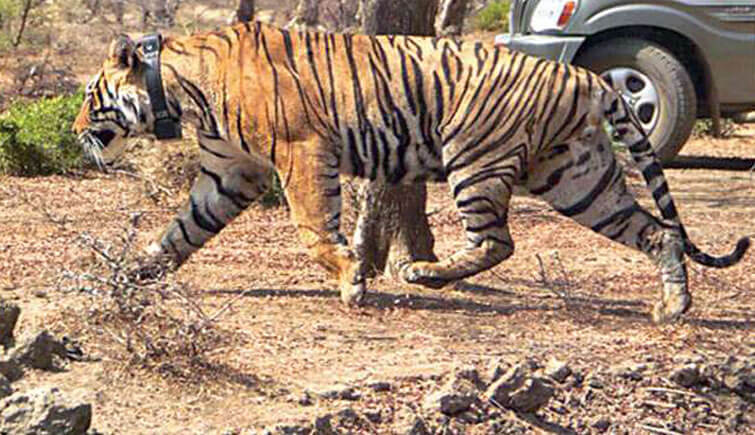 04 Apr, 2018
Ranthambore Begins Tiger Translocation: Sends RT-91 to Mukundra
Ranthambore, that takes the third spot in the list of high tiger density reserves in India, is depopulating its area and sending off tigers, the first case of its kind. A conflict between the tigers for territory was one of the reasons that led to the translocation of tiger RT-91 to Mukundra. The famous National Park which was recently in the limelight for spotting two cubs with tigress T-83, was at the same time making news for beginning its translocation process. With due permission from the National Tiger Conservation Authority(NTCA) in September, it was said that 2 female and 1 male tiger will be translocated, out of which the male tiger RT-91 aged three and a half years was translocated earlier this week. Two females that were supposed to be translocated were Arrowhead (T-84) and Lightning (T-83), where T-83 might not be transferred due to the recent sighting of her with two cubs.
RT-91, who swept away from the Ranthambore tiger reserve to the forests of Ramgarh Sanctuary, Bundi was successfully brought to Mukundra due to poaching threats in the area. The wildlife department team of Ramgarh Sanctuary tranquilised RT-91 and a radio collar was adjusted on his neck. Furthermore, the tiger was kept in a cage before he was let into the 26-hectare enclosure where he will stay for a week or two just so that he gets familiar with the new surroundings. 2 dozen cheetals along with 2 buffaloes are kept near the enclosure for RT-91 to prey on. As per the officials, in the next 15 days, the other tigers will also be translocated most probably. The security of the tiger is left in the hands of 8 people from the Wildlife Department and 10 from RTR's Special Protection Task Force.
In the yesteryears, the reasons for translocation was to give back the charm to National Parks like Sariska, Rajasthan in 2004 and Panna, Madhya Pradesh in 2010. Chief Minister Vasundhara Raje made her remarks on the translocation by saying that with the coming of the big cat in the area, the people from Hadoti region are the ones who are supposed to take care and conserve the ecosystem.
Ranthambore Park News Desk...
You may also like to read
Popular Posts
---
Follow Us
---
Recent Posts