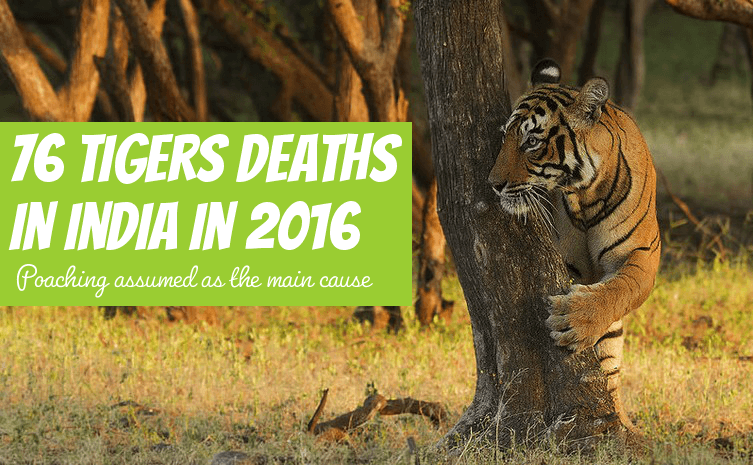 11 Nov, 2016
76 Tigers Deaths in India in 2016: Poaching Assumed as the Main Cause
The data released by 'Tigernet' - a collaborative effort of the National Tiger Conservation Authority and TRAFFIC India recorded the death of 76 tigers in the year 2016.
About one-third of the deaths took place in the Madhya Pradesh, while Karnataka, which is known for highest tiger population in India recorded 13 tiger deaths. According to the data, 35 tiger deaths took place due to direct or indirect human intervention, including poaching, poisoning, electrocution, road accidents and elimination by authorities. The remaining 41 deaths are still being probed. It is to be noted that tigers attacking each other and other natural causes were also cited as reasons of the deaths.
Amongst all the reasons, poaching is being assumed as the main reason of such high rate of tiger deaths in India. It is to be noted that since 2010 this year has seen the maximum number of deaths. As per the data, between January and October in the year 2016, 76 death cases of tigers have been reported with highest number registered from Madhya Pradesh and second highest from Karnataka. In 2015, the number was 69. Conservationists believe that poaching of tigers is the reason behind the deaths since there has been a rise in the seizure of tiger body parts across India in 2016. Nearly 20 seizures have been registered till November which is also the highest since 2010.
According to Shekhar Kumar Niraj, head of TRAFFIC India, high incidence of poaching from August to November every year have been noticed, though the reasons for this trend are unknown, the situation seem to have become far more grim in 2016 as there has been an almost 10% increase in tiger mortality and an over 150% increase in seizures since last year. Niraj also added, "The Tadoba and Melghat regions of Maharashtra have always been more prone to tiger poaching. Maharashtra shares its border with Madhya Pradesh, where tiger mortality and cases of poaching are the highest. The Nagpur region is known for cases of illegal trade of wildlife body parts."
Ranthambore National Park News...
You may also like to read
Popular Posts
---
Follow Us
---
Recent Posts