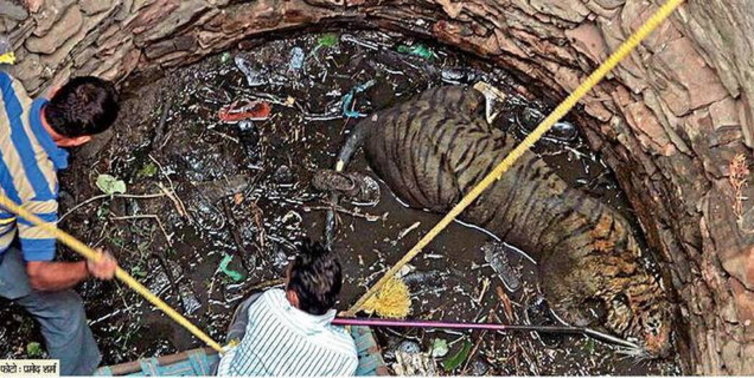 15 Nov, 2016
Rescue Mission Tigress T-83
The rescue mission of T-83 was a great success but a backbreaking Monday morning. The forest department officials were immediately called by the villagers of Khawa around 6 am to rescue the tigress T-83 that had fallen in an open well.
According to the sources, the people of Khawa village called the forest department as soon as they witnessed the news. Rope net, a cage and other equipment were organized by NGO Tiger Watch with the support of villagers. Forest guard Rajveer was lowered into the well to tranquilize the tiger and by 9:30 am the tiger was rescued and left in zone 5 of the Ranthambore National Park.
Lightning being the youngest and a sub-adult of the three litter to T-19, the lioness is finding it hard to cope with the other siblings. 'The other siblings, T-84 and T-85 (Arrowhead and Packman) stronger of the lot in zone 3 of the park don't let Lightning stay around in their territory,' said Dharmendra Khandal [Conservation Biologist, Tiger Watch]
Soon as the news spread to nearby villagers and to the tourists from nearby hotels, the spot started thronging with spectators in canters and buses. While the tourists tried their best to get a picture of the tigress T-83 also known as 'Lightning'. This convergence made it difficult for the forest department and the police to carry out the rescue operation.
An official said, 'The crowd was unmanageable and the forest department is considering taking action against the canters and vehicles besides the hotels that brought tourists out. This is the second time that it happened. Last time also when this tiger was spotted at the helipad, busloads of tourists were brought to the location.'
You may also like to read
Popular Posts
---
Follow Us
---
Recent Posts