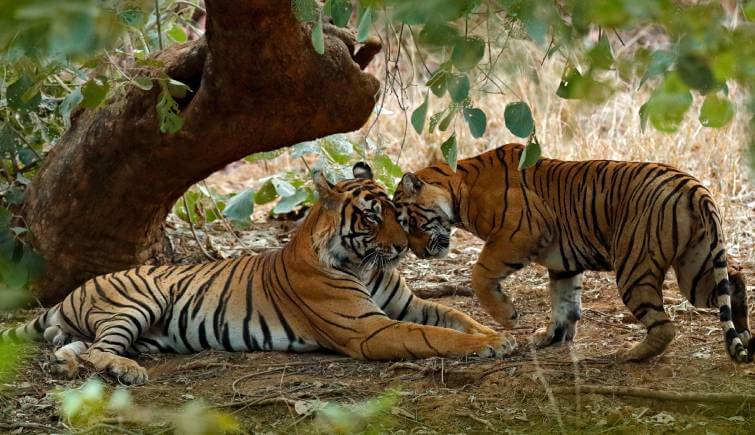 16 Jun, 2023
Ranthambore and Other Tiger Reserves in Rajasthan to Close Every Wednesday from July 1
Rajasthan's four tiger reserves will be closed to tourists every Wednesday, starting July 1, according to an order issued by the National Tiger Conservation Authority (NTCA). The decision aims to provide tigers with a designated day of rest each week and alleviate the strain on wildlife and reserve staff.
The four tiger reserves in Rajasthan affected by this order are the Ranthambore Tiger Reserve in Sawai Madhopur, Sariska Tiger Reserve in Alwar, Mukundra Tiger Reserve in Kota, and Ramgarh Vishdhari Tiger Reserve in Bundi.
The idea to introduce a weekly off for tigers was proposed by Diya Kumari, a member of the NTCA and Member of Parliament (MP), during a meeting held in Delhi on January 3. Kumari emphasized the importance of allowing tigers a day of rest and received widespread support from fellow members. Consequently, the NTCA adopted the practice and issued nationwide guidelines for its implementation.
Rajasthan now joins West Bengal, Uttar Pradesh, Assam, Jharkhand, and Bihar as the sixth state to implement the weekly off in tiger reserves.
Speaking about the decision, Principal Chief Conservator of Forests and Chief Wildlife Warden, Arindam Tomar, said, "The one-day week-off is based on an order by the National Tiger Conservation Authority. We have decided to close all four tiger reserves in Rajasthan every Wednesday from July 1 onwards."
Tourism activities, including safari tours, will not be allowed on Wednesdays in these reserves. Visitors who have already made bookings for any Wednesday after July 1 will be eligible for a refund. The process of refunding tickets for the affected Wednesdays has already been initiated to ensure that travelers are reimbursed accordingly.
The continuous influx of tourists and the relentless safari activities were increasingly burdening the wildlife and causing undue distress. The introduction of the weekly off is expected to provide respite for the tigers and contribute to improved conservation efforts.
With the closure of tiger reserves every Wednesday, Rajasthan takes a step forward in prioritizing the well-being of its tiger population and promoting sustainable wildlife tourism.
Ranthambore National Park News Inputs.
Popular Posts
---
Follow Us
---
Recent Posts