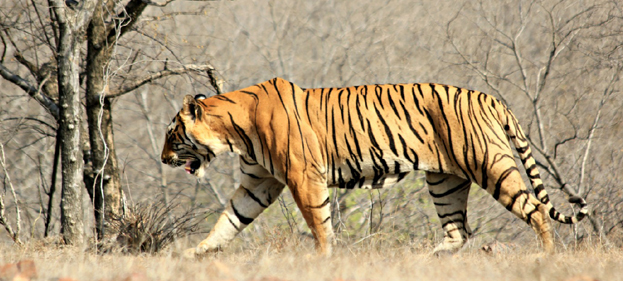 27 Aug, 2015
Rise in Tiger Migration to Kuno from Ranthambore
A recent study has revealed that around 11 tigers have migrated from Ranthambore Tiger Reserve & National Park to Kuno in Madhya Pradesh since 2010. This research has also proved that there exists a natural corridor between the two parks that has been frequented by many wild animals.
The research paper authored by Sunny Shah, Sailaja Nayaki and Jimmy Borahi, further states that since 1998-99 about four tigers moved to Madhya Pradesh between 1989-99 and 2010 but a rapid increase was seen after August 2010. In the five years after 2010, seven tigers migrated to MP. Further the paper discusses Tiger T-38 who migrated in 2010 traversing through Banas River, the Karanpur range of Keladevi Wildlife Sanctuary and the tributaries of Chambal River to Kuno. In 2013, another tiger moved out from Ranthambore and made it to Kuno and stayed there for 35 days before heading to Dantia.
The research paper also informs that the habitat change beacons a loss of connectivity and the tiger population can actually become isolated. It is to be noted that maintaining the gene flow between isolated tiger populations is crucial in order to avoid harmful effects of low genetic diversity and inbreeding.
News Source: The Times of India
You may also like to read
Popular Posts
---
Follow Us
---
Recent Posts