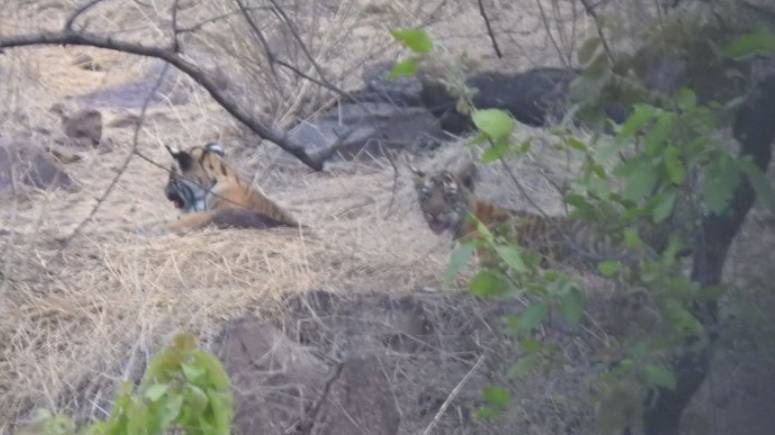 03 Jun, 2020
2 Tiger Cubs Spotted in Mukundra Hills Tiger Reserve
Here is an example of a successful third tiger reintroduction program in India, one that will inspire wildlife enthusiasts & conservationists. A tigress called MT-2, in the Mukundra Hills Tiger Reserve (located close to Kota, Rajasthan), littered two cubs after being relocated here from Ranthambore National Park.
Chief Minister Ashok Gehlot shares his enthusiasm in his tweet
This is the first time that a tigress has littered two cubs in this Tiger Reserve, and that is what makes the event so special. A large number of people, including Chief Minister Ashok Gehlot, said that they felt "ecstatic" and "enthusiastic" about the arrival of the new cubs.
Ashok Gehlot, Chief Minister of Rajasthan, tweeted, "Good news received again on 2nd June 2020 about 2 tiger cubs of MT 2 tigress after 2 years of Tiger Reintroduction in Mukundara Tiger Reserve. Feel ecstatic about the new arrivals. Let us save wildlife and their habitat."
Manish Kumawat, a wildlife enthusiast, was equally enthusiastic about this development, and said, "This is a big development as far as tiger conservation in the state is concerned. Ranthambore is already overpopulated. The arrival of cubs will pave the way for developing Mukundra Hill as yet another tiger habitat in Rajasthan."
Where were the cubs spotted?
The cubs were first spotted by DFO T Mohan Raj, who said, "During patrolling in Darrah Range, we spotted the cubs with the tigress. These cubs are approximately two and a half months old, and we are continuously monitoring them."
Another forest official, commenting on the recent news, said, "The total tiger population in MHTR rose to 6 including the newborns. There were indications that tigress MT-4 and tiger MT-3, who are outside the enclosure mated, but so far it has not resulted in any cubs."
Tigress MT-2, from Ranthambore to Mukundra
Tigress MT-2 was almost 4 years old when she was relocated to Mukundra Hills from Ranthambore National Park in 2018.
Mukundra Hills Tiger Reserve
Mukundra Hills is spread across 760 square kilometers, with 16 villages located on its periphery. Out of them, 14 have been selected for relocation. At present, there are 4 adult tigers in the reserve, along with 2 cubs.
At one point of time, this area served as the hunting ground for the nobles, before being notified in 2013. It is the third park in the country, after Ranthambore and Sariska, where tigers were reintroduced.
Popular Posts
---
Follow Us
---
Recent Posts