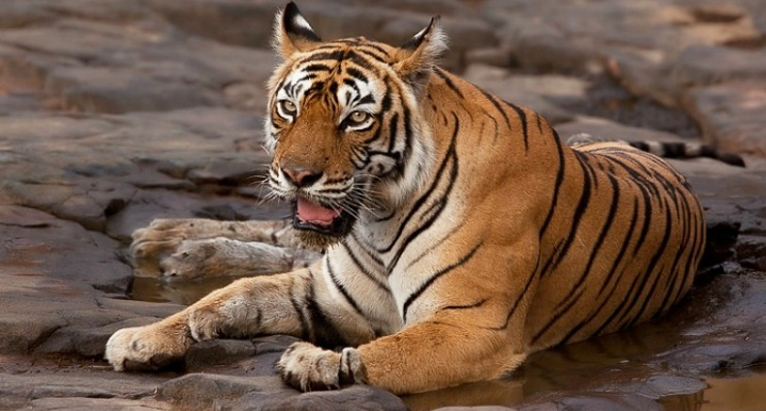 30 May, 2016
World's Most Photographed Tigress, Machli Turns 20
It was the monsoon of 1997, a young tiger was spotted in the verdant forest of Ranthambore National Park, Rajasthan. Named after a prominent fish sign on the left of her face, Machli in the preceeding years became the reigning tigress of Ranthambore with her valiancy and prowess.In May 2016, Machli is celebrating her 20th birthday after cheating death and proving her mettle number of times throughout her life. Let us give you a brief tour of the life of Machli and let you decide for yourself if she is the object of celebration for tiger fraternity around the world.
To hear the story of Machli aka T-16, is like listening one of the tales from Rudyard Kiplings' collection. Machli is said to be the epitome of matriarch, blessed with 11 offsprings, she is a proud of her lineage, which is almost 60 per cent of Indian tigers. Full of valour, agile on feet and muscular when it came to strength, Machli came to limelight after her triumph over a 14-foot long crocodile.
However, it is not only for her valour Machli has been recognized, but this tigress also known as the 'Lady of the Lake' is also known for being the most camera-friendly tiger in the country and the most photographed tiger in the world. A 50-minute story of Machli with title of Tiger Queen was aired by National Geographic and Animal Planet channels.
And On 19 October 2012, the story of Machali was aired on the BBC's Natural World. The episode was titled "Queen of Tigers: Natural World Special." It is also believed that she has contributed about US $10 million per annum for the last 10 years in Rajasthan Tourism and has also won the "Lifetime Achievement Award" of Travel Operators for Tigers. Also, the Indian government issued a commemorative postal cover and stamp to honor the tigress for her ecological and economical contributions.
Where an average tiger's life expectancy is between 10 and 15 years, Machli has set another record by outliving the number. Today, although she has retired to the peace and quiet of the outskirts of her former dominion and has lost all her teeth and an eye but still her legacy remains too strong to be matched. Here is to the most special tiger that we could ever know, Long Live the Queen! Happy 20th.
You may also like to read:
Popular Posts
---
Follow Us
---
Recent Posts