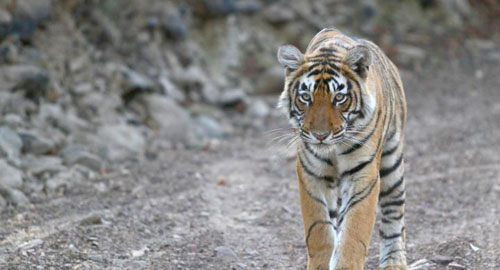 13 Aug, 2014
Get Ready to Relish the Extended Weekend as Ranthambore Re-Opens on Oct 1
After the three months' break, Ranthambore National Park will open on October 1. Apparently, the park is closed and is enjoying its monsoon break that begins from July and ends in September each year. However, Zone 6 to Zone 10 remains open in the monsoon season as well.
After the monsoon break, wildlife enthusiasts will regain the opportunity to visit Zone 1 to 5, where tigers like Machli (T-16), Krishna (who has given birth to cubs recently) and Sultan (T-72) occupy territories. Also, not to forget green will be the new trend in Ranthambore National Park, where the rains would have helped flora to grow and sprawl. We also hope that the water holes would have been filled offering animals ample of drinking water and may be the opportunity to take a refreshing dip in to it.
Another Attraction in Ranthambore National Parks would be the recently born tiger cubs of Krishna (T-19) who were last seen with their mother taking a royal walk in the forest. Wildlife enthusiasts shall also have the opportunity to see wiggling Dhok trees and 300 plant species that would have sprouted during the monsoon period. Wild animals will be out hunting and soaking up the sun in the post-monsoon season, proffering an exhilarating wildlife spotting experience.
AHH… Post Monsoon seems so promising! And an added bonus would be the extended weekend. With October 2 as Gandhi Jayanti, October 3 as Dusshera and October 4 and 5 being weekend, you can plan a perfect trip to Ranthambore National Park BUT ensure you make all the bookings of train/flight tickets, safari and accommodation well in advance as this extended weekend is no more a secret! Since we care about your enthusiasm towards wildlife and we eventually happen to be quite nice people, we will help you book your tickets before the counter closes! LOL… Contact us on feedback@ranthamborenationalpark.com to get an ideal deal in your ideal budget. Hope you have a thrilling holiday at Ranthambore National Park! See you soon.
Popular Posts
---
Follow Us
---
Recent Posts