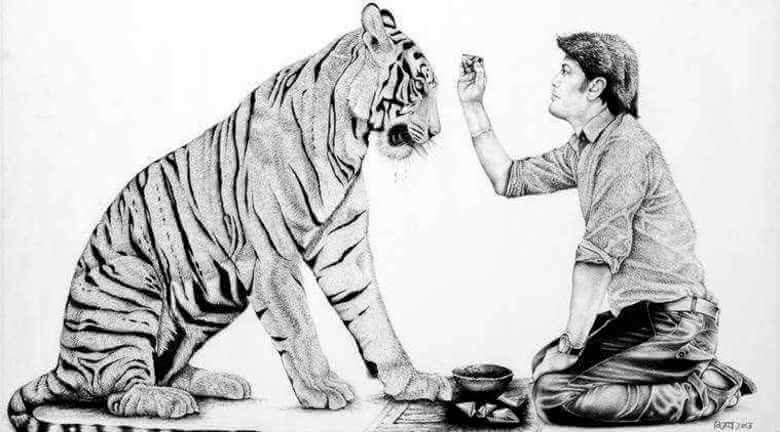 23 Nov, 2016
Man and Wildlife Relationship Artworks Display in Egg Art Studio in Delhi
About 30 artists from around the country are displaying their artworks at the Egg Art Studio in Delhi. Situated in Barakhamba, Egg Art Studio is hosting an exhibition where artists are invited to showcase their work on relationship between man and wildlife.
The exhibition has been aimed at portraying the importance of human and wildlife relationship, wildlife conservation and freedom of animals. Amongst the artists is Vijay Kumawat, a painter from Ranthambore who is displaying a self portrait with tiger sitting in front of him, using the tip of a newspaper. In his work Vijay used soot generated from exhaust pipes of trucks and diesel vehicles as paint, with a folded newspaper as his brush. Another interesting artwork comes from Noida-based Tapasya Gupta who invites viewers to the exhibition titled "The Lair." Her work has the figure of a boy seated on a bench, as a large chained tree stands tall like an umbrella over him. Several birds can be seen breaking free from a cage beside him. Gupta states, "I have worked around the idea of three words — animal, man and nature. With the fast-paced development today, where the cutting of trees is rampant, the freedom of animals and birds is being taken away. The young boy represents the present generation who can set these animals free by opening the cage."
Egg Art Studio promotes young artists, and acts as an incubator for emerging talent. The gallery also works to prevent age-old stunning art from becoming derelict, and try to keep it relevant. The Art Studio looks at contemporising art, while also using mechanisms of restoration. The place has grown as an incubator wherein emerging artists are mentored to their full potential and their works are developed, projected and curated.
You may also like to read
Popular Posts
---
Follow Us
---
Recent Posts