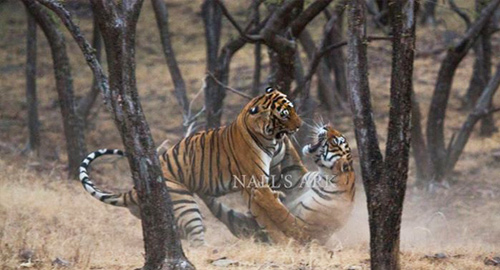 26 Oct, 2015
Mother and Daughter in the Battle for Throne in Ranthambore
On Thursday, October 22, 2015 an unusual scene was witnessed in the jungle of Ranthambore when an adult tigress turned against her own mother for acquiring the territory. The incident took place in the Rajbagh zone of Ranthambore National Park, where T-19 tigress was confronted by her own daughter.
As per the report, this incident was recorded by famous Wildlife Film Maker Nalla Muthu, who is making a film on the lineage of the famous tigress Machhli. According to the eye witness, the two adult tigers were seen fighting in the Lakarda area after which the daughter tiger won and T-19 had to withdraw from the region along with her two cubs. It is believed that one was a male cub and another female that walked the ground with T-19. Later the defeated tigress was seen hunting its prey in the form of Sambhar deer and sharing it with her cubs.
It is to be noted that this was not the first incident in Ranthambore about 6 years ago a similar event was witnessed when the famed tigress Machli was confronted by her daughter T-17. The incident took place near the Rajbagh Lake and in the same kind of fight Machli was defeated and was compelled to leave the area for her daughter. It is said that T-17 reined the area for two complete before mysteriously eloping somewhere.
Photo Courtesy: Nalla's Ark
You may also like read:
Popular Posts
---
Follow Us
---
Recent Posts