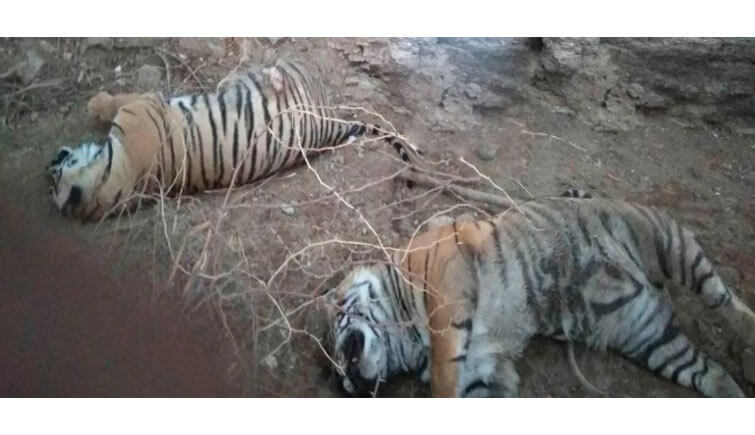 21 Apr, 2018
Case Registered Against Unidentified Felons for Killing Two Cubs in Ranthambore Park
A case has been registered against unidentified people for allegedly killing two male cubs at the national park by the forest department. All the accused have been charged under the Wildlife Protection Act (WPA) 1972 even though the cause of death is yet to be known after the autopsy.
On Tuesday, the cadavers/carcasses of the two male cubs of tigress T-79 were recovered from Awand ki Khard area of Ranthambore National Park and have been sent for the autopsy. The two cubs were born last year and were said to be more than one year of age and inhabited with their mother. As per the reports, the cubs have been said to kill by an adult male tiger in oppose of mating with their mother. By examining the injuries, which were not old, the officials stated that the incident took place in the afternoon.
Initially, the death of the tiger litters was suspected to be the outcome of a territorial dispute, as per the officials. However, the statement was opposed by experts and wildlife activists. According to Dr Dharmendra Khandal, Member of State Wildlife Board, it is impossible for one male tiger to kill two sub-adults as there were no claws and canine marks on the bodies of the cubs. He also established that both cubs ate bull before dying. After unclear post-mortem report of the twin tiger cubs, the forest official decided to investigate further for other possible reasons, poisoning being one of them. A case for the same, under WPA, has been lodged against unidentified felons for ostensibly assassinating the cubs, according to chief wildlife warden, GV Reddy.
As per the official, the rationale behind lodging a case of the mysterious death is that the departments want a free and fair enquiry into the event. The decision to register a case was taken in order to augment the extent of the investigation and to take all the aspects into consideration an official quoted. With increasing death cases of tiger and other animals, Rajasthan High Court has also asked for a report from principal chief conservator of forest (PCCF) and the forest department to submit the report by April 23.
You may also like to read
Popular Posts
---
Follow Us
---
Recent Posts