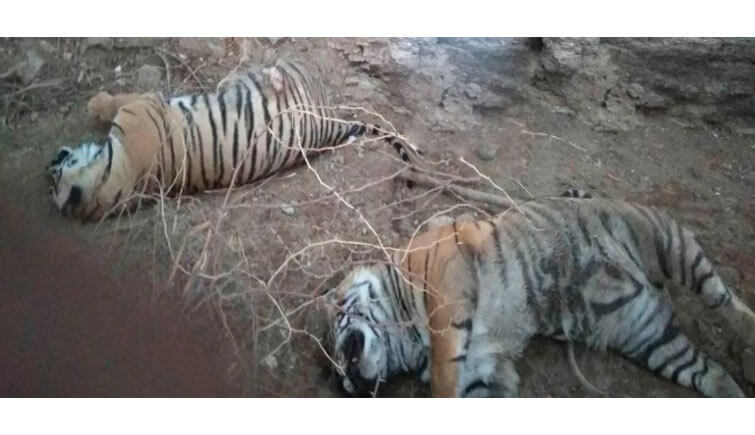 18 Apr, 2018
Male Tiger Kills Two Tiger Cubs in Ranthambore National Park
In the Awand ki Khard near Chambal of Sawai Mansingh Sanctuary (Ranthambhore Tiger Reserve), a male tiger is reported to have killed two litters of tigress T-79. According to the officials, the two litter, each one and half years old were residing with their mother T-79 when the male tiger intruded in their territory. He is said to have killed the young ones seeing them as an obstruction in mating with their mother. The officials told that the cubs were found dead on the eve of Tuesday, April 17, and suggested that the dismal incident must have taken place in the afternoon of the same day as the injuries did not look old. The postmortem report (PMR) of the deceased litter is still pending. According to Times of India, the viscera samples will be sent to two separate forensic labs, one in Wildlife Institute of India (WII) Dehradun and another to the Centre for Cellular and Molecular Biology, Hyderabad to ascertain the cause of the death. The actual reason will only be known after the reports from the two institutes and PMR arrive.
However, the officials presume the cubs died due to injuries during a conflict with the Adult Male Tiger. The experts on the other hand, according to DNA (daily newspaper) suspect that the cubs were poisoned to death by unidentified poachers since it is hard to believe that one male tiger can kill two sub-adults. Moreover, fewer injury marks could be seen on the two bodies. This is the third tiger death incident in Ranthambhore National Park in two months, earlier, T-28, Star Male/Sitara according to his postmortem report died due to gastric torsion in cardia (upper opening of the stomach), now the young cubs of T-79 are killed. With the reported death of the two cubs of T-79, the population of tiger litters in RNP has also decreased.
Ranthambore News Desk...
You may also like to read
Popular Posts
---
Follow Us
---
Recent Posts