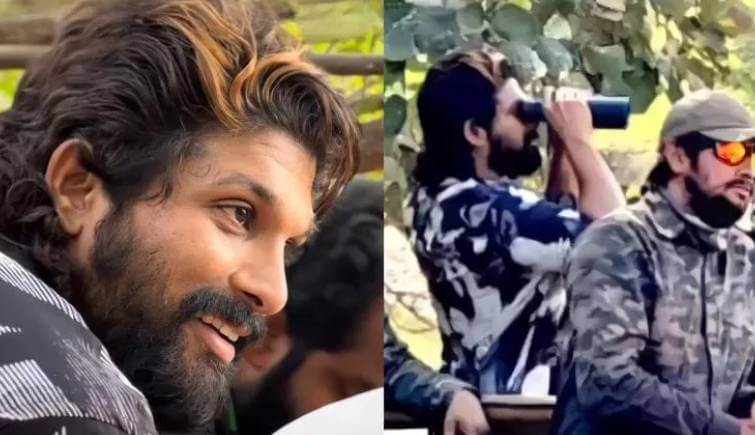 01 Mar, 2023
Allu Arjun and Family Take a Wild Break in Ranthambore National Park – Exploring the Wildlife and Natural Wonders!
In a recent sighting, Tollywood superstar Allu Arjun, the star of the movie 'Pushpa' was spotted in the Ranthambore National Park in Rajasthan, India. The actor, who is known for his love for wildlife, was seen taking a break from his busy schedule of shooting the next movie and enjoying a wildlife safari holiday with family at Ranthambore National Park. Allu Arjun's visit to Ranthambore has created a buzz among his fans and wildlife enthusiasts alike, who are excited to catch a glimpse of the actor in the midst of nature. Ranthambore National Park is one of the best destinations for a wildlife safari in India and is famous for its thriving tiger population, and it is said that the actor was lucky enough to spot a few during his visit.
A clip shared by his fans on social media platforms showcases the popular celebrity holidaying at Ranthambore National Park with his son, All Ayaan. He was seen capturing pictures of a big cat which was seen a few metres away from their safari vehicle. Reportedly, Allu Arjun has taken a small break from shooting his next. He recently completed filming the introduction song of Pushpa 2 in Visakhapatnam. The Tollywood superstar was seen sporting his recent movie look in a black-and-white shirt in this recently viral video. As per reports, the shooting of Pushpa 2 started last November with a look test. The movie will feature several other superstars such as Fahadh Faasil, Rashmika Mandana, Actor Sunil and Anasuya Bharadwaj.
However, this is not the first time any movie star has been seen having fun with families amidst nature and wildlife in Ranthambore National Park. There are few reasons why Ranthambore is a celebrity favourite. First of all, the park is home to a large number of Bengal tigers, which are a major draw for wildlife enthusiasts and celebrities alike. Apart from tigers, the park also has a diverse range of flora and fauna, including leopards, sloth bears, Indian wild boar, and more. The rugged terrain, rocky cliffs, and dense forests make for a stunning backdrop for wildlife sightings. The park is also home to the Ranthambore Fort, a UNESCO World Heritage Site, is a popular attraction among tourists and celebrities alike. The last reason why Ranthambore is a popular celebrity jungle safari destination is, it has several luxury resorts and lodges that cater to the needs of celebrities and other high-profile guests. These accommodations offer all the amenities and facilities that one would expect from a high-end resort, including spa treatments, fine dining, and more.
Now, let's take a closer look at Allu Arjun's wildlife getaway and the mesmerising beauty of Ranthambore National Park.
Stylish star #AlluArjun, who is currently shooting for #Pushpa: The Rule, spent quality time with his family over the weekend at #Ranthambore National Park in Rajasthan. #viral #trending pic.twitter.com/avf8g1mgrj

— HT City (@htcity) February 28, 2023
Ranthambore National Park News Inputs.
Other Interesting Blogs to Read
Popular Posts
---
Follow Us
---
Recent Posts