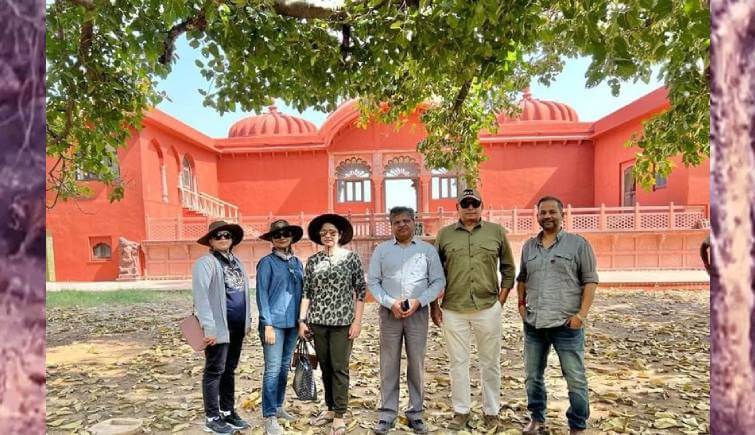 25 Mar, 2022
Master Blaster's Wife Anjali Tendulkar Spotted Tigers and Enjoyed Wildlife Safari at Ranthambore
It seems that the glory of Ranthambore will always shine bright in terms of Wildlife Tourism. Even celebrities can't resist its charm. Recently Sachin Tendulkar's wife Anjali Tendulkar reached Ranthambore on Thursday. Anjali reached Jaipur from Mumbai by flight in the morning and after that by road she reached Ranthambore from Jaipur around 2 pm. She is staying in a hotel Sawai Vilas on Ranthambore Road.
In the early morning innings of Ranthambore Tiger Reserve She spotted the tigress Sultana i.e. T-107 at Zone 1 of Ranthambore. Anjali was thrilled to see the tigress's antics. She also captured this scene in her camera. During this time, she was accompanied by Forest Officer and State Wildlife Board member Sunil Mehta.
During the tour She along with her close friends also visited Jogi Mahal in Ranthambore. Along with this, she also got photos taken here with her acquaintances. Although earlier there were speculations about her visit to the Trinetra Ganesh temple located in Ranthambore fort, but she did not visit Ranthambore fort and Trinetra temple.
Forest officials said that Anjali Tendulkar is also scheduled to visit Ranthambore in the evening shift. After this, she will leave from Ranthambore on Saturday. Her program to visit Sariska is also being told. However, till now the official confirmation in this regard has not been made by the Forest Department.
Earlier on Thursday evening also, she had visited Ranthambore. During her tour she spotted Tiger T-120 on Zone 2. She also took a selfie with the tiger. Apart from this, she also enjoyed a thrilling Wildlife Safari and spotted other wild animals.
Ranthambore National Park News Inputs.
Other Interesting Blogs to Read
Popular Posts
---
Follow Us
---
Recent Posts