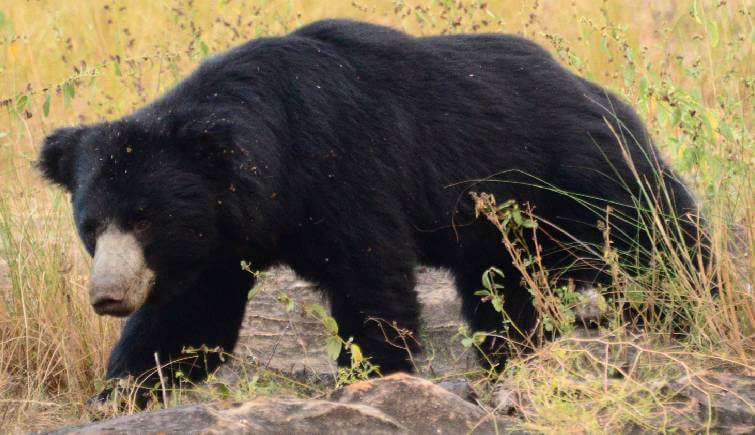 24 Aug, 2022
Interesting Facts You Need to Know About Sloth Bears in India
Ranthambore National Park is a popular name in wildlife conservation in India. Located in Rajasthan, Sawai Madhopur, the park is a famous place for tiger sightings in India. What no one will tell you that it is also one of the best places to sighting sloth bear. If you get lucky, you might also watch the fighting between Sloth Bears and tigers and trust us, it's undoubtedly a thrilling experience you might have on your jungle safari trip in Ranthambore.
Amongst the four species of bear, the sloth bear is the most widespread species in India. Melursus ursinus (scientific name) or sloth bear, the mammals are significantly found in several parts of India like Rajasthan, Madhya Pradesh, Uttar Pradesh, Chattisgarh, West Bengal and Northeast India. Sloth bear sighting in one of these places is one of the most exciting parts of a wildlife vacation trip.
Things You Need To Know About Sloth Bears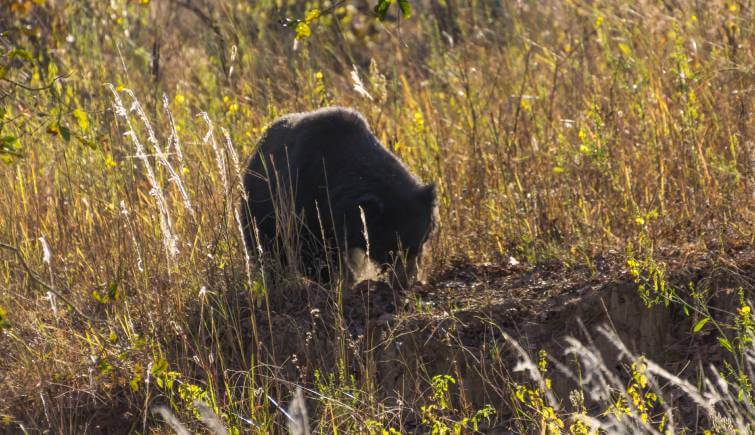 Unlike other species of bear, sloth bear's habitats are dry and moist forests where grasslands, shrubs and trees provide shelter.
One of the interesting facts about Sloth Bears is that they sleep in caves.
Sloth Bears do not hibernate as they do not live in a cold place.
Sloth Bears are myrmecophagous, means they eat termites and ants. Some of them also depend on fruits and seeds. Scientifically, the unique characteristics of sloth bear are related to its food habits.
As Sloth Bears in India live with tigers, they evolved aggressive behaviour to keep them safe from the tigers. Sometimes you might see tigers leaving the bears alone for the day for their aggressiveness. You will find some thrilling examples of this kind of incident on the internet. There are two viral videos of Ranthambore National Park in Rajasthan where a sloth bear is chasing away two tigers. Spotting sloth bear in Ranthambore is an exciting part of jungle safari, but watching the conflicts between the big cats and sloth bear is another level of excitement.
One of the incredible facts about the sloth bear is that mother bears carry their cubs on their back for the first nine months.
Moreover, when a mother bear enters a den to give birth she does not go anywhere to search for food and water for eight weeks. After giving birth for two weeks she leaves the cubs alone in the den and goes to search for food. The cubs are introduced to the world roughly after two weeks after birth.
Sloth Bears have long claws to dig into termites and fight off predators.
Sloth Bears have a gap in the front of their mouth to suck up termites.
Sloth Bears are active at dawn, dusk and night.
Sloth Bears in India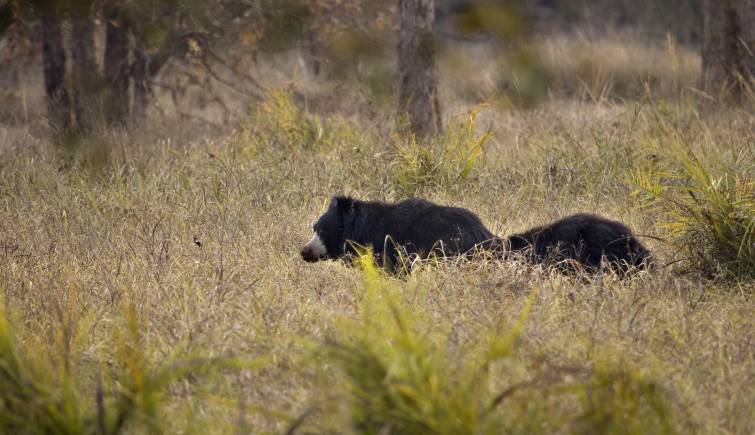 Sloth Bears in India have been recently facing several risks including human–sloth bear conflicts, hunting, poaching and habitat fragmentation. There is a nomadic tribe called the Kalandars who used to kill mother bears to sell off her cubs and use them as a part of their ancient 'Dancing Bear' tradition. Finally, organisations like WSPA (The World Society for Protection of Animals) and Wildlife SOS became successful to eradicate the gruesome activity and rehabilitated the bears in Bangalore and Agra in their largest and second-largest bear rescue centres in the world, respectively.
India houses around 90 per cent of sloth bear's global population. They mostly live outside of the protected areas (wildlife sanctuaries and national parks) so there is no proper population status of the animals. According to the statistics, India is home to around 6,000 to 11,000 Sloth Bears in 2020.
According to the National Conservation Action Plan for Bears 2012, which was published by the Ministry of Environment and Forest, the government clearly acknowledges the reasons why we need to save our Sloth Bears and identifies the importance of saving Sloth Bears and their habitats including the corridors.
According to IUCN Red List, the sloth bear is a vulnerable species and it is listed in Schedule one of the Indian Wildlife Protection Act, 1972. Its presence near human populations leads to several instances of human-sloth bear conflicts, as according to a prevailing theory, Sloth Bears see humans as predators. There are several incidents happened where sloth bear attacks on human. And, this is one of the main reasons why India should emphasise on Sloth Bears Conservation.
Best Places to Spot Sloth Bears in India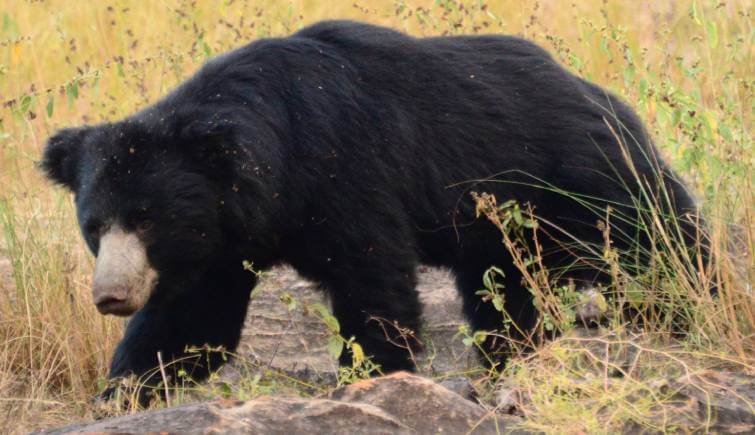 Some of the best places to spot Sloth Bears in India are the national parks in South India and the dry forests in the Western Ghats and Central India.
In Karnataka, there is Daroji Sloth Bear sanctuary where you get the best sightings.
Other South Indian national parks for sloth bear sightings are BRT, Bandipur, Kudremukh, Anshi etc.
For spotting Sloth Bears in other parts of India where the animals co-exist with the big cats, you should visit places like Kanha, Bandhavgarh, Tadoba, Pench and Ranthambore, where Sloth Bears are growing in population with other wildlife in Ranthambore National Park.
Writer- Nandini || PC: Google
Frequently Asked Questions
How many Sloth Bears are there in Ranthambore National Park?
As per data released in 2021, the number of Sloth Bears is close to 100 in Ranthambore National Park.
Which are the best places for spotting Sloth Bears in India?
Some of the best places to spot Sloth Bears in India are the national parks in South India and the dry forests in the Western Ghats and Central India. You should visit places like BRT, Bandipur, Kudremukh, Anshi, Kanha, Bandhavgarh, Tadoba, Pench and Ranthambore to spot the animals.
Do Sloth Bears fight tigers?
Sloth Bears evolved aggressive behaviour to protect themselves from the big cats as they have to co-exist in some parts of India. Evidence like Sloth Bears chasing away tigers in forests are there but there is no single case found where a sloth bear is seen killing a tiger.
Are Sloth Bears friendly?
No, Sloth Bears see humans as predators and they are believed to be the dangerous wild animals in India.
Other Interesting Blogs to Read
Popular Posts
---
Follow Us
---
Recent Posts