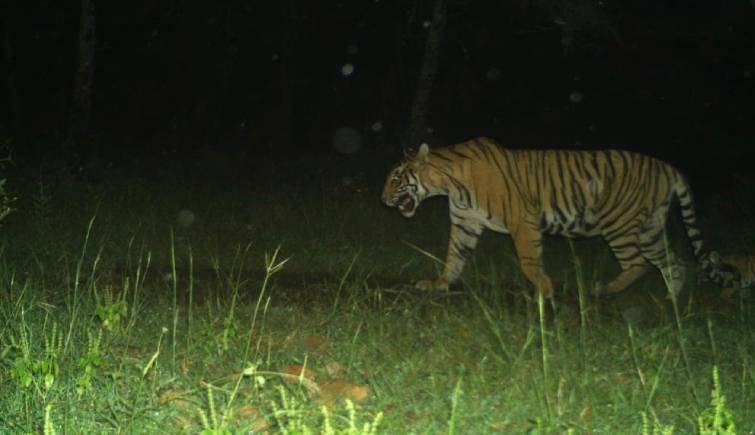 29 Aug, 2023
Exciting News from Ranthambore National Park: Sultana, the Dominant Tigress, Spotted with New Cub!
Ranthambore National Park is once again buzzing with happiness as the renowned tigress, Sultana, designated as T-107, has been recently seen accompanied by a young cub. As per the forest officials, there could be more than one cub in this litter, as typically, tigers give birth to 3-4 cubs in a single birthing.
The thrilling news broke when a camera trap captured Sultana (T-107) and her new cub near Kali Talai in the Naka Sherpur area of the ROPT range. This news is icing on the cake, given that merely a month ago, another tigress known as Arrowhead (T-84) had given birth to a trio of cubs, sparking optimism about the park's tiger population.
This isn't the first time that the 7-year-old tigress has introduced new cubs to the Ranthambore Tiger Reserve. In fact, this marks her third litter. Previously, in June 2022, she was sighted with cubs from her second litter, unfortunately losing one to a fall into Gomukhi Pond, while another cub went missing. Sultana's first litter dates back to 2020.
Sultana (T-107), the dominant female tigress of Zone 1 of National Park, is the offspring of the famous tigress T-39, affectionately named Noor, and a male tiger T-57 named Singhsth, presumably. Noor's fourth litter produced Sultana and her sister T-106, who was relocated to the Mukundra Hill Tiger Reserve. Meanwhile, T-105, another sister, has established her territory in zones 1 and 2 of the Ranthambore Tiger Reserve.
As the park is a hotbed in the conservation project of Tigers, this news story of Sultana and her new cub adds to the success of Ranthambore Tiger Reserve. For the time being, the authorities have instructed the field staff to keep an eye on the new family and ensure their safety.
Other Interesting Blogs to Read
Popular Posts
---
Follow Us
---
Recent Posts