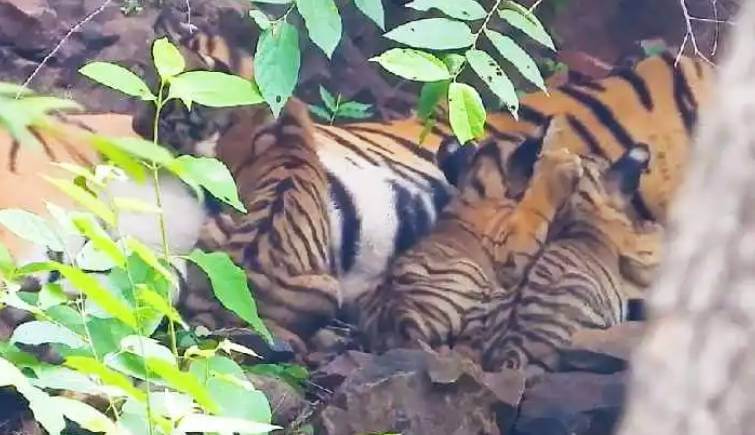 27 Jul, 2023
New Stars of Ranthambore: Tigress T-84 Gives Birth to Three Cubs
Good news for wildlife lovers around the globe as the renowned Ranthambore Tiger Reserve in India is now home to three newly born tiger cubs. The renowned Tigress T-84, fondly named Arrowhead, recently gave birth to these cubs, marking a celebratory moment in the narrative of tiger conservation in the country.
Ranthambore Tiger Reserve, one of India's largest and most famous national parks, best known for tiger sightings, announced the arrival of the cubs, who are around two and a half months old. Located in the Sawai Madhopur district of Southeastern Rajasthan, the park covers an expansive area of 1,334 square kilometers. With this recent addition, the reserve's tiger population has soared to around 89, making it the third-most densely populated tiger habitat in India, following Uttarakhand's Corbett National Park with 252 tigers and Assam's Kaziranga National Park.
The reserve has been a beacon of tiger and wildlife conservation in India for many years. The birth of these new cubs reinforces the success of these efforts and symbolizes hope for future endeavors aimed at protecting and preserving the majestic species.
The state's Chief Minister, Mr. Ashok Gehlot, took to Twitter to express his joy over this development.
वन के नए मेहमान
स्वागत करे राजस्थान

रणथंभौर के वन से बाघ के 3 नए शावकों के जन्म का सुखद समाचार प्राप्त हुआ।

जंगल का ये खूबसूरत वीडियो हमारी बाघ व वन्य जीव संरक्षण की प्रतिबद्धता की पुष्टि कर रहा है।

राजस्थान बाघ अभ्यारण टीम को हार्दिक बधाई व शाबाशी। pic.twitter.com/cruAIHAFl4

— Ashok Gehlot (@ashokgehlot51) July 25, 2023
The Forest Department of Rajasthan also shared a heartwarming video of the young cubs and their mother, Arrowhead, exploring their natural habitat. The video, which has now gone viral, showcases the cubs playfully engaging with their surroundings under the watchful eyes of their mother.
मिलिए रणथम्भौर टाइगर रिज़र्व के नए सदस्यों से।
रेंज सवाई माधोपुर के वन क्षेत्र में विचरण कर रही मादा बाघ टी -84 को दिनांक 25.07.23 को 3 शावकों के साथ फील्ड स्टॉफ द्वारा आँखों से देखा गया। इसकी उम्र लगभग 9 वर्ष है और यह वर्तमान में स्वस्थ दिखाई दे रही है। pic.twitter.com/jpWDwvc1t6

— Rajasthan Forest Department (@ForestRajasthan) July 25, 2023
Arrowhead, or Tigress T-84, is the daughter of the famed Tigress T-19, better known as Krishna. Arrowhead has been one of the most popular tigers among tourists and wildlife photographers owing to her striking features and commanding presence. With her new litter, Arrowhead continues her mother's legacy and offers a brighter future for her species.
The birth of these cubs highlights the successful conservation efforts that have been underway at the Ranthambore Tiger Reserve. It also stands as a testament to the importance of these endeavors in maintaining a healthy and growing tiger population in India.
This development is truly a cause for celebration, not just for wildlife enthusiasts but also for everyone who cares about our planet's ecological balance. As we welcome these new cubs into the world, we are reminded of the importance of our collective efforts in preserving and nurturing our wildlife and, by extension, our planet.
Other Interesting Blogs to Read
Popular Posts
---
Follow Us
---
Recent Posts