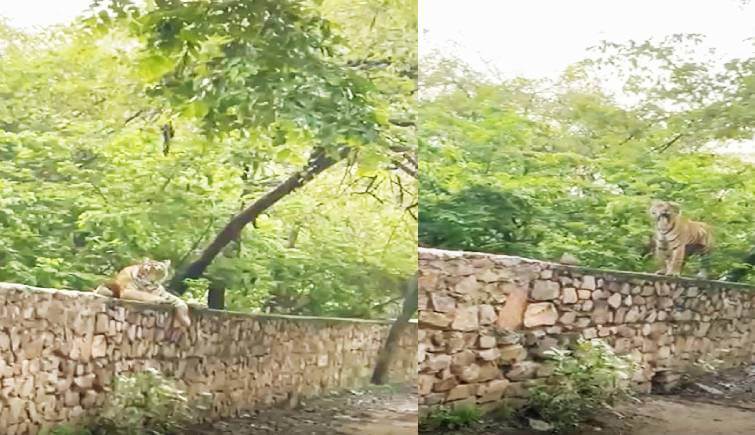 11 Jul, 2022
People Were Horrified by the Roar of Tigress Sultana on the Road to Trinetra Ganesh Temple
Tigress Sultana, code numbered T-107 has been seen sitting on the road leading to Trinetra Ganesh Temple in Ranthambore National Park, Rajasthan. The tigress has been sitting on the security wall of the road for 15-20 minutes and also tried to cross the road by jumping the wall, after which she returned to the forest. Seeing this, devotees were thrilled and captured all the moments on their mobile cameras.
However, this is not the first time the tigress made a public appearance. But, on a sad note, this time also she hasn't been seen with her cub. In November 2020, Sultana gave birth to two cubs for the first time. She lost one of the cubs in the pool in Gaumukh Kund sometime back, which was confirmed by the authority. The Forest Department has also become concerned as they did not see the second cub for a long time.
Speaking of the Trinetra Ganesh Temple, it is one of the famous tourist spots in Ranthambore. One of the oldest temples of Lord Ganesh, it is famed among devotees coming from all over the country as the temple is home to the whole family all together in one place. Situated in the vicinity of Ranthambore National Park, the temple is located in Ranthambore Fort and the road leading to the temple seems to be now an ideal place for an encounter with the big cats.
Ranthambore National Park is an important and famous wildlife reserve in Sawai Madhopur, Rajasthan. The park is home to leopards, tigers, crocodiles and many more species. It is one of the famous places to experience tiger sightseeing and jungle safari in India.
Ranthambore National Park News Update.
Other Interesting Blogs to Read
Popular Posts
---
Follow Us
---
Recent Posts