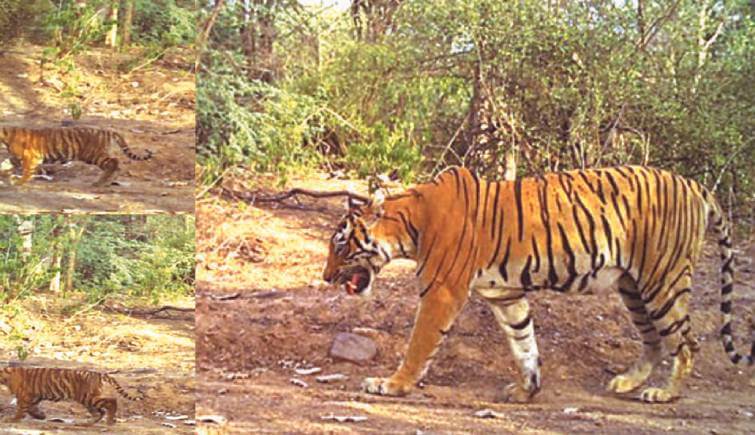 26 May, 2023
Ranthambore National Park Celebrates the Arrival of Two Tiger Cubs
Ranthambore National Park, a haven for a significant number of Indian tigers, has received some exciting news.
What's the News?
The park has recently welcomed two additional cubs, bringing the total number of cubs in the vicinity to 26. The confirmation came as tigress T-69 was observed in the jungle with her two cubs by surveillance cameras on Wednesday, May 24.
The sighting occurred in the Aam Chowki of Khandar Range, where T-69 was seen strolling alongside her two to three-month-old cubs, displaying signs of good health. This marks T-69's fourth successful litter. The cubs have been identified as a male, designated T-122, and a female, designated T-123.
With the arrival of these two new additions, the tiger family in Ranthambore National Park has now expanded to nearly 75 members, comprising 22 males, 27 females, and 26 cubs. To monitor the future activities of the tigress and her cubs, officials have increased the number of surveillance cameras in the area.
This news is a testament to the ongoing conservation efforts and the successful breeding programs implemented in the park. It represents a positive step towards the preservation of these magnificent creatures and the conservation of their habitat. The increasing tiger population in Ranthambore National Park is a source of hope and encouragement for the conservation community and wildlife enthusiasts alike.
Tigers, an endangered species, have experienced a significant decline in their population over the past few decades. However, India has emerged as a crucial sanctuary for these majestic creatures, hosting approximately 75% of the world's remaining wild tigers. This achievement can be attributed to the implementation of "Project Tiger" and various conservation strategies initiated by the government since 1973. These efforts have successfully contributed to the growth of the wild tiger population across several states, including Rajasthan.
Ranthambore National Park, renowned as a popular tourist destination for those seeking to witness tigers in their natural habitat, attracts over 4.5 lakh visitors annually, all eager for a glimpse of the magnificent Big Cats. The recent birth of two tiger cubs in the park signifies a positive and progressive trend in the tiger population, instilling hope for increased visits to the park in the future.
It is crucial to recognize the significance of preserving these endangered species and the collective efforts that have led to the revival of their population in India. By fostering a harmonious coexistence between wildlife and humans, we can ensure a brighter future for these iconic creatures and the ecosystems they inhabit.
Other Interesting Blogs to Read
Popular Posts
---
Follow Us
---
Recent Posts