Overview
There are several national parks located across India, what makes Jim Corbett special is its sheer richness of wildlife, be it mammals, reptiles or birds. A wildlife safari in this famous national park in Uttarakhand can offer you sights of the gharial, Royal Bengal Tiger, Indian rock python, black shouldered kites and the Asiatic Elephant. And the richness of the fauna also extends to the flora, which is visible in its landscape. But what actually makes Jim Corbett National Park stand out among the other national parks is the rare experience it offers of staying inside the forest (at the Dhikala Forest Lodge). Which means that, you are surrounded, or placed right in between, all the action happening in the jungle.
It would be interesting to note that the park has been named after the renowned British hunter turned wildlife conservationist, Jim Corbett, and enjoys the status of being the oldest and the most esteemed National Park of India. Besides, it is the first tiger reserve of the country, launched under the Project Tiger in 1973. The park is blessed with a diverse landscape, consisting of hill terrains, marshy depressions, riverine belts, vast-spread grasslands, and small rivulets & lakes, that support a rich variety of flora, fauna and avifauna.
Park Overview at a Glance
Establishment Year: 1936 as Hailey National Park.
Located In: Nainital District, Uttarakhand
Total Park Area: 520 sq. km. of Core Area and 798 sq. km. of Buffer Zone
Best Visiting Time/Month: November to June
Safari Zones in Jim Corbett National Park
The park has been divided into five tourist zones, namely, Bijrani, Jhirna, Dhela, Durga Devi and Dhikala, with each having a separate gate for entry. While the former four allow jeep safaris, the latter is only restricted for canter safari excursions. Additionally, there is a Sitabani Buffer Zone, which is dotted with a large number of birding trails, and therefore, is especially popular amongst ornithologists and birders.
A number of tourists flock to the Jim Corbett National Park every year to experience its rich wilderness and bounty of Mother Nature.
Best Time to Visit Jim Corbett National Park
Jim Corbett National Park remains open to visitors from 15th November until 30th June. The Bijrani Zone, however, is open for day jeep safari tours from 15th October. The park is closed during monsoons due to heavy rainfall. The Jhirna Zone as well as the Sitabani and Sonanandi Buffer Zones are an exception and can be visited even during this season.
The magnificent Corbett National Park is best visited between November and March, when the pleasant weather offers a high probability of wildlife spotting. April to June are the best months to get a tiger spotting experience, since animals visit the water bodies to quench their thirst during this time, and can easily be spotted. Those who enjoy bird watching, must plan their visit to Corbett between November and February.
Flora & Fauna in Jim Corbett National Park
Corbett National Park is home to a wide variety of wildlife, including several animal species which are endangered. The most famous of all the wildlife is the Royal Bengal Tiger, whose population is around 215 as per the latest census. Other animals which are widely spotted in the park are asiatic elephant, buffalo, leopard, himalayan black bear, barking deer, sambar deer, chital, sloth, jungle cat and yellow-throated marten, and are the main attractions of of the park's wildlife tourism.
Apart from that, Corbett has two of India's three crocodilian species. It is considered to be one of the best spots to see the mugger or the Indian Crocodile, also known as gharial (one of the largest and endangered crocodiles of the world) in action. Additionally, several species of snakes including the king cobra, Indian Rock Python, Russell's Viper and Indian Krait have also been frequently sighted here.
If you love bird watching, then your visit to Jim Corbett National Park  will be a fulfilling one. The park and its neighbouring areas is home to more than 650 resident and migratory bird species. At the convergence point of River Mandal and River Ramganga, in particular, you can spot many various exotic birds like blue-winged minla, long-tailed broadbill, paradise flycatcher, long-tailed thrush, bulbuls and magpies. 
During winters, migratory birds like brown-dippers, wallcreepers, brahminy ducks, ruddy shelducks, water redstarts and several varieties of wagtails can also be seen. Apart from that, Corbett is a hub for over 50 species of raptors, with some of the most spotted ones being oriental honey buzzards, black-shouldered kites, pallas' fish eagles, lesser fish eagles, slender-billed vultures, himalayan griffons and crested-serpent eagles.
The flora and vegetation of Corbett National Park is also as rich as its fauna. The topography is characterized by hills, plateaus, riverine belts and dense forests that are home to more than 600 species of trees, bamboos, herbs, grasses, shrubs, climbers and ferns. Amongst the most visible of the trees, Sal covers almost 75% of Corbett, with the remaining 25% occupied by Khair, Sissoo, and Chir Pine.
The Male Bamboo can also be seen in abundance along with flowering plants like Kachnar, Semal, Amaltas and Madaar. Dhak or the Flame of Forest with bright orange flowers also covers a huge expanse and lends a vibrant hue to the park. A significant number of woody climbers, epiphytes and orchids are also a part of the vegetation. Among the types of grass and herbs, one can find kansi, tiger grass, khus khus, baib, cyanthia, bhilmora, and numerous others alike.
How to Reach Jim Corbett Tiger Reserve?
Corbett National Park is well connected with most of the important towns and cities across India. The section below provides detailed information about how to reach Corbett National Park by road, train or air.
By Road: Jim Corbett National Park is well-connected via Ramnagar with every major city across North India such as Delhi, Lucknow and Nainital. Tourists can either choose from the private or state operated buses that ply the route at regular intervals, or hire a cab or taxi. Some of the most popular routes to reach Corbett from different cities are enlisted below:
From Delhi via NH24: Delhi – Ghaziabad – Noida – Hapur – Gajrola – Garh Mukteshwar – Muradabad Bypass – Thakurdwara – Kashipur – Ramnagar – Corbett
From Bareilly: Bareilly – Kicha – Haldwani – Ramnagar – Corbett.
From Lucknow: Lucknow – Bareilly – Kicha – Haldwani – Ramnagar – Corbett.
By Train: The nearest railhead from Corbett is Ramnagar, located almost 12 kilometers from Corbett National Park. It is directly connected to several railway stations across Delhi, Lucknow and Varanasi. A direct train named Ranikhet Express runs from Delhi to Ramnagar on a daily basis, and counts amongst the best trains to reach Corbett from the capital city. Alternatively, tourists can also arrive at the Kathgodam railway station and visit Ramnagar by taxi or bus, which will take around three and half hours by road.
By Air: Jim Corbett National Park doesn't have an airport of its own. If one wants to travel here by air, Phoolbagh in Pantnagar is the nearest domestic airport. It is located 65 kilometers away from Jim Corbett, and is well connected with major cities in India like Delhi and Lucknow. One can easily find a taxi from Pantnagar to Jim Corbett. Further, Delhi, which is 250 km away, is the nearest international airport, and serves as the best option for all those travelling from abroad.
Best Wildlife Tour Packages India
View All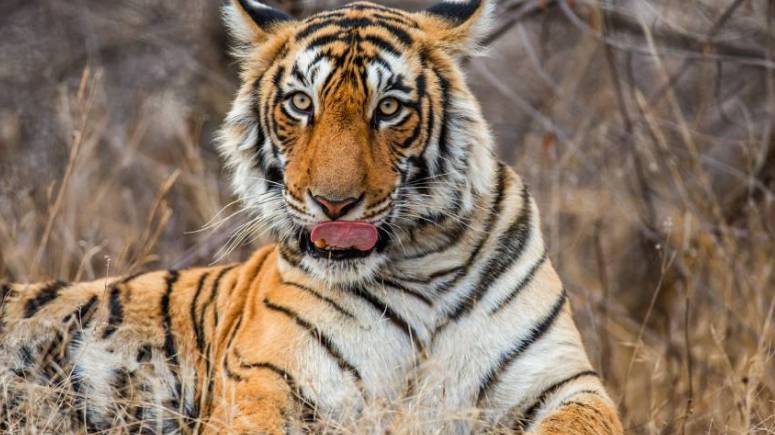 9 Nights - 10 Days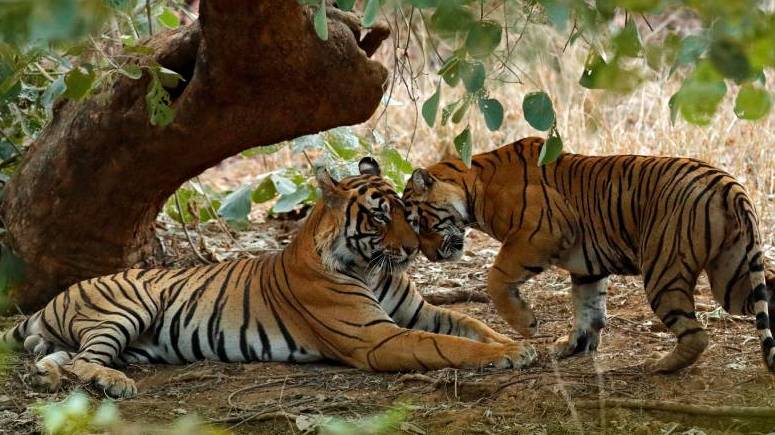 6 Nights - 7 Days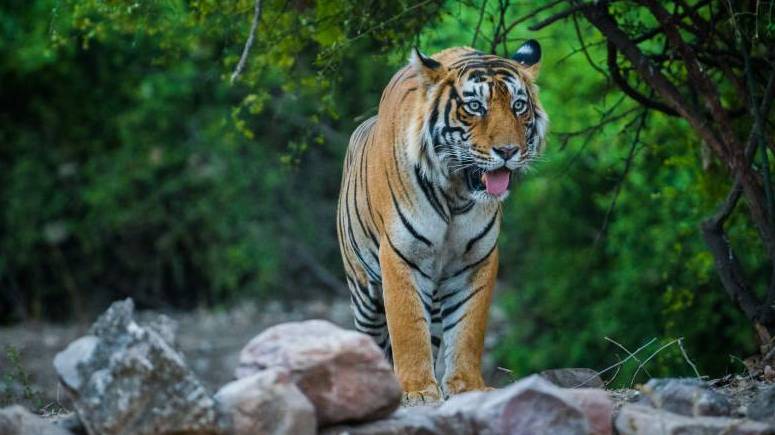 8 Nights - 9 Days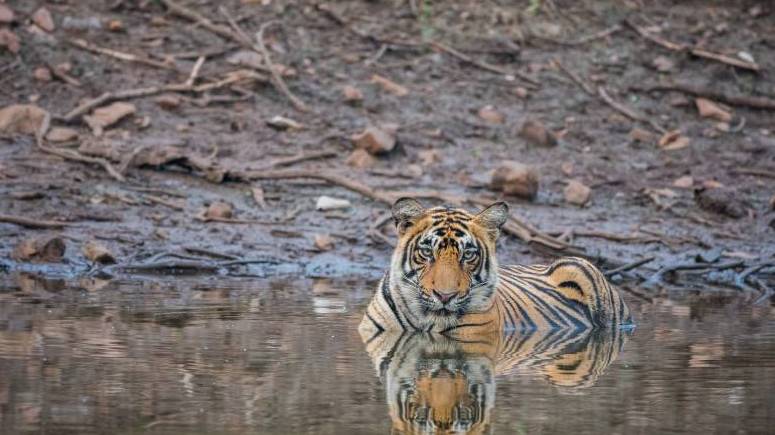 12 Nights - 13 Days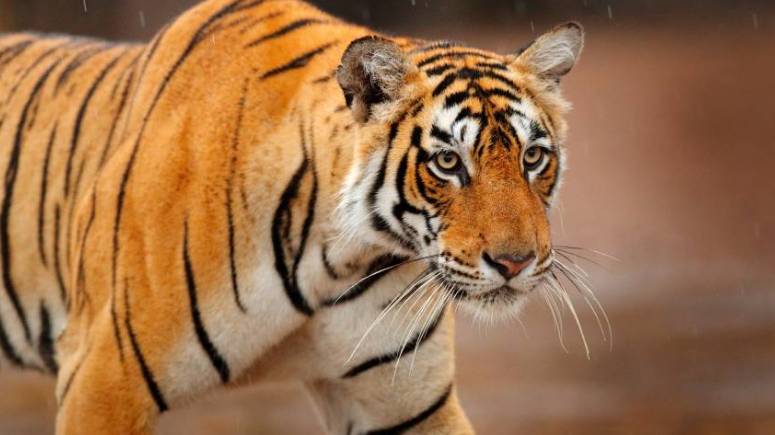 5 Nights - 6 Days
People Ask for Jim Corbett National Park?
Q. What is the best time to visit Jim Corbett National Park
Ans. The best time to visit here is from November to June. A permit from the forest department is mandatory before the entry to the park.
Q. What are the Safari Timings in Corbett National Park
One of the best places to go for a jungle safari in India, Corbett National Park knows how to give travellers the most impressive wildlife experience. On a trip here, one can choose from two safari options: Jeep Safari and Canter Safari, which are allowed in two shifts in all the five tourism zones. As for the safari timings, the exact schedule is mentioned below.
Bijrani Zone Safari Timing
01 April to 30 June: 6:00 AM to 09: 00 AM & 03: 00 PM to 6:30 PM
15 October to 31 March: 7:00 AM to 10: 30 AM & 3: 00 PM to 6:30 PM
Jhirna Zone Safari Timing
01 April to 30 June: 6:00 AM to 09: 00 AM & 03: 00 PM to 6:30 PM
15 November to 31 March: 7:00 AM to 10: 30 AM & 3: 00 PM to 6:30 PM
Durga Devi Zone Safari Timing
01 April to 30 June: 6:00 AM to 09: 00 AM & 03: 00 PM to 6:30 PM
15 November to 31 March: 7:00 AM to 10: 30 AM & 3: 00 PM to 6:30 PM
Dhela Zone Safari Timing
01 April to 30 June: 6:00 AM to 09: 00 AM & 03: 00 PM to 6:30 PM
15 November to 31 March: 7:00 AM to 10: 30 AM & 3: 00 PM to 6:30 PM
Q. How to Book Safari for Corbett National Park?
Safari in Jim Corbett National Park can be booked online, and the entire process is well-organized. Advance safari booking can be done 45 days in advance for Indian nationals and 90 days prior for foreign nationals.
Carrying an identity proof such as a PAN Card or Aadhaar Card is mandatory for every Indian national. For foreign nationals, the passport serves as a credible identity proof. 
Q. What are the popular places to see in Corbett?
Corbett National Park is dotted with various tourist attractions and places of interest in and around its vicinity. Listed below are few of the most important places one must visit when on a trip here.
Corbett Waterfall: Located at a distance of 25 kilometers from Ramnagar, the Corbett Waterfall is a prime tourist attraction of Corbett National Park. Its gushing waters plunging down from a height of 66 feet, almost appearing suddenly from the thickets of the jungle, presents a magnificent sight.
Corbett Museum: Situated at Kaladhungi, just a close distance from the national park, Corbett Museum is a heritage bungalow that once served as a residence to Jim Corbett - the well-known British hunter turned wildlife conservationist. Belongings of Jim Corbett, such as a few personal letters written by him as well as his friends and family, some paintings, sketches, rare photographs, and above all, his last hunt, are on exhibit. 
Garjiya Devi Temple: Garjiya Devi Temple is an ancient shrine located on the outskirts of the Corbett National Park in Garjiya village near Ramnagar. What makes this temple a worth visiting attraction is its placement on top of a massive rock in the middle of Kosi River. In order to get to the top of the temple, one has to climb a steep staircase. Once at the top, a 4.5 feet high idol of Garjiya Devi, an incarnation of Goddess Parvati, greets the visitors.
Hanuman Dham: Snuggled amidst tranquil and peaceful settings of Ramnagar District in Uttarakhand, Hanuman Dham is yet another place of tourist interest near Corbett National Park. Dedicated to Hindu God, Lord Hanuman, it attracts a large number of pilgrims from far and wide. The inside of the complex is again as grand as the exterior and houses a sitting area, meditation halls, a centre for disabled and an imposing temple of Shri Hanuman.
Sitabani Forest Reserve: Located at an approximate distance of 10 kilometers from Ramnagar city centre, Sitabani Forest Reserve is often called a birder's paradise, because of its hidden treasure of verdant trails housing a number of colourful birds. It possesses historical and mythological importance too, as it is believed to be the same place where Goddess Sita, the wife of Lord Rama, spent her few days while in exile.  
Q. What are top things to do in Corbett?
The oldest and most prestigious National Park of India, Corbett is indeed a land of charming splendour. The place offers a myriad of choices for adventure activities ranging from wildlife safaris and nature walks to extreme sports such as rappelling, rock climbing and mountain biking. Nature lovers who are in search of a soulful retreat can also enjoy camping and peaceful walks along the river banks. If that is not all and you are still wondering about what to do in Jim Corbett, we have a comprehensive list of some of the best things to do which you may not want to miss during your visit here.
Sight the king of the Corbett on a jeep safari: A jeep safari in Corbett National Park takes you through dense and tall Sal forests to the areas where the possibility of sighting a tiger is maximum. A special guide will navigate you through routes which are more frequented by these elusive creatures. While on the safari, keep your cameras ready, as you never know when the striped beast is going to make a stunning appearance before you. Also be ready to spot the barking deer, wild boars, jackals, Himalayan black bear and several unusual species of colourful birds.
Explore the wilderness of Corbett National Park on a canter safari: Canter safaris are another great option for a wildlife tour in Corbett, and come at a much reasonable cost as compared to jeep safaris. Through the canter safaris, you are taken in 16-18 seater open air buses that make their way through characteristic trails that have been frequented by the majestic tigers. For tourists who are not staying at any of the forest rest house or lodge in Dhikala and wish to go for a wildlife exploration in the Dhikala Zone, for them, the canter safaris are the only available option to start off with their tiger spotting expedition. If you wish to go for a canter safari, make sure to take prior permissions from the forest department and book your tickets well in advance.
Enjoy fishing & angling: Corbett National Park provides you a great opportunity to enjoy fishing & angling. The rivers Ramganga and Kosi flowing by the middle of the forest reserve, are rich in a few rare species of fish like golden masheer, kalabasu and goonch. Designated fishing spots in the park have been allotted for tourists to enjoy both these activities. If you are looking forward to a fishing trip in Corbett National Park, plan for somewhere between October-November or just after the monsoon season, when the rivers are bustling with fishes. Special permission for angling safari can be arranged through the forest reserve combined with forest stays, overnight camps and jeep safari rides.
Take a bird watching tour: A bird watching tour in Corbett National Park lets you spot a wide variety of birds like parakeets, woodpeckers, hornbills, eagles and vultures. Be it a rare regional Himalayan bird or a long-distance migrant, you can catch frequent glimpses of these vibrant and multi-hued flying creatures along the designated bird sighting trails of the park or on an jeep safari. Keep your binoculars handy so that you don't miss out on even a single sight of a rare bird somewhere hidden inside the thick bushes or perched on a tree top. Needless to say, a bird watching tour in thick wilderness of the Corbett Park can be as exciting as a tiger safari expedition.
Discover the trails of the park through a nature trek: Trekking through the trails of the Corbett National Park is an experience to remember. The treks are allowed only in a few buffer areas of the park, and for that too, prior permission is required from the forest authorities. The trek takes you through thick covers of forests, small river streams and suspension bridges, and lets you observe the various faces of nature from a close perspective.  
Experience the thrill of staying amidst the jungle: Areas around the Corbett National Park are teeming with hotels and resorts ranging from budget options to five star properties. A rustic stay can be experienced at one of the many private cottages and tree houses located in close proximity to the jungle. Spot a colourful bird sitting on the railing of your room's balcony or hear the jungle noises as you wake up to a picturesque morning taking in the aroma of a fresh morning breeze. A stay in these lodges can be combined with bonfires and bar-be-cue dinners, nothing can be more exciting and thrilling than this experience of your lifetime.
Q. How are the accommodation facilities in Jim Corbett National Park?
Jim Corbett National Park is a well-known wildlife destination in Uttarakhand, so there are plenty of accommodation options that offer a comfortable stay to the visitors. From budget hotels & resorts that provide excellent stay facilities without burning a hole in your pockets to luxury properties that let you spend your vacations in luxury and style, the staying options offer an incredible wildlife holiday experience.