Overview
Located in the Nagaon and Golaghat districts on the edge of Eastern Himalayan biodiversity hotspot, the Kaziranga National Park is counted among India's top wildlife hotspots. Spread across 430 square kilometres, the park comprises vast elephant-grass meadows, dense forests, and swampy lagoons. It is famed for its Indian one-horned rhinoceros and is home to 2/3rd (2200) of the global population.
The National Park, a UNESCO World Heritage Site, was founded in 1908 on the recommendation of the spouse of India's then Viceroy, Lord Curzon. When Mary Curzon visited the park and failed to spot even a single Indian rhinoceros, she persuaded Lord Curzon to take action for the conservation of the dwindling species which led to the formation of Kaziranga Proposed Reserve Forest in 1905.
In addition to the one-horned rhinos, visitors will come across a wide variety of mammals, ranging from wild water buffalo to elephants. Over the past few decades, the tiger population in the park has steadily grown, leading to its recognition as a Tiger Reserve in 2006. Kaziranga is also popular among bird watchers since it is frequented by white-fronted goose, black-necked stork, ferruginous duck, Asian Openbill stork, Baer's pochard duck, and several other Central Asian migratory birds.
The National Park offers exquisite panoramic views of the vast grasslands, dense tropical forests, and the Brahmaputra River, all of which make it an ideal destination for all nature lovers.
Visitors can acquaint themselves with the extensive wildlife conservation initiatives carried out here which has led to the growing numbers of several endangered species.
Park Overview at a Glance
Establishment Year: 1905
Located in: Kanchanjuri, Assam
Total Park Area: 430 square kilometers
Best Time to Visit: November to April
Flora of Kaziranga National Park
Four distinct kinds of vegetation can be found in Kaziranga National Park, owing to the difference in altitude between the western and eastern areas of the park. Alluvial inundated grasslands, tropical moist mixed deciduous forests, alluvial savanna woodlands, tropical wet evergreen and tropical semi-evergreen forests comprise the flora in Kaziranga National Park.
Visitors will come across sugarcanes, elephant grass, spear grass, Indian gooseberry trees, elephant apple trees, cotton trees and others while traversing the grasslands. The dense evergreen forests are lined with trees such as Talauma hodgsonii, Garcinia tinctoria, Albizia procera, Dillenia indica, and Duabanga grandiflora. A wide range of aquatic flora can be spotted in and around the multiple water bodies.
Fauna in Kanha National Park
As we've mentioned before, the Indian one-horned rhinoceros is the prime attraction of the Kaziranga National Park. Owing to the diverse flora of the region, several other animals reside in the park. It is home to over 30 mammal species, including the world's largest population of wild Asiatic water buffalo and eastern swamp deer. Visitors will come across herbivore mammals such as elephants, sambar, guar, Indian muntjac and hog deer, during a wildlife safari here.
The National Park is among the few wild breeding areas in Asia for leopards and Royal Bengal Tigers. Some of the rare animals to look out for include hispid hare, fishing cat, Bengal fox, Indian gray mongoose and particoloured flying squirrel, Assamese macaque, Ganges dolphins, and golden langur. Several water birds, migratory birds, and game birds visit Kaziranga, making it a haven for bird watchers. Most popular birds include Blyth's kingfisher, Dalmatian pelican, black-bellied tern, eastern imperial, and Pallas's fish eagle.
Best Wildlife Tour Packages India
View All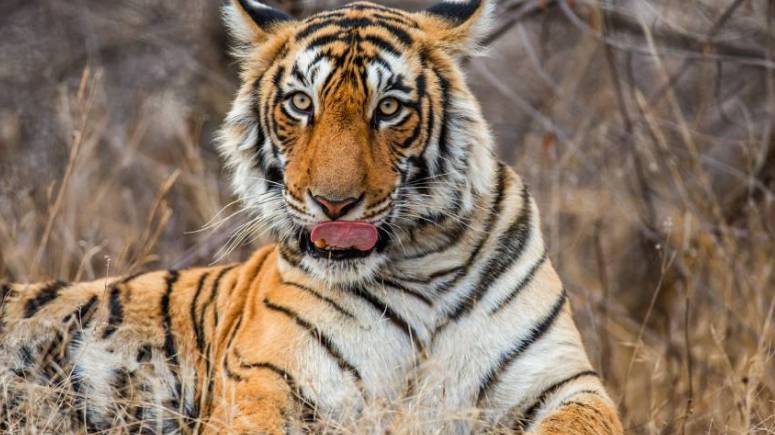 9 Nights - 10 Days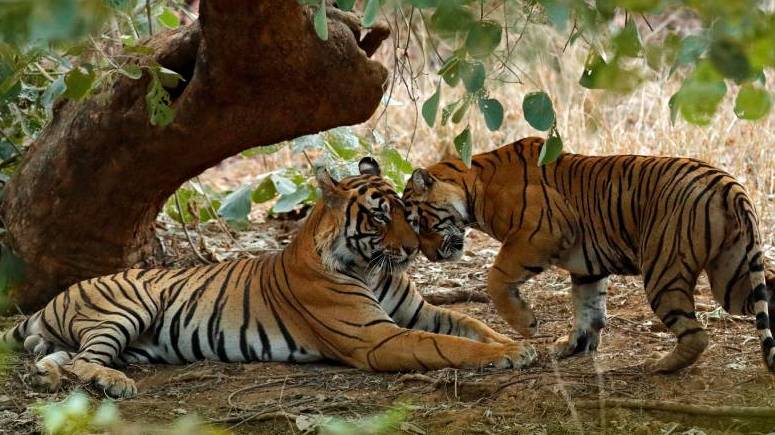 6 Nights - 7 Days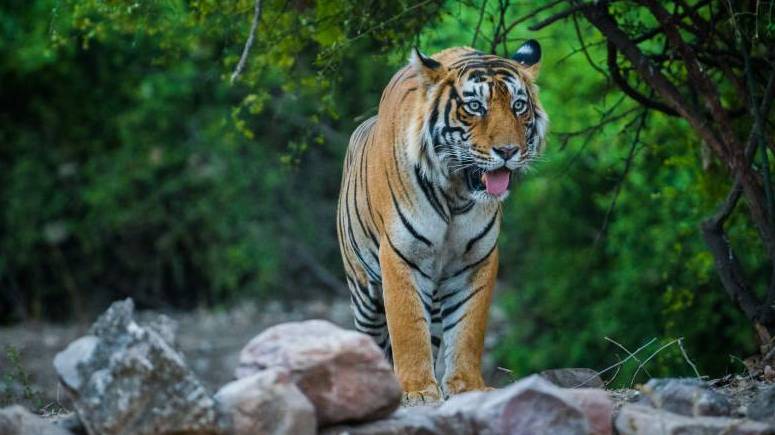 8 Nights - 9 Days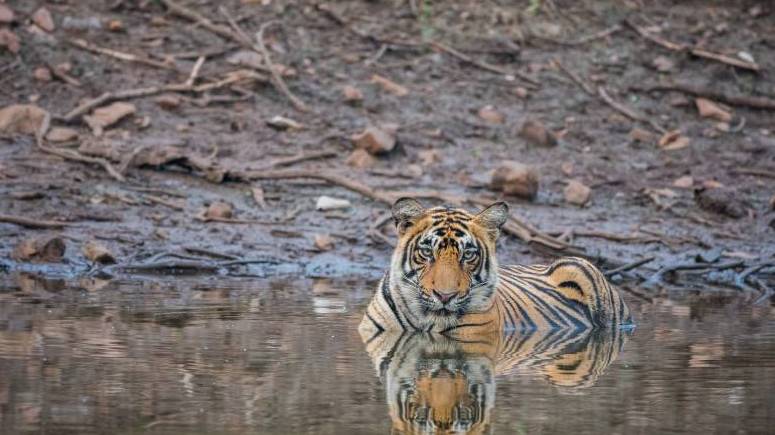 12 Nights - 13 Days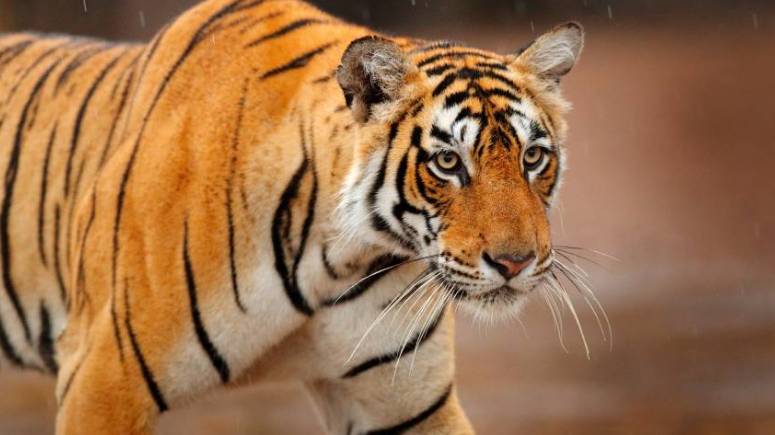 5 Nights - 6 Days
Frequently Asked Questions About Kaziranga National Park
Q. Where to Stay in Kaziranga Park?
A visit to the Kaziranga National Park is incomplete without a jungle safari, which is unarguably the best way to spot animals and soak in the scenic beauty. Visitors can opt for a jeep tour.
Q. What are the Safari Timings of Kaziranga National Park?
A visit to the Kaziranga National Park is incomplete without a jungle safari, which is unarguably the best way to spot animals and soak in the scenic beauty. Visitors can opt for a jeep tour.
Morning: 8:00 AM to 10:00 AM
Afternoon: 02:00 PM to 04:00 PM
Q. How to Reach Kaziranga National Park?
The Kaziranga National Park can be reached by the following means of transportation:
By Train: The nearest railway station from Kaziranga National Park is the Furkating Junction railway station (75 km). Run by the Northeast Frontier Railway, the station is a 2 hour drive from the park.
By Air: Jorhat Airport, located in Rowriah (96 km), is the closest from Kaziranga National Park. Tezpur Airport in Salonibari (100 km) is also an option for visitors. The two busiest airports are Dimapur Airport (172 km) and Guwahati's Lokpriya Gopinath Bordoloi International Airport (217 km).
By Road: The National Park is connected to Tezpur, Guwahati, and Upper Assam via NH 37. Bokakhat (23 km) is the nearest town from Kaziranga. Visitors can opt for bus services offered by the Assam State Transport Corporation and several private agencies to reach the park.
Q. When is the Best Time to Visit Kaziranga National Park?
Kaziranga National Park remains closed from 1st May till 31st October for all visitors. Tthe best time to visit is from November to April.
Q. What are other major attractions to see in & around the park?
Kaziranga National Orchid Park: Located in Kaziranga, the Orchid Park is spread across 5 acres. Among the largest of its kind, it is home to over 500 species of orchids. Visitors will also find here 132 species of sour and leafy vegetables, 46 bamboo species, and 12 cane species.
Addabarie Tea Estate: To be in Assam and not visit a tea estate is simply not done. Established by the British Assam Tea Company in 1864, the Addabarie estate is located near Tezpur. River Jerashor runs through the middle of the estate which is spread across more than 1000 hectares. Travelers can take a walk along the plantations, visit a factory, and indulge in tea tasting. Scenic walks and bicycle rides are also a great way to leisurely pass time here. The tranquil setting helps visitors experience the plantation colonial lifestyle.
Go Dolphin Spotting: Opt for a leisurely boat ride on the Brahmaputra River and spot the endangered Gangetic Dolphin. The dolphin inhabits the Brahmaputra-Ganges-Meghna and Sangu-Karnaphuli river systems across India, Nepal, and Bangladesh. Construction of dams and irrigation projects has contributed to their dwindling numbers. Soak in the calming ambience while you try to catch a glimpse of this rare species.
Kakochang Waterfall: Located merely 14 km from Kaziranga National Park, the Kakochang waterfall is a must visit. A popular picnic spot, it is frequented by families and trek enthusiasts owing to its soothing water.