Overview
Spread across 626 square kilometers, Tadoba National Park is the largest as well as the oldest national park in the state of Maharashtra. The national park is located roughly 150 kms from Nagpur, in Chandrapur district. Tadoba, among 47 tiger reserves in India, is also commonly referred to as Tadoba Andhari Tiger Reserve. The national park derives its name from the regional god Tadoba, while Andhari is the name of the river which flows in the area.
The national park is also home to three water bodies, namely, Tadoba Lake, Tadoba River, and Kolsa Lake. These water bodies can be referred to as the lifeline of the vast park as they provide the necessary ingredients for the sustenance of the park's flora as well as fauna.
Visitors will come across a plethora of mammals, reptiles, and birds. In addition to tigers, the park is home to Indian leopards, striped hyena, jungle cats, barking deer, sambar, spotted deer, marsh crocodile, Indian Cobra, Indian Python, peacock, crested serpent eagle, and other animals. The most commonly spotted flora are teak, ain, tendu, hirda, mahua madhuca, karaya gum, arjun, and bamboo.
Park Overview at a Glance
Establishment Year: 1955
Located in: Chandrapur, Maharashtra
Total Park Area: 626 sq km
Best Time to Visit: February to May
Flora and Fauna of Tadoba National Park
Tadoba National Park is mostly covered with dense woodlands with myriad trees. Bamboo and teak are most commonly found here. During a leisurely stroll, visitors will come across ain (crocodile bark), hald, salai, bija, dhauda, tendu, mahua madhuca (crepe myrtle), karaya gum, lannea coromandelica, baheda, and hirda.
Popularly known as 'The Land of Tigers', Tadoba National Park is home to a vast number of Royal Bengal Tigers. The most widely found mammals include Indian Leopards, nilgai, dhole, striped hyena, sloth bears, gaur, Small Indian Civet, sambar, jungle cats, spotted deer, chital, chausingha, honey badger, and barking deer. The national park houses the rare Indian Python and a plethora of other reptiles, including Indian Monitor, Indian star tortoise, russell's viper, Indian Cobra, and Terrapins.
With over 195 species of birds, Tadoba is a delight for visitors fond of bird watching. The most popular commonly found species include orange-headed Thrush, stone curlew, crested honey buzzard, Indian Pitta, crested treeswift, paradise flycatcher, lesser golden backed woodpecker and bronze winged jacana. Grey headed fish eagle, changeable hawk-eagle and crested serpent eagle are the prominent raptors here.
Best Wildlife Tour Packages India
View All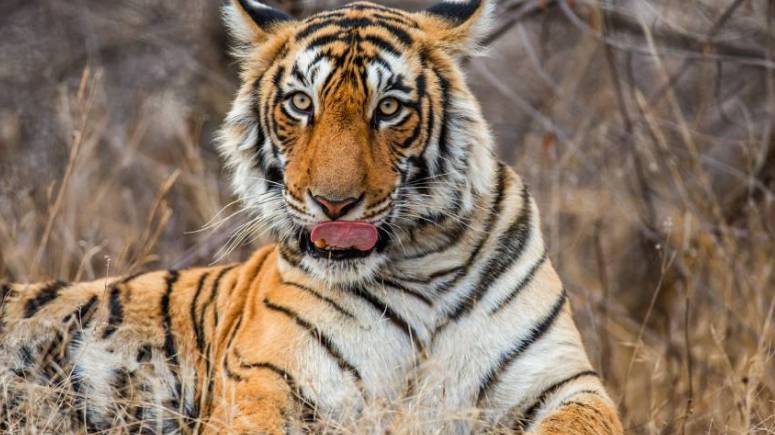 9 Nights - 10 Days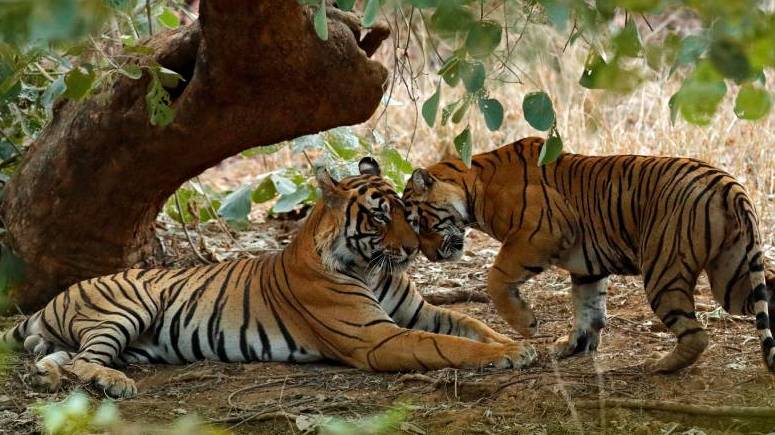 6 Nights - 7 Days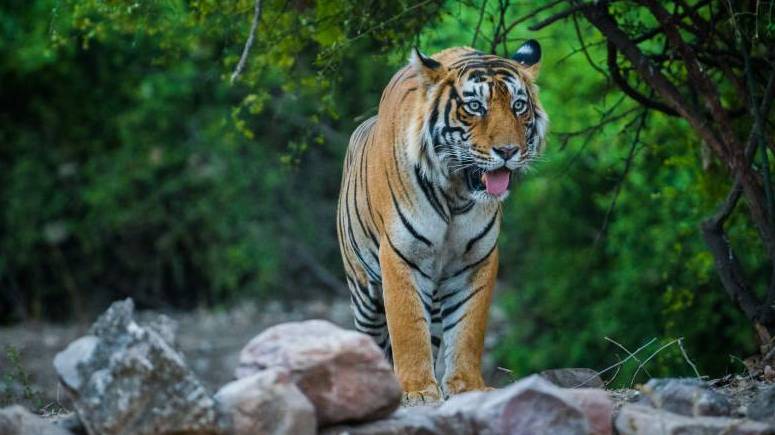 8 Nights - 9 Days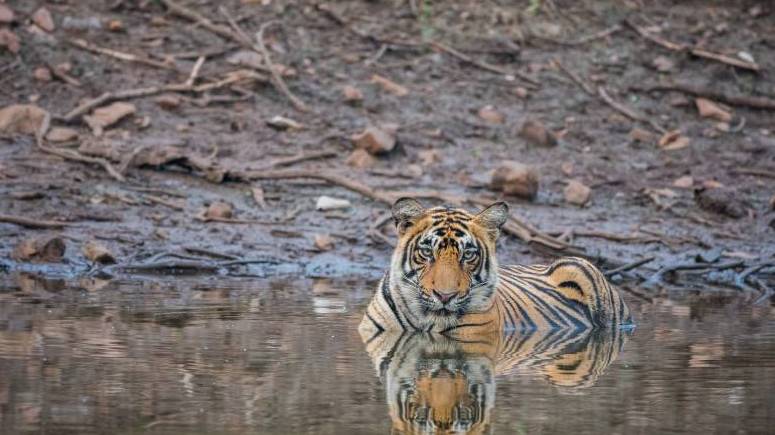 12 Nights - 13 Days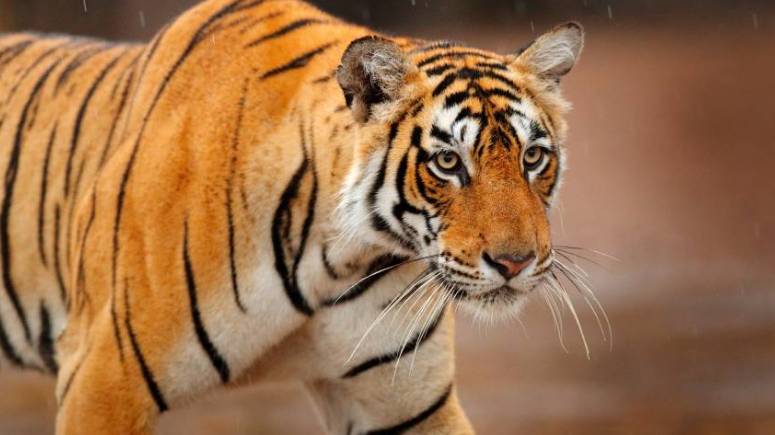 5 Nights - 6 Days
Frequently Asked Questions About Tadoba National Park
Q. What are the opening & closing timings of Tadoba National Park?
Tadoba National Park remains open from 15th October to 30th June. Visitors must note that the park remains closed every Tuesday.
Q. What are the safari timings in Tadoba National Park?
The safari is conducted from 6.00 A.M to 10.00 A.M. (entry allowed until 8.00 a.m.) in the morning & 3.00 P.M. until 6.00 P.M (entry allowed until 4.30 p.m.) in the evening. 
Q. What is the best way to reach Tadoba National Park by Train, Air & Road?
Chandrapur (49 km) and Nagpur (151 km) are the nearest railway stations from Tadoba National Park. Nagpur Airport, located at a distance of 140 km, is the nearest airport from Tadoba National Park. Visitors can opt for a taxi from the airport to reach the park in roughly 3 hours. The National Park can be accessed via Pune-Ahmednagar Highway if visitors are making their way from Mumbai or Pune. The nearest bus station is Chimur (32 km). Regular bus services ply between the National Park and neighbouring cities.
Q. What is the best time to visit Tadoba National Park?
The best time for spotting wildlife is from February to May when the weather is moderate.
The major attractions around the park are Tadoba Lake, Erai Dam, Mahakali Mandir, Khosla & Moharli.
Tadoba lake: The Tadoba lake is situated in the heart of Tadoba National Park. A haven for bird watchers, nearly 200 bird species can be spotted around the lake. Visitors can spot a variety of exquisite birds including black-hooded oriole, Indian Pitta, golden oriole, oriental honey, changeable hawk eagle and grey hornbill.
Erai Dam: Located across the River Erai, the Erai Dam is a short drive away from Tadoba National Park. Towering at 1,620 m, the gravity filled dam has a massive storage capacity of 226, 500 cu km. Surrounded by extensive greenery and vast open space, it is a popular picnic spot among locals and draws decent crowds.
Mahakali Mandir: Mahakali Mandir is the most prominent landmark of Chandrapur district, after Tadoba National Park. The temple is located roughly 35 kms from the national park. The temple compound also comprises Ganesha and Hanuman temples. Visitors and devotees from across the region visit the holy temple throughout the year. The temple is especially crowded on Tuesdays as well as Hanuman Jayanti, both of which are considered auspicious in Hinduism. Visitors will find here all sorts of amenities such as potable water, restrooms, and accommodation.
Khosla: Located in Chandrapur, Khosla is a quaint village located near the Tadoba National Park. The beautiful village is locally known for its dense forest cover and greenery. Owing to its scenic setting, the village draws scores of wildlife and nature photography enthusiasts. Khosla is the ideal spot for a nature getaway to detox from busy city life.
Moharli: Located at an approximate distance of 7 km from the Tadoba region, Moharli is a beautiful village which acts as a gateway to the national park. It is popular among visitors who wish to opt for jungle safari, as they can access the Moharli zone of Tadoba easily.
Q. What are the accommodation options in Tadoba National Park?
Some of the accommodation options in Tadoba National Park are Svasara Jungle Lodge, Camp Serai Tiger, Tiger Heaven Resort, Irai Safari Retreat, and Tiger Trails Jungle Eco Lodge.
Maharashtra Tourism Development Corporation (MTDC) runs several budget hotels and guesthouses which offer comfortable dormitory rooms. For those who wish to have a more immersive experience, Forest Development Corporation of Maharashtra provides Eco Huts which are extremely affordable.