Overview
Nestled in the Maikal range of Satpura hills in the state of Madhya Pradesh, Kanha National Park sits as one of the most popular wildlife destinations in India. Spread across 940 sq. km. of the core area, and occupying more than 1,000 sq. km. of the buffer zone, no wonder, it enjoys the status of being the largest park in Central India and has to it, a massive forested cover of thick Sal and Bamboo groves, grassy meadows and several ravines and rivulets that support rich bio-diversity and a varied wildlife.
As for its history, the Kanha National Park was originally a part of the Gondwanas or the "Land of the Gonds" and was managed by the Gond Dynasty until 1879 when it was declared as a reserved forest by the British. Later in 1933, it was upgraded to wildlife sanctuary and further upon as a national park in 1955. The year 1973 again saw an upgrade to the park with its status being converted to a tiger reserve as part of the "Project Tiger" launched by the central government the same year and which aimed at conservation and growth of the tiger population across India. Today, Kanha is one of the top tiger reserves in India and serves home to almost 80 tigers along with their 40 cubs.
Apart from that, there is one more thing which makes Kanha so special; the state animal of Madhya Pradesh, the Hard-Ground Barasingha is found exclusively in this park. It would be interesting to note that almost 20 years back, this deer species was on the verge of extinction; it is only because of the holistic conservation approach and effective management practices of the park that the meadows here are once again echoing with their rutting calls.
Travellers who wish to tour the Kanha National Park, must note that the park is divided into four core zones namely Kanha, Kisli, Mukki and Sarhi. Each zone is equally good in terms of wildlife safaris, birding tours and jeep excursions. Having said that, there is quite a travel distance between all the zones and hence, planning a stay near the zone for which the permit has been granted, is always a wise decision.
Park Overview at a Glance
Establishment Year: Kanha attained the status of National Park in the year 1955
Located In: Mandla and Balaghat Districts, Madhya Pradesh
Total Park Area: The total area of Kanha National Park cum Tiger Reserve spreads over 1,940 square kilometres out of which 940 sq. km. is the designated core area and the rest, buffer zone.
Best Visiting Time/Month: October to June
Fauna of Kanha National Park
Bestowed with a wealth of open grasslands, rolling meadows and thick forest covers of Sal and Bamboo that sit criss-crossed by a network of serene lakes and small running nalahs, Kanha National Park is an abode for nature lovers and wildlife enthusiasts. The dense thickets thrive amidst them, a huge variety of rare and endangered fauna including the Royal Bengal Tiger, Black Buck and Sloth Bear, which comfortably share their grounds with Chital, Sambar, Chausingha, Wild Pig, Wild Dog and Panthers besides many others.
Kanha is also the only location in India that serves habitat for the endangered hard ground Barasingha also called the Swamp Deer. Around 20 years back, the barasingha was faced with extinction, however, the desperate conservation measures helped save them and today, the meadows of this national park are again echoing with their rutting calls. If you want to spot them, travel here in winters when they are out grazing on the tall grassy glades.
Flora of Kanha National Park
When it comes to jotting down the flora of Kanha National Park, the woodland brings a mixture of Sal and mixed deciduous trees with grassy meadows that provide habitat for a variety of herbivores as well as carnivores. Besides, there are a variety of flowering and aquatic plants fringed across its waterbodies that serve as lifeline for migratory and wetland species of birds.
Best Wildlife Tour Packages India
View All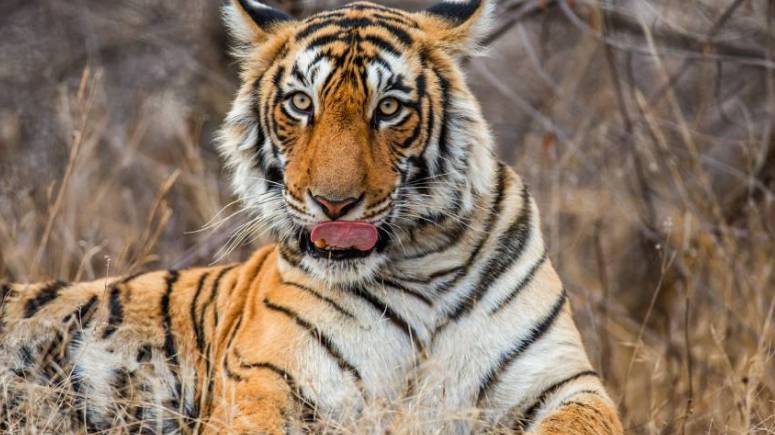 9 Nights - 10 Days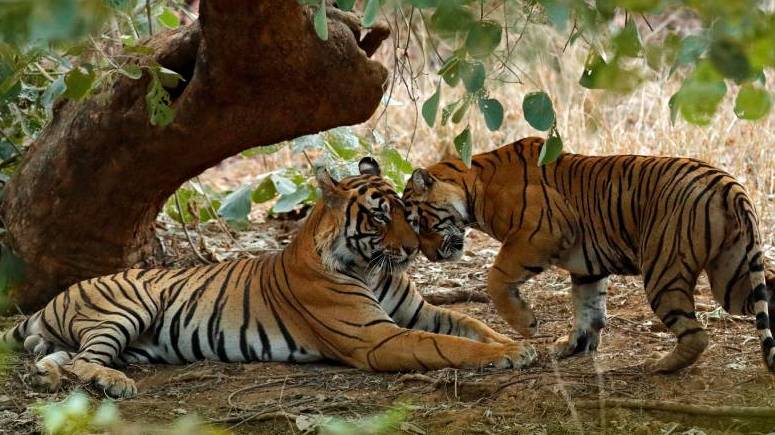 6 Nights - 7 Days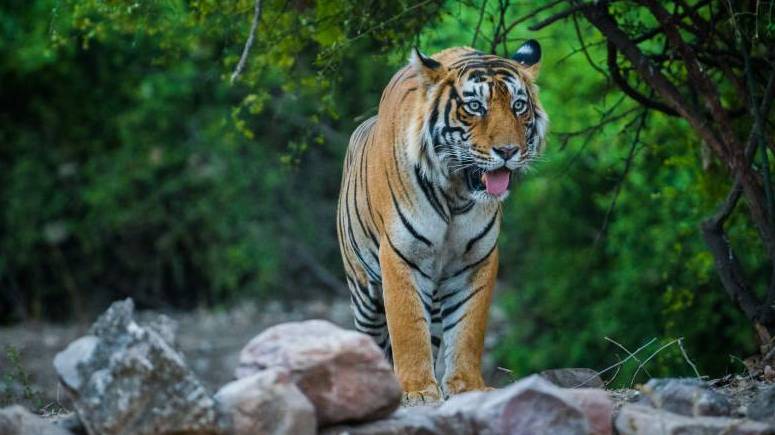 8 Nights - 9 Days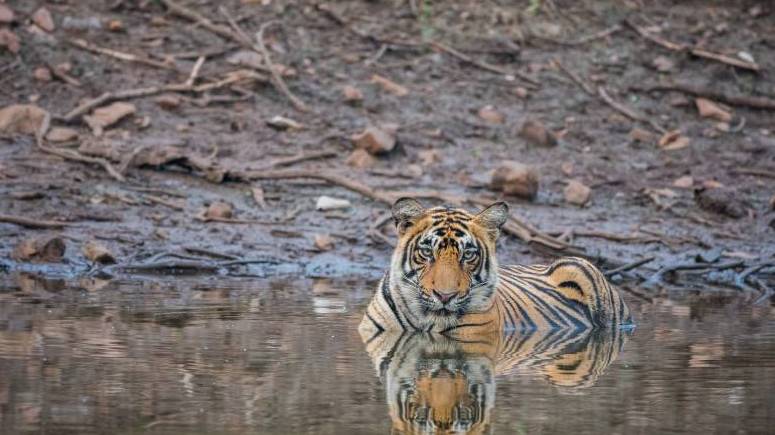 12 Nights - 13 Days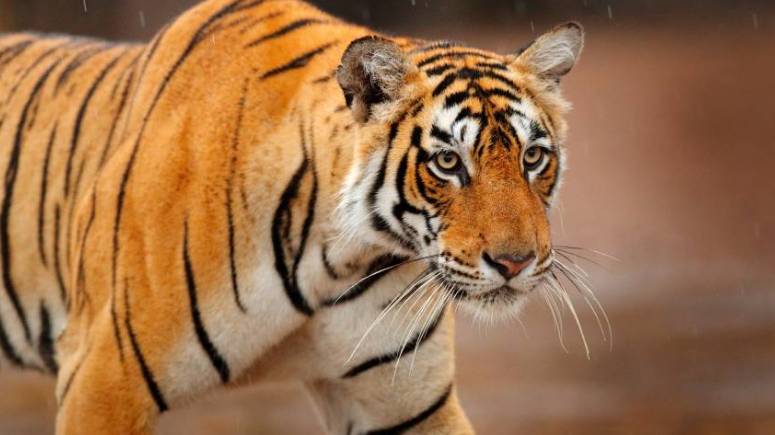 5 Nights - 6 Days
Frequently Asked Questions About Kanha National Park
Q. What are the Safari Timings of Kanha National Park?
Like any other national park in central India, Kanha National Park also operates jeep safaris twice a day, one in the morning and the other in the afternoon. For the exact timings of each slot, please refer to the table below
16th October to 15th February: Sunrise to 11.00 AM (Morning Safari) & 2.00 PM to Sunset (Evening Safari)
16th February to 15th April: Sunrise to 11.00 AM (Morning Safari) & 3.00 PM to Sunset (Evening Safari)
16th April to 30th June: Sunrise to 11.00 AM (Morning Safari) & 3.30 PM to Sunset (Evening Safari)
Important Points to Note:
Kanha is one of the most popular national parks in India, and during the peak season it books completely with a huge rush of visitors and wildlife aficionados thronging to the place. Therefore, booking your safari, tour, and accommodation about three months in advance is highly recommended.
At Kanha, afternoon shift of jeep safari remains closed for visitors every Wednesday.
Note that the park observes holiday on the festival of Holi and Diwali and therefore, remains closed for all the tourist activities on these two days.
Carrying an identity proof is mandatory for every visitor, both national and foreigner.
Q. When is the best time to Visit Kanha National Park?
Kanha National Park is open every year from October 16th to the end of June. It closes for the monsoon season between July and mid-October, besides a one day off each on the festival of Holi as well as Diwali. Though it can be visited anytime during the open slot, yet the best time to visit here primarily depends on the taste and priorities of the visitors. The time between Mid-October and November is ideal for nature photography; due to just concluded monsoon showers, the park during this timeframe is rejuvenated with lush greenery and offers a spectacular scenery to shutterbugs to capture in their lens for the lifetime. Moreover, it is a good time for herpetologists study various reptile and amphibian species who are out in open basking in the sun after the rainy season.  
Those visiting Kanha for a stunning birdwatching experience, must plan their trip in winters when the park is filled with hundreds of species of winged beauties both, resident and migratory. The most ideal months in particular, happen to be December until February and offer rare sights of numerous colourful birds perched on the treetops or busy playing in the bushes around. In addition, wintery feel of the Kanha National Park is something that everyone should experience at least once in lifetime; the balmy aura of sunrays streaming through the trees early in the morning and an earthy fragrance of mist in the air accentuate the whole experience, leaving the guests enthralled for their entire life.
For hard core tiger lovers, summers prove to be the most appropriate time to visit the park, the best time being March through June. Temperature during this period rises and grasslands are all dried up. In addition, scarcity of water forces the elusive creatures come out near water holes and marshy areas, thus, making their sightings a lot better. Needless to say, this is the most ideal time for tiger photography and awards the wildlife photographers with some of the most unique and rarest pictures of these ferocious striped beasts.
Q. Where to Stay in Kahna National Park?
Kanha National Park provides a myriad of stay options ranging from luxury hotels to high-end resorts offering accommodations in rustic village style cottages, cosy log huts and standalone tree houses that feature all the modern day amenities. A number of recreational activities such as jungle safaris, nature photography trips, cycling & birding tours, bullock cart rides and village excursions are often part of such accommodation packages and leave the guests with an unforgettable holiday experience. What more? Most of these properties locate right in the middle of the jungle, fringed with tall canopied trees and a picturesque aura that are bound to give every visitor a raw countryside feel.
With all that said, if you are someone travelling to Kanha on a limited budget, not to worry! The region around the park is teeming with a decent number of budget accommodations, eco-lodges and nature camps too. Besides, there are forest rest houses at Kisli, Garhi, Supkar and Mukki, all providing a comfortable yet an affordable stay to the visitors.
Q. What are the popular wildlife species found in Kanha Park?
There are numerous other wild species in Kanha. A detailed specification of the same is listed below.
Mammals - Tiger, Chital, Sambar, Barasingha, Wild Pig, Wild Dog, Barking Deer, Chausingha, Gaur, Langur, Wild Boar, Sloth Bear, Jackal, Panther
Reptiles – Python, Indian Cobra, Russell's Viper, Indian Krait, Rat Snake, Fan Throated Lizard, Indian Garden Lizard
Amphibians/Fishes – Mud Perch Fish, Brown Snakehead Fish, Green Snakehead Fish, Common Indian Tree Frog
Avifauna: It shouldn't come as a surprise that till date, over 300 species of avifauna have been noted in Kanha, thus, making it a birder's paradise. One can easily spot the Scarlet Minivet, Black-Hooded Oriole, Blossom-Headed Parakeet, Indian Roller, Indian Tree Pipit, Racket-Tailed Drongo, Bahminy Myna, Malabar Pied Hornbill, Paradise Flycatcher and Green Bee Eater among many beautiful others. A huge variety of water birds and waders such as Ducks, Goose, Heron and Stork along with a wide range of birds of prey including the Black-Shouldered Kite, Crested Hawk Eagle and Crested Serpent Eagle are also commonly found in the park.
Q. How to Reach Kanha National Park?
Comfortably located in central part of India, Kanha National Park enjoys a good network of transportation in terms of Road, Air and Rail. For tourists visiting the park, there are two prime gates for entry - Khatia – Kisli Gate & Mukki Gate. The former lies in Mandla district of Madhya Pradesh and covers the important zones of Kanha, Kisli and Sarhi within the park. This gate is best accessed from the city of Jabalpur. Talking about the Mukki entrance, it locates in Balaghat region of the state and encapsulates the Mukki Hill Range which is best accessed when travelling from Raipur.
By Road: Kanha National Park has a good network of roadways that sits well connected with Jabalpur (160 km.) and Raipur (250 km.) along with several major cities across the states of Chhattisgarh, Maharashtra and Madhya Pradesh. Numerous private and government operated buses apart from taxis and rental cabs ply within these cities at frequent intervals and make your travel here an easy and comfortable experience.
By Train: The nearest railheads to Kanha sit in the cities of Gondia (145 km.) and Jabalpur (165 km.). Between the two stations, Jabalpur is the larger one and has better connectivity from cities like Agra, Delhi, Mumbai, Kolkata, Jaipur, Varanasi etc.
By Air: The closest airport to the Kanha National Park is located in Jabalpur, which is linked to all major domestic flights to/from different parts of the country. The distance between the two is approximately 170 km.; tourists can hire a shared or a private taxi from the airport to reach the park, which takes just about 4 hours for the entire journey.
Q. What is the popular flora found in Kanha Tiger Reserve?
The main habitat and vegetation of Kanha looks like the following:.
Sal – mostly in valleys (18.08%)
Bamboo – mostly in lower slopes (5.07%)
Mixed Sal, together with Jamun, Saja and other species – 13.21 %
Mixed Sal/Bamboo – 7.34%
Mixed Deciduous – Upper Plateau Region (16.05%)
Mixed Bamboo – 24.8%
Valley grasslands – 6.4 %
Dadar grasslands – plateau region (2.61%)
Grasslands with mixed forest tree species (2.88%)
Agriculture and human habitation – 3.5%
Q. What are the best places to visit in & around Kanha Naitonal Park?
Kanha National Park is bequeathed with numerus tourist attractions and places of interest in and around its vicinity. Listed below are few of the most important places must visit when on your holidays here.
Kanha Meadows: Kanha Meadows is by far the most popular tourist spot within the vast expanse of the Kanha National Park. The place has often been spotted with myriad of animals, especially tigers hunting for their prey in its tall grassy glades; no wonder the landmark has been attributed one of the best places in the reserve for tiger viewing.
Shravan Tal: Nestled in the heart of Kanha National Park, Shravan Tal is another must visit attraction when on a jungle expedition in the region. The serene little pond is named after the dutiful son Shravan Kumar of Ramayana fame who was accidentally shot down by King Dashratha, father of Lord Rama. The legend has it that Shravan Kumar while on his way taking his blind and disabled parents on a pilgrimage, stopped at this tal to fetch some water. When he is doing so, King Dashratha mistakes him to be a boar and shoots an arrow towards him from behind the bushes. This accidentally kills Shravan Kumar following which, the parents of Shravan Kumar place a curse on the king that his son will also leave him when he would need him the most. Today, the tal serves as a drinking ground for lots of birds and animals in the park. Near the tal, there are two more famous tourist spots related to Hindu mythology – "Shravan Chita", where Shravan Kumar is said to be cremated, and "Dashratha Machan" – a spot on the hill opposite Shravan Tal from where King Dashratha is said to have shot the arrow killing Shravan Kumar.
Sonf Meadows: Once a village in the vicinity of the Kanha National Park, Sonf is today an open meadow decked under thick and extensive cover of tall grasses. The spot is right in the heart of Kisli Zone and is much famed for spotting the "Jewel of Kanha", the highly endangered hardground "Barasingha".
Kanha Museum: Located around 11 km. from the Kanha National Park near the Kisli Gate, Kanha Museum is one of the top attractions must visit when on a wildlife tour to the region. The museum is run and maintained by the Madhya Pradesh Forest Department and is an ideal place to get some insight on the topography and other interesting aspects of the park. Walking through the gallery, visitors are bound to be overwhelmed by beguiling skeletons of several animal, reptile and bird species on display. Apart from that, there are various specimens, charts, models and photographs that put some light on the food chain, conservation history as well as tribal culture of the park. Not to forget, the light & sound show held at the museum in the evenings is another great point of tourist interest here and leaves the visitors extremely charmed.
Bamni Dadar: Popularly known as "Sunset Point of Kanha", Bamni Dadar is yet another heightened attraction within the park. Situated at the highest position in the plateau about 275 metres above the ground, it offers the most awe-inspiring vistas of the vast jungles and stunning meadows around. There's a place here that traces back to British era and is known as the take-off region; it is said that British built it specifically to fly their aircrafts from here to enjoy the bird's eye view of the national park. Today, the spot is very popular among visitors and awards them with the most bewitching sights of the grazing sambhars, gaurs and the four-horned antelopes, especially in the evenings when the sun is just about to set.
Mandla: Sky-high forts, abundant wildlife and sacred ancient temples, is what defines the beautiful city of Mandla. At just 35 km., it sits as one of the best tourist destinations near Kanha National Park inviting hordes of tourists to bask in its resplendent natural beauty decked with dazzling streams and the serene Narmada River flowing along its periphery. Tourists can spend their time at the catchment area along the "Rangrez" and "Rapta Ghats" admiring the vistas or nature or drive down to the famous spot of "Sahastradhara" where Narmada splits into streams of grey and white flowing through the rocks of limestone, magnesium and basalt. Creating a symphony of myriad colours, watching these streams is an experience in itself and leaves the visitors enchanted for life. Right in the middle of Sahastradhara is also an old Shiva Temple where devotees pray for their well-being and prosperity in future endeavours.
Kawardha Palace: Located near Raipur, Chhattisgarh, at a distance of about 91 km. from the Kanha National Park, is the majestic Kawardha Palace that was built during 1936-39 by Maharaja Dharamraj Singh. Nestled within the green canopy of the Maikal Hills, the palace is a magnificent piece of art defined by its splendid façade that sits all adorned with beautiful imported Italian marble and intricate filigreed carvings. An abode of the Kawardha royal patronage, it has recently been converted into a heritage hotel that welcomes visitors into its vintage style suites designed extravagantly. Needless to say, if expenses are not much of a concern to you, do plan to spend a night here and experience an unmatched aura of rich royal hospitality. The palace hotel is surrounded with many more attractions in the vicinity; amongst all, the must visit are the "Mandawa Mahal", "Krishna Temple", "Madan Manjari Mahal" and "Bhoremdeo Temple".
Amarkantak: Also popularly known as Teerthraj, Amarkantak is a mystical land located at a distance of 159 km. from Kanha National Park. The place abounds in myriad of religious attractions such as "Pataleshwar Mahadev Temple" and "Narmada Udgam Temple" dating to the Kalachuri era. Besides, the holy town has a rich natural heritage and treasures within, a variety of rare plants bestowed with medicinal and curative properties. Rivers Narmada, Sone and Johila also emerge from this holy city's scenic realms and carve their way out for the breathtakingly beautiful "Dudh Dara Waterfalls" that enjoy the status of Amarkantak's top visited tourist attraction.
Jabalpur: Often called the heart and soul of Madhya Pradesh, Jabalpur is where the imposing mountains of marble dazzling in varied hues criss-cross with the enchanting Narmada River flowing through its periphery. The town lies just 164 km. away from the Kanha National Park and offers a lot for tourists to savour; from the bewitching smoky cascade of "Dhuandhar Waterfalls" and architectural grandeur of "Madan Mahal Fort" to magnetizing aura of "Dumna Nature Reserve" and miraculous nature of the "Balancing Rock", the scenic city is full of fascinating experiences. Apart from that, Jabalpur also has an abundance of spiritual attractions. From the thousand-year old "Chausath Yogini Temple" dedicated to Goddess Parvati and Lord Shiva to the beautiful "Gwarighat Gurudwara" on the South Bank of Narmada River, Jabalpur houses some of the most sacred places of worship visited by hordes of devotees every year. Amongst all the religious sites, "Kachnar Temple" is another must visit attraction in the town and is most famed for its mighty 76-ft tall statue of Lord Shiva; worshippers from all over the world throng here to dwell their senses in the aarti, which is held every evening and is indeed a sight to be mystified.
Q. What are the popular Things to do in Kanha National Park?
Dotted with the lush forests of Sal and Bamboo, emerald meadows and several pristine rivulets, it's no surprise that Kanha once served as Rudyard Kipling's inspiration for his uber classic and the very famous, 'Jungle Book'. While there are many activities to partake in this popular wildlife reserve of Central India, here are some of the most exciting things to do that are sure to leave every tourist with an enthralling experience.
Jeep Safari: Offering a sneak-peek into the wilderness of the thick jungles, a Jeep Safari is one of the top things to do when in Kanha National Park. While the safari is operated twice a day - morning and afternoon, if you are someone looking for the most beguiling wildlife safari experience, plan to head here before the sunrise and venture out on the most enthralling journey of your life where a number of wild inhabitants await your arrival. As your jeep carves its way out through the dense foliage, feel the adrenaline pumping down your veins, looking out for that handsome striped beast that may emerge anytime out of the tall Sal and Bamboo trees impressing you with its elegant poise. And while, tiger is obviously the show-stealer of the Kanha Game Safari Expedition, you are sure to be captivated with the sights of other park residents too; the beautiful hard-ground Barasingha also christened as the 'Jewel of Kanha' is the pride of this famous national park and leaves the visitors enchanted for life.
Jungle Walks: For those who wish to explore the mystic beauty of forests witnessing their pristine treasures from close quarters, a jungle walk is their best bet to indulge in Kanha. The expansive woodland has a number of nature trails that pass through its thick covers interspersed with several glistening streams and small waterholes which are often frequented by different species of animals, birds, insects as well as reptiles. The tour is essentially accompanied by a naturalist and a guide who would also give the visitors, interesting information about the park's varied flora, its diverse topography, the soil type and its co-existence with the wildlife. As of date, these walks are only allowed inside the Khatia buffer zone; those wishing to venture on the same can purchase tickets from the ticket window at the Khatiya Gate or get it booked in advance from their tour partners or from the hotel concierge where they intend to stay.
Bird Watching: Kanha National Park is home to over 300 different species of birds and that gives the perfect reason why it is considered an abode for thousands of birding enthusiasts who travel here to soak in the park's impressive bird watching experience. Walking through its trails, visitors are bound to be greeted with melodious tweets of several of its resident winged beauties often spotted on treetops or peeping from behind the bushes. Having said that, sightings certainly depend on the month you visit the park in; for the best results visit anytime between November and May and get hooked to some of the rarest sights of the birds busy in nesting and feeding sessions.
Village Excursion: In addition to exploring the forests and wildlife, tourists at Kanha National Park can also take up the lifetime opportunity of connecting with the local tribes that inhibit the region. The buffer zone of the park is home to the Baiga Tribe, which is one of the oldest in India. The people of this tribe lead a simple life in perfect harmony with elements of nature. They cook in primitive style earthen cookware, feed on locally cultivated grains such as kodi, kutki and jowar, and brew toddy from the flowers of mahua tree. Those wishing to get more acquainted with these tribes, can plan an excursion to their village and spend some time with them knowing their unique culture and traditions.
Shopping: The streets around Kanha National Park are replete with a number of shops selling anything and everything ranging from colourful and ethnic clothes to a variety of traditional handicrafts skilfully curated by talented craftsmen. The region is best known for its marble statues & figurines, Chanderi sarees, zardosi work, jute goodies and wooden & bamboo artefacts that impart visitors with the most pleasant shopping experience.