Overview
The jungle safari at Ranthambore National Park happens twice a day, every day, between the months of October and June and is a popular tourist attraction in Rajasthan. The wildlife safari is only permitted during the months of October-June and is not available on Wednesdays, as the park remains closed. Bookings for the Ranthambore safaris are handled by the Forest Department and are offered in two formats: Jeep Safari and Canter Safari. The Jeep Safari can accommodate up to 6 people, while the Canter Safari can hold up to 20 people at a time.
Although the Ranthambore's Jeep Safari is slightly more expensive than the Canter, it is recommended by visitors who have experienced the wildlife of the park because it allows for more flexibility in movement and can access areas the Canter cannot.
The Safari lasts approximately 3 and a half hours and occurs twice a day: once in the morning and once in the evening. Since these safaris are very popular, it's advisable to book well in advance. The park also reserves a certain number of seats every morning for slots in the evening of that day and the following morning. You can book the seats for your safari online.
A Brief Insight into Ranthambore Tiger Reserve
Ranthambore National Park is among the foremost tiger reserves in the world that shelters the Bengal Tiger species. It is a favorite destination for photographers and wildlife enthusiasts. Located in Sawai Madhopur, in the northern Indian state of Rajasthan, Ranthambore Tiger Reserve has emerged as a renowned destination for wildlife tourism in India. Uniquely, the tigers here are active during the day, unlike most tigers that are typically nocturnal.
Given the substantial number of tigers that roam freely within the park, there's a good chance of spotting one during a visit. These majestic creatures exist nonchalantly in the reserve, so if you're keen on a close encounter, allowing you to observe them in all their grandeur, then a jungle safari is the way to go. Ranthambore National Park offers safaris for visitors eager to see the tigers in their natural habitat. In addition to the tigers, one might also encounter other wildlife such as leopards, hyenas, wild cats, reptiles, and a variety of birds that call Ranthambore home.
Need assistance with Ranthambore Safari bookings? Call or WhatsApp at +91-9212777225.
Best of Ranthambore's Safari Zones
Ranthambore National Park is divided into 'core areas' and 'buffer zones'. The 'core areas' are regions where tigers roam freely. To protect and support their habitat, deforestation and other commercial activities are prohibited in these areas. In contrast, 'buffer zones' are areas of the reserve where the land can be used by local people for farming or other purposes while still being managed for conservation by the government.
For visitor convenience, Ranthambore National Park is segmented into 10 zones for tiger sightings. Zones 1-5 constitute the core areas, while zones 6-10 are part of the buffer zone. Zones 3, 4, and 5 are particularly popular and preferred by many visitors. During the summer, tigers are more easily sighted in these zones due to the presence of lakes and other water bodies. These sites attract tigers and other animals looking to quench their thirst in the hot season.
Wildlife That Can Be Spotted During Ranthambore Jungle Safari
Being a tiger reserve, Ranthambore National Park has a large number of Tigers in its habitat. It also has other big cats such as-
Leopard
Caracal
Jungle Cat
Fishing Cat
Apart from the wild cats, the park has other wild animals as well, such as:
Desert Fox
Indian Fox
Indian Wild Boar
Palm Civet
Hanuman Langurs
Sambar Deer
Spotted Deer
Indian Gazelle
Black Buck
Blue Bull or Nilgai
Ranthambore also has abundant reptile species as well, like:
Desert Monitor Lizards
Banded Kraits
Cobras
Tortoise
Indian Pythons
Indian Flap Shelled Turtle
Russell's Viper
Snub Nosed Marsh Crocodiles
The bird enthusiasts can indulge in a wholesome bird watching experience due to the variety of birds that are found here. Some of them include:
Woodpeckers
Greylag Goose
Asian Palm Swift
Dove
Crakes
Sandpipers
Flamingos
Pelicans
Storks
Bulbul
Mynas
Falcons
Parakeets
Cuckoos
Owl
Nightjars
Ranthambore Safari Timings
Safari timings in the Ranthambore tiger reserve vary by season, so it's best to confirm them before your visit-
| | | |
| --- | --- | --- |
| Month | Morning Safari | Afternoon Safari |
| 1st Oct to 31st Oct | 06.30 am – 10.00 am | 02.30 pm – 06.00 pm |
| 1st Nov to 31st Jan | 07.00 am – 10.30 am | 02.00 pm to 05.30 pm |
| 1st Feb to 31st march | 06.30 am – 10.00 am | 02.30 pm to 06.00 pm |
| 1st April to 15th May | 06.00 am – 09.30 am | 03.00 pm to 06.30 pm |
| 16th May to 30th June | 06.00 am – 09.30 am | 03.30 pm to 07.00 pm |
Best Time for Ranthambore's Jungle Safari
The best time to visit Ranthambore National Park is during the months of October to March since the weather is pleasant to travel. But it is during the months of April to June that you can see tigers more since they can be seen near the lakes and other water bodies to quench their thirst during the hot summer season.
Advance Booking: Ensure you book your Ranthambore safari well in advance. Due to its popularity, failing to do so might result in not getting your preferred zone, vehicle, or even a seat.
Multiple Safaris: Consider taking multiple safaris. This increases your chances of sighting a tiger, as sightings are influenced by both seasons and tiger movements.
Hydration: Bring plenty of water. A safari typically lasts around 3 and a half hours.
Binoculars: Given that animals might be distant, carrying binoculars can enhance your viewing experience.
Clothing: Opt for earthy-toned clothes like brown, green, and beige. These help you blend in with the surroundings. Avoid bright colors like red, which might make animals cautious and deter them from approaching.
Dos and Don'ts During the Safari
Protection: Carry sun hats, scarfs, and masks. The park's climate is dry, and there can be considerable dust.
Behavior: Stay composed and calm. Always listen to your guide.
Feeding: Never feed the animals. They have ample food, and feeding them can be dangerous given their wild nature.
Littering: Avoid littering during your safari. Instead, dispose of waste at designated spots.
Vehicle Safety: Do not disembark from your vehicle and always remain seated.
Noise: Refrain from making loud noises or sounds. This could deter animals and hinder sightings.
Substances: Smoking and alcohol consumption are prohibited within the park's premises.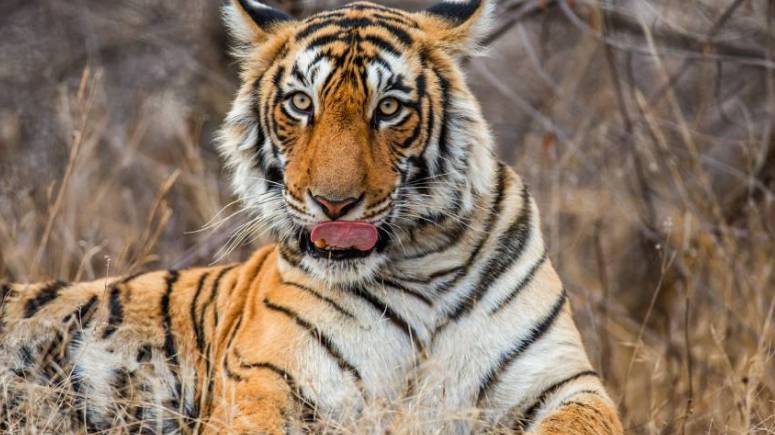 9 Nights - 10 Days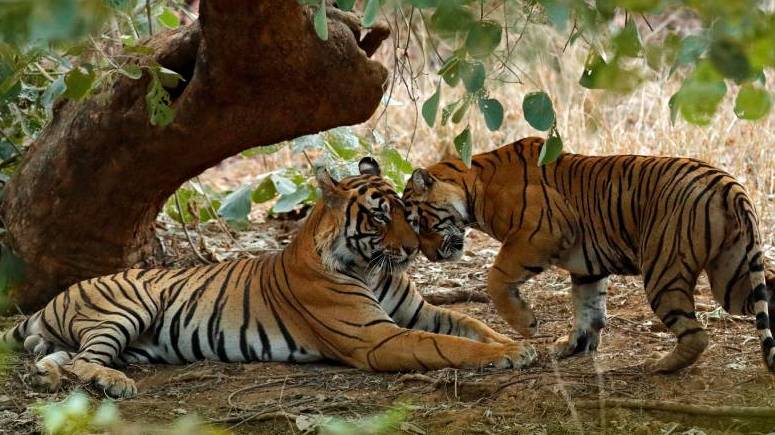 6 Nights - 7 Days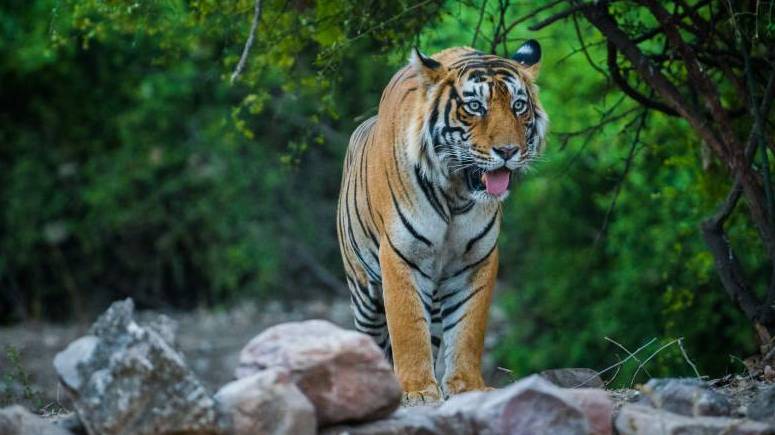 8 Nights - 9 Days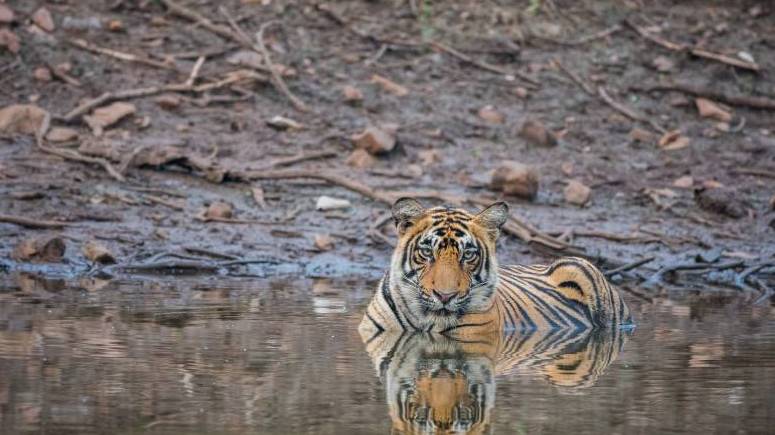 12 Nights - 13 Days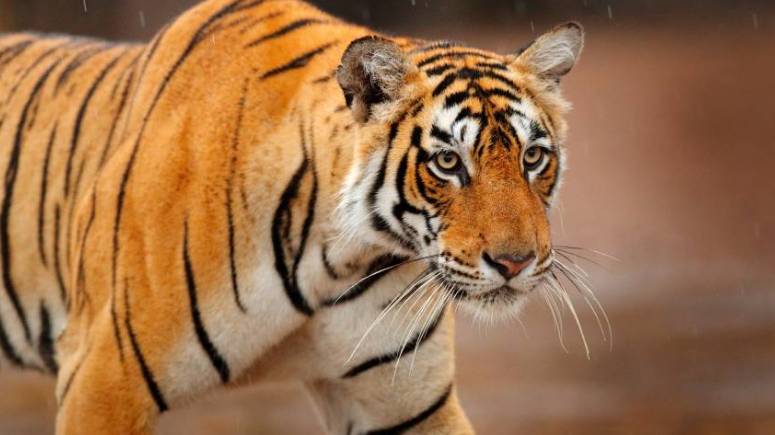 5 Nights - 6 Days
Frequently Asked Questions about Ranthambore Safari
Q. What is the duration of a wildlife safari in Ranthambore Park?
The duration of one safari lasts for 3 hours in Ranthambore National Park.
Q. Will I get an exclusive or shared Jeep Safari?
The jeep requirement for the wildlife safari totally depends on client's requirement. One can either book the entire 6-seater jeep or choose to opt for sharing jeep safari. 
Q. Apart from the safari, what else is there to do at the Park?
Besides wildlife safari in Ranthambore National Park, you can visit the other nearby tourist attractions like Ranthambore Fort, Jogi Mahal, Village Women Craft, Ranthambore School of Art and more. 
Q. Am I allowed to bring my pet with me on the safari?
No, you are not allowed to bring your pet on the safari in the Park. 
Q. How can I book my Safari online?
You can book the safari for Ranthambore Park by visiting our website. Fill up the mandatory form and your preferences. Once you are done with filling up the form, our tour expert will get back to you with the necessary information related to the safari in Ranthambore National Park. 
Q. Could you please explain what do you mean by 'naturalist at the time of the safari?'
By the term 'naturalist at the time of the safari' we mean a wildlife expert who would guide you about the flora, fauna and avifauna at the time of the safari.
Q. Are tourists allowed to bring food inside the park to feed the wild animals?
No, tourists are not allowed to bring food inside the Ranthambore National Park to feed the wild animals. 
Q. Is it safe to take the Ranthambore Tiger Safari?
Yes, it is absolutely safe to take the Ranthambore Tiger Safari along with our tour representative who will guide you throughout the trip. 
Q. Are drinks provided during the safari in the vehicle?
No, drinks are not provided during the safari in the vehicle but you can carry your own water bottle. 
Q. Are we allowed to walk around the National Park?
No, you are not allowed to walk around the Ranthambore National Park. 
Q. Will I face any danger during the safari in Ranthambore?
No, as it will be a guided tour you will not face any danger during the safari in Ranthambore. 
Q. What is the location to arrive for the safari at Ranthambore Park?
If you haven't booked hotel with us and is at Ranthambore for a day-trip, you can arrive at the Welcome Heritage Mount Valley Resort for the safari. However, if you have booked your stay at one of the hotels provided in our package, you will get the pickup service from the hotel for the respective safari zone gate.
Q. Can we get pick up service from our hotel in Sawai Madhopur?
No, we don't provide pick up services from the hotel in Sawai Madhopur. Our pick up services are only available for the nearby hotels of Ranthambore.
Q. We are traveling with kids of this age (2,3,4). Do you have any age restrictions?
No, there is no age restrictions and you can freely travel to the Ranthambore tiger reserve with your kids of the age 2,3, and 4.